Central Plaza
23 July 2016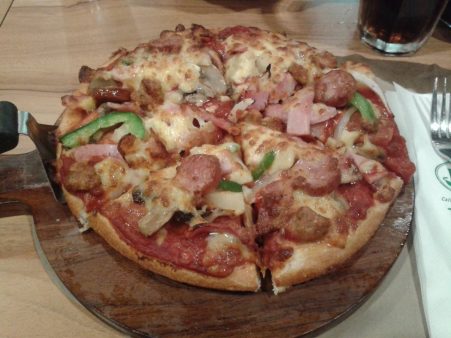 Today we had a much appreciated lie in, and an endless supply of toast, which was even more appreciated. We also got to play with the dogs before breakfast. Needless say it was a great morning.
After getting a taxi to Central Plaza, which Aum had called for us, we met up with Eleanor in Mcdonalds and explored Central Plaza a bit. We found an accessories shop with multitudes of cute hair clips, purses and jewellery. Eilidh and Kate got really excited when they found some hair ribbon to use. They bought a navvy ribbon each. I was tempted but wanted a brighter colour. Although after seeing it in their hair I'm tempted to just go for black so I can join in too. We then went and bought snacks and whilst filling our baskets said goodbye to Eleanor. She had to catch a bus back to her school as the last one was at 4.30.
We had planned to stay for dinner in Central Plaza as a weekend treat. Eventually we decided on The Pizza Company after Kate had mentioned pizza about a thousand times, although we did check there was something for Eilidh because she doesn't like cheese. I know. It's weird. I shared a pitcher of Pepsi with Hannah and chose the pan pizza with the most toppings – I wasn't making light of this opportunity. I only managed half of it but knew that it would make a great addition to Netflix later that evening.
We then called Aum to tell a taxi driver where the school is. As much as I know we need to do things without Aum, it's only the first weekend by ourselves!
What are you looking for?
We're looking for enthusiastic students who are currently abroad, or are soon going abroad, to share their experiences and write for our pages!
If you're interested, get in touch by emailing us at go@cardiff.ac.uk