Welcoming Lisa Matthews to our team
12 August 2016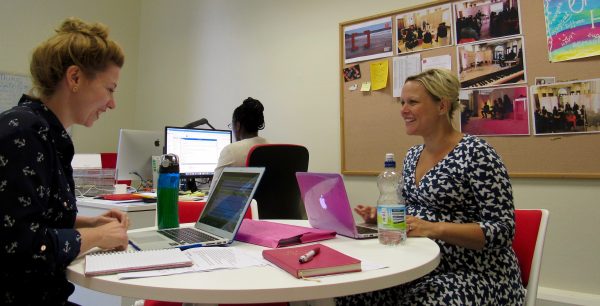 Passing the baton
I've always been a big fan of the Olympic Games. The passion, commitment, drive and determination – not only of the athletes, but of all of those who work together to make such a major event happen is truly astounding.
As a result of this lifelong interest in all things Olympics related, I secured a job at the Games in 2000 and travelled to Sydney to work as part of the team who, through their combined efforts, made the Games happen. This remains a highlight of my career to date and was an opportunity to see firsthand how exciting, and also complex, putting on a global major event is. Aside from the sporting highs, from Cathy Freeman's 100m to Ian Thorpe's amazing swimming achievements, my resounding memory is the teamwork I saw all around me – both on and off the sporting field – and the value of working with others to make such a significant contribution.
This feels particularly pertinent now, two years into the development of Creative Cardiff and as we reflect on our achievements in the Creative Economy project to date. It is also just two weeks before I start maternity leave to prepare for the arrival of a new family member. Starting any project is always a lot of hard work and, like the Games, relies of the efforts of many in order to accomplish its ambitions.
We have been fortunate to have worked with so many brilliant individuals during the past two years and have achieved a great deal. We have significant plans and ideas yet to realise too which are in development as I write.
To drive these forward, while I am on maternity leave, I am absolutely thrilled to be passing the Creative Cardiff baton to Lisa Matthews who will be taking over the role until March 2017.
Lisa will be joining our team on secondment from her role as Portfolio Manager at Arts Council of Wales in the Enterprise and Regeneration team. Her responsibilities at Arts Council of Wales focused on ways to nurture a thriving but sustainable arts sector including digital innovation, relationships with broadcasters, diversifying income and skills development.
The skills, approach and significant experience that Lisa brings to this role provide a great opportunity for her to support and lead the development of Creative Cardiff through the next stage of its evolution. I have no doubt that she will be a real asset to the project and to the team at Cardiff University. Sincere thanks to Lisa, and to Arts Council Wales, for working with us.
---
Telling our creative story
This year marks a decade since I came from north Wales to settle in Cardiff. It sounds cliché, but I came for a job and stayed for the culture. I mean that in both senses of the word; the brilliant arts and creativity found in the capital and also the super-friendly, open and connected spirit of small city with a big smile.
I've been fortunate to have worked with incredible people – whether in big organisations, large or small businesses or freelance – who all share that similar connection with Cardiff. They all contribute to the city being the place that it is.
It feels both timely and a huge honour to be taking on this role from Sara for six months. In a way it allows me to focus on Cardiff, a place that has hugely shaped and inspired me, and to give something back. I'm on secondment from Arts Council of Wales where I've worked with some superlative artists, makers and 'make-it-happeners' as well as doing a lot with digital. I hope that I can bring those particular networks with me and share learnings.
So, what am I looking forward to? Pawing through all the information and knowledge that has been gathered throughout the year since Creative Cardiff launched, sharing it and using it to inform how we support creatives. Identifying the best ways that the project can be the spark that ignites the creative community. Connecting the wealth of knowledge and expertise in the University with the doers on the frontline of the creative sector for the wider benefit of the city.
Telling our story so that Cardiff is synonymous with creativity.
Most of all, I'm looking forward to continuing collaboration with the creative community across Cardiff and practically making (as that's what creatives do best!) a contribution to accentuating our city's strengths.
Lisa Matthews joins Creative Economy
We're delighted to welcome Lisa Matthews on secondment from the Arts Council of Wales into the role of Director of Creative Economy, as Sara Pepper's maternity cover. Lisa brings a wealth of skills and significant experience to the team.
'Find out how we support collaboration with Cardiff's creative industries.