Reflections on hub spaces & my research placement
25 July 2016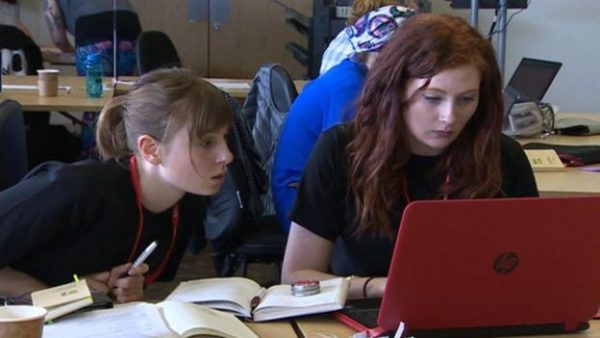 Eleanor Roberts has been with the Creative Economy team for eight weeks on a CUROP research project. In her third and final blog post Eleanor reflects on some of the hub spaces in Cardiff and further afield, as well as on her research:
As my CUROP project draws to an end the last few weeks have been spent visiting various creative spaces, not just in Cardiff but across the city region as well as analysing and writing up my research findings. It has been exciting and inspiring to work with Creative Cardiff; I have met many interesting people and learnt much more about the city.
One of the first hubs I visited was the Indycube in St Line House, Cardiff Bay. I received a warm welcome and was shown around the desk and kitchen space. One thing I noticed was that the space has no informal or breakout area; everyone seemed to eat lunch at their desk. It was mentioned that a visit to the Indycube on Trade Street may benefit me more as it was a livelier environment. I also met Louise Harris at the Tech hub at the Tramshed on Clare Road. This space is in development and aimed at digital and technology companies. The physical space is fairly large and includes desk space, meeting and office rooms, a refreshment area and high tech equipment rooms. This hub has a clear focus on the collaboration between digital and content companies. It is an innovative space in a well situated location behind the Millennium Stadium.
I also took a day trip to Bristol to visit two creative spaces. The first was the quirky space, Pithay Studio, managed by Meanwhile Creative on All Saints Street. As I stepped into the café – filled with artwork, plants and a piano – I got the impression of originality. Redeveloped from an old gym, Pithay Studio is a hub of activity whether this is working hard at a desk, socialising in the organic café or working out in the gym. The second space I visited in Bristol was the Pervasive Media Studio in the Watershed on Canon's Road. The studio is open to visitors on a Friday afternoon and I was shown around by Jo Lansdowne, a producer at the hub, who explained their community ethos and the aim to have a mix of people ranging from designers to academics. I left the studio with a positive feeling that I would always be welcomed back.
I visited two recent additions to the hub environment in Cardiff; the Sustainable Studio on Curran Road and Rabble Studio  on Bute Street. I was pleasantly surprised by the bright, open space in the Sustainable Studio. Surrounded by industrial buildings, they have created a colourful and open work space that is maker-orientated with capacity for equipment. The office pods have an open entrance to encourage an interruptible environment. Rabble Studio in Cardiff Bay is another open, bright and friendly space. I attended a welcoming coffee morning there on 15 July. The studio has no hot desks by design and only a couple of desks left to rent. Original artwork features on the walls and the furniture is handmade by Rabble studio manager Dan Spain. I met a variety of people including graduates from Cardiff University who are now working as freelancers in the city. It was great to meet someone who can give advice about life after graduation and the many creative opportunities available in the city. It was a fantastic coffee morning in a modern yet quirky space.
Finding out how hubs function outside of the city centre was a different experience and I was amazed by Welsh ICE in Caerphilly Business Park. I had expected a small, isolated office space in Caerphilly and instead found myself in a large hub of productivity with a backdrop of the South Wales valleys. I met with Jamie McGowan, the ICE community manager and he showed me around the facilities – a professional reception area, co-working desks, Skype and phone pods, a café, bar and courtyard. Welsh ICE allows the community to come together outside of working hours with their partially licensed bar.
Finally, I visited Hwyl Hub, which is just outside of Merthyr town centre. It is a smaller space with one open plan room.  I was introduced to everyone and felt immediately part of the community. I chatted with Daniel Harris, hub director and founder, who explained they are looking to expand into a bigger and more accessible space in the centre of Merthyr.
Undertaking this project with Creative Cardiff has provided me with multiple opportunities to explore more work spaces and places throughout the city, gain research and office skills as well as meet a host of contacts across the creative sector. It will have a direct impact on where I choose to work in the future and I am thinking about basing my dissertation for my undergraduate degree in English Literature, Media, Journalism and Cultural Studies on creative spaces and all the fantastic things I have learnt this summer. I am grateful to both the Cardiff University CUROP and Creative Economy team for enabling me to have this opportunity and would strongly urge any undergraduate student to consider this scheme in the future.
Read Eleanor's first and second blog posts.
Find out more about our ambition to develop a creative hub for Cardiff.
Lisa Matthews joins Creative Economy
We're delighted to welcome Lisa Matthews on secondment from the Arts Council of Wales into the role of Director of Creative Economy, as Sara Pepper's maternity cover. Lisa brings a wealth of skills and significant experience to the team.
'Find out how we support collaboration with Cardiff's creative industries.