Report on work at Creative Cardiff's pop-up hub #CCHub16
23 June 2016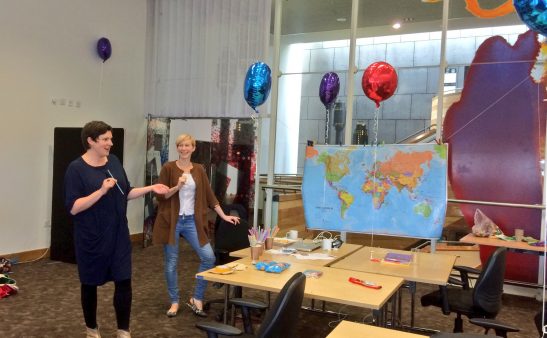 Eleanor Roberts is with us for six weeks as part of our research into creative hubs and the Cardiff city regions' creative community. This is her second blog post on events so far:
Three weeks into my research project and I find myself at the pop-up hub in Wales Millennium Centre alongside creatives from across the city region. After my initial desk research period/activity I am excited to be here and experience everything that goes on in a hub environment first hand. The new hub community was warmly welcomed into the space on Monday morning with personalised weighted balloons in boxes. As everyone sat down with a cup of coffee, polaroid photos were taken and pinned up on a noticeboard to get to know each other and share introductions. This board has really helped to establish a sense of community and is a reference point for everyone in the hub to walk past and identify community members. The final task on Monday morning was to design and construct their work area and settling in to the creative hub space. The Creative Cardiff team members, including myself, integrated themselves into the hub and started the process of getting to know everyone.
Tuesday saw the arrival of our first provocation speaker Professor Wayne Forster, the Deputy Head of Cardiff University's Welsh School of Architecture. He shared thought-provoking ideas about how to recognise what makes a creative space and the different ways of working in those spaces. I have found it interesting to be surrounded by so many different creatives and equipment. People are working with sewing machines, arts and crafts equipment and jewellery making materials, which have provoked conversations about their work and experience of the hub so far. There's also lots of work on laptops and computers that space disciplines from graphic design and web development to architecture and copy writing. Wednesday morning featured provocation speakers Clare Reddington, the Creative Director of Watershed and Jo Lansdowne, who was the managing producer for REACT and also a producer at Watershed. It is safe to say that the morning's activities were not anticipated by anyone inside the hub; an innovative game of 'Rainbow Drop 7' was played in teams where sweets had to be transported from one part of the Millennium Centre to the other using only straws. They also facilitated a storytelling session in groups where we shared stories of creativity and inspiration from across the globe. These activities were a fun and different way of getting hub members to engage with each other, work together and think creatively about innovation and new ideas.
Dr Johann Gregory and I have spent our time this week capturing people's responses to the hub space. There has been a theme to our research each day which relates to the speakers invited to the hub. We have conducted a daily DooPoll, an online polling app designed by Steve Dimmick that provides a platform for question responses. We have also set up a daily Twitter Poll that asks one of the same questions to a wider social media audience. It is interesting to identify the differences in responses to both and to think about why this may be. Our next activity is to undertake some film capture of people's experiences, helped by a recent journalism graduate of Cardiff University, Toby Mott. It seems that the main platform for engagement during the pilot hub week so far has been Twitter. I have also been working alongside another recent graduate from Cardiff University who is capturing the week with photography, Eleanor Prescott.
I have put together a Storify documenting the week's activities and thoughts that will be added to as the days go on. Also, throughout the week, people are thinking about what their ideal creative space would look like and have been put into groups for a sharing session on Friday. This will help us to gain a better understanding of what people look for in a hub and the best possible space for it. I will keep you updated on what ideas the sharing session generates and how the week comes to an end.
Lisa Matthews joins Creative Economy
We're delighted to welcome Lisa Matthews on secondment from the Arts Council of Wales into the role of Director of Creative Economy, as Sara Pepper's maternity cover. Lisa brings a wealth of skills and significant experience to the team.
'Find out how we support collaboration with Cardiff's creative industries.