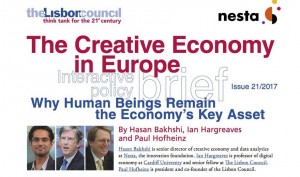 The Lisbon Council and Nesta has today launched The Creative Economy in Europe: Why Human Beings Remain the Economy's Key Asset, a hard-hitting new policy brief which highlights the pivotal role of creativity and creative work in the economy. 
Authored by Hasan Bakhshi of Nesta, President of The Lisbon Council Paul Hofheinz and myself, the policy brief highlights the urgent need for European policymakers to ensure that Europe's human-capital base is second to none and that its economy is attractive enough to retain its most talented, creative people. 
The research argues that economic value added is fast becoming less the exclusive domain of complex manufacturing chains built around advanced organisational capabilities, and is found more and more in the "creative" component that human workers bring to their jobs. 
The report also notes that – because of their creative component – "creative" jobs are the least likely to be replaced by automation. 
Download the policy brief: The Creative Economy in Europe