Building Creative Cardiff
12 August 2015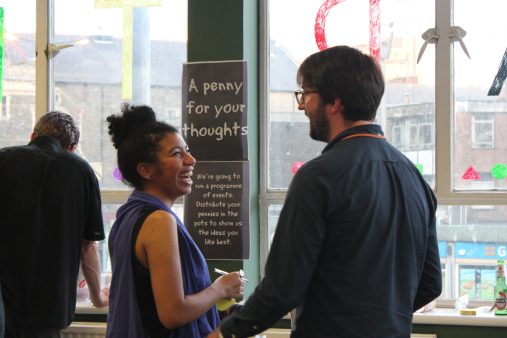 One of the ambitions of our team is to create a network for people working in a creative business, organisation or role in Cardiff. We've talked about this idea with a lot of people and have learnt a lot from similar networks in other cities – Wired Sussex in Brighton, Creative Edinburgh and Creative Dundee deserve a special mention.
In the last few months we've held a couple of events to broaden out the conversation to explain what we're trying to do and to ask more people what they'd like from 'Creative Cardiff'. The first event was for freelance workers. Over breakfast we asked what people want from this new network, how it could support their work and what kinds of events they would want to attend. The event was held in Cardiff University's Student Union's Y Plas. This film gives a flavour of what happened.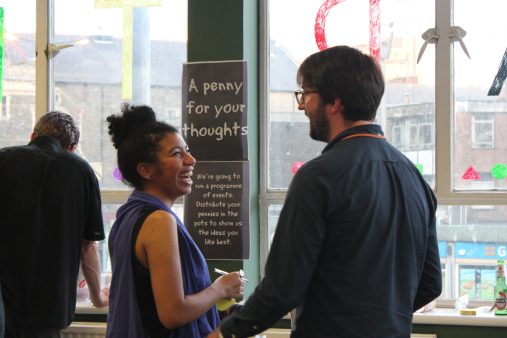 We were lucky enough to hold the second event at The Abacus, a creative space on Wood Street which is making and exhibiting some really interesting work. We opened their doors and were joined by a fantastic range of people – dancers, animators, illustrators and those working at arts organisations, funders, advertising agencies and more. They shared their ideas (and drawings!) about how they see Cardiff, what a network could provide and the events they'd like us to run. Watch this film made by Cardiff University journalism student, Toby Mott, and read what people thought about the event on our Storify.
It's really important to us that we build the network with and for people working in the city's creative economy. And that there is something in it for everyone. We're hoping to be up and running in October. But this will just be the beginning of us all working together to create something to support and promote the great work which is happening in our capital city.
The Creative Cardiff website will advertise jobs and opportunities across the breadth of the city's creative economy – everything from performing arts to gaming and architecture. We'll also run events, share information and provide a platform for people to share their stories, views and ideas.
If you want to be part of Creative Cardiff do fill out our short survey and we'll add you to our mailing list so that you'll be first to hear about what's happening next.
---
Comments
Lisa Matthews joins Creative Economy
We're delighted to welcome Lisa Matthews on secondment from the Arts Council of Wales into the role of Director of Creative Economy, as Sara Pepper's maternity cover. Lisa brings a wealth of skills and significant experience to the team.
'Find out how we support collaboration with Cardiff's creative industries.