Where is the edge? A collaborative approach to mapping the creative economy
29 June 2015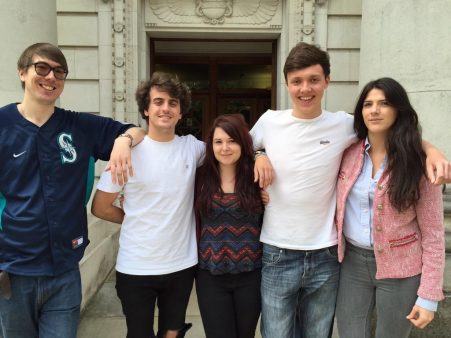 Our work to map the creative economy is well underway. To help us with this ambitious project we've recruited a team of students who bring with them a fantastic range of skills, experience and knowledge of the creative economy.
As a team we're working together to develop an effective methodology that we're refining as we reflect on our findings. As we map more of the wealth of activity in Cardiff we're constantly faced with new questions about the creative economy: What's in? What's out? Where are the edges? And how do you categorise people and work that by its nature doesn't fit neatly into well-defined boxes? It's precisely these questions that make this project so interesting.
If you work in Cardiff's creative economy and would like to put yourself on our map of creative Cardiff then please do fill out our short survey.
I wanted to introduce the students who have come together to form this cross-disciplinary mapping team. Below they share some of their motivations for getting involved with the project, their insights and observations.
Elliot Hayes is studying for a BA in Journalism, Media & Sociology:
"I have an interest in media representations of music, popular culture and fandom and as part of this project I've been researching music, performing arts, visual arts and publishing. I wanted to join the project to experience collaborative research with a team from a variety of academic backgrounds. I hope this project will give me the opportunity to connect with the city's creative community and seek my own role within it."
Sam Murray is studying for a PhD in the School of Music, examining the use of popular music as a resource within the city of Portland, Oregon, with a focus on policy-making:
"I'm enjoying finding out more about how the creative industries are distributed across the city. So far I've focused on music, visual arts, performing arts and architecture. I was keen to join the team so that I can practically apply my research skills in a unique collaborative environment, and explore the economic dimension of the creative industries."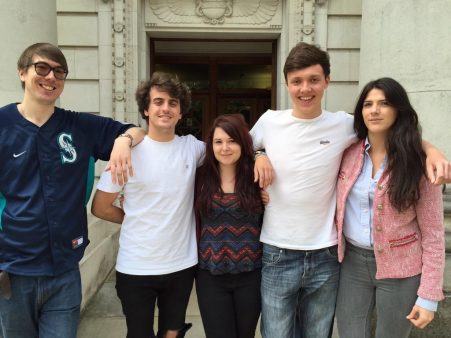 Emma Jones is a PhD student in Cardiff Business School. Her thesis focuses on issues around identity for creative workers:
"When I first heard about the Creative Cardiff mapping project I was extremely keen to be involved. This project presented a fantastic opportunity to get to know the context of Cardiff's creative industries better. So far I've been involved with mapping film, television, photography, gaming and craft, and I attended the Wales Games Development Show 2015. It's been great to work alongside others with similar research interests and to contribute to this unique and exciting project."
Toby Mott is an undergraduate in the School of Journalism, Media and Cultural Studies:
"I wanted to work on the Creative Cardiff project because of the range of opportunities that came with it. I'm helping develop the first Creative Cardiff network of its kind and I'm also furthering my own research abilities and making contacts that could be invaluable later in my career. Although the scale of what we're doing is sometimes difficult to handle, I'm really enjoying the experience."
Melissa Dickinson is an Economic Geography PhD student in the School of Planning and Geography. Her research looks at the economic performance of urban areas and creative capital:
"I have long been interested in researching urban growth and the creative activity of cities and their regions. Systematically mapping Cardiff's creative economy provides a unique opportunity to understand the requirements of the people, organisations and businesses within Cardiff's creative sector. I believe that the creation of a city-wide creative network will improve the performance of Cardiff's creative economy. It will provide insights as to how policy could be used to support and promote Cardiff's creative industries and their development and it will help to give Cardiff a competitive advantage."
Lisa Matthews joins Creative Economy
We're delighted to welcome Lisa Matthews on secondment from the Arts Council of Wales into the role of Director of Creative Economy, as Sara Pepper's maternity cover. Lisa brings a wealth of skills and significant experience to the team.
'Find out how we support collaboration with Cardiff's creative industries.