A small room with big ambitions
15 May 2015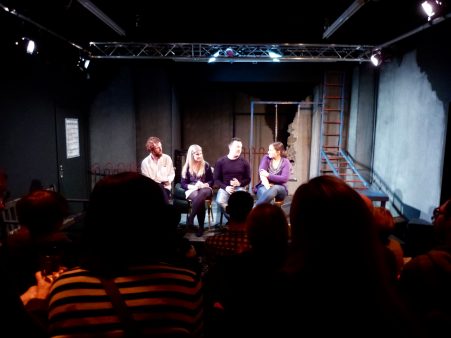 From the moment we heard about The Other Room, Cardiff's new pub theatre, we were keen to get involved. We admired their positive, entrepreneurial spirit and their passion. And we saw that this small space, where people can experiment and develop, could make a big difference to the development of Cardiff's creative economy. This week we were pleased to work with them on their post-show talk after Wednesday's performance of 'A Good Clean Heart', a new play by writer Alun Saunders. Lisa Sheppard, from Cardiff University's School of Welsh, who's currently researching identity and multiculturalism in modern Welsh literature, took part in a post-show talk about the importance of language in shaping identity and nationality.
'A Good Clean Heart' is a new bilingual play about two brothers who come of age speaking different languages and in separate families. It poses many questions about language, culture and the formation of identity. The discussion with playwright Alun Saunders, and director Mared Swain explored the use of Welsh at school, the changing language, the importance of the language in shaping Welsh identity and navigating the adoption process. The challenge of working on this production in two languages, especially with one actor not speaking Welsh, was also explored.
Speaking about the play, Lisa Sheppard commented: "As a bilingual country, Wales cannot underestimate the role language has played in forming a sense of identity and its importance from a cultural and social standpoint. The themes of the play speak to contemporary Wales, highlighting our unique experience and articulating the influence of language on our characters, our aspirations and our sense of belonging. Bilingualism opens our eyes to other cultures and perspectives which is so important in a multicultural world."
The sell-out show ends this week and The Other Room will then be running a Young Artists festival in June. Over a week they will create five companies to direct and perform five new short plays. If their recent season is anything to go on, they'll produce some exciting work so do keep an eye out for tickets.
When we began work on our Creative Cardiff project we set out our aims: to work with others to make Cardiff a capital of creativity, to support the city's creative economy and to encourage people to work together to raise the city's ambitions. This little room is playing a big part in achieving this.
Lisa Matthews joins Creative Economy
We're delighted to welcome Lisa Matthews on secondment from the Arts Council of Wales into the role of Director of Creative Economy, as Sara Pepper's maternity cover. Lisa brings a wealth of skills and significant experience to the team.
'Find out how we support collaboration with Cardiff's creative industries.