From Archaeological Trenches to Conservation Laboratories
4 May 2018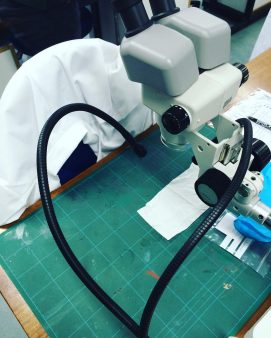 I still remember the moment last September when I shook the dust off my clothes in a trench for last time, somewhere in eastern Mediterranean, and packed my suitcases. A journey was begun, this time in a new world: the world of Conservation.
Archaeology was my passion. For this reason, I studied Archaeology and took part in several archaeological excavations. While I was 'scratching' the layers of history, I was usually thinking about the preservation of all these objects that I was ruthlessly uncovering from their archaeological 'tomb'. All these thoughts matured into a sincere desire to learn more about the field of Conservation. I attended conservation seminars and workshops until I made decision to study Conservation. I searched for potential places in the UK and discussed my options with people in the field. After careful consideration, I chose my destination, and that destination was Cardiff.
The post-graduate programme 'Conservation Practice' of Cardiff University was the best solution in my case. It is a conservation programme that provides theoretical and practical knowledge, with academic staff and alumni that have a significant impact in the Cultural Heritage sector. What I was really like about the programme was the opportunity to work with different materials and combine theory and practice. So, after my application was accepted, I packed my suitcases and booked my tickets for Cardiff. And here I am, ten months later, in front of a screen writing about that journey.
When I stood for the first time in the conservation laboratory, I had a strange feeling. I was over-stressed and thinking about my new beginning. I was surrounded by new people, microscopes, scalpels, solvents and so many other things that looked so strange to me. I realised that something beautiful was emerging from that place: a love for Conservation. The laboratory offered me a heartfelt welcome.
I was quite scared in the first weeks; the lectures and projects seemed so strange. But thanks to the staff, I managed to get into the world of Conservation and feel more comfortable. The programme was exactly what I expected. On one hand, theoretical lectures enriched my background knowledge and helped me to develop critical thinking, which is so important in Conservation. On the other hand, I had the opportunity to apply all this theory in practice. I worked (and I'm still working!) on objects of different materials, and deal with all the challenges of conserving them.
My first project was Roman and modern coins. I will never forget the moment that I managed to remove an adhesive from the reverse side of a Roman coin and revealed the figure of Emperor Constantine. I was so excited, so proud!
Apart from personal projects, I also engaged in group projects and collaborated with other conservation students. Another thing that I liked a lot was the opportunity to take part in different workshops that provided supplementary knowledge and training in fields relevant to Conservation.
All these things that I am still learning from the programme contribute to professional skills suitable to face any challenge in my future career. That is why I don't regret my choice to study here in Cardiff.
Additionally, Cardiff is a small, beautiful city providing every kind of entertainment; sports and events take place in the city. Parks and attractions are everywhere.
Particularly for students, Cardiff is the most affordable city in the UK. Living expenses are quite low in comparison with other cities. Rents, food, and entertainment are relatively cheap, especially for students (I personally spend around 600 pounds per month). For conservation students, there aren't any additional costs that relate directly to the programme (except of course tuition fees!). The university provides everything that is needed for that, including tools. Cardiff University has also one of the best Student Unions in the country, organising trips and student events.
For all these reasons I believe that studying Conservation here is a good choice. I am sure that if anyone decides to apply here they will enjoy it a lot! That's why I am here; that's why I decided to change my archaeological trowel with a conservation scalpel!
Search this blog
Join 25 other subscribers.