Dissertations Abound
22 February 2018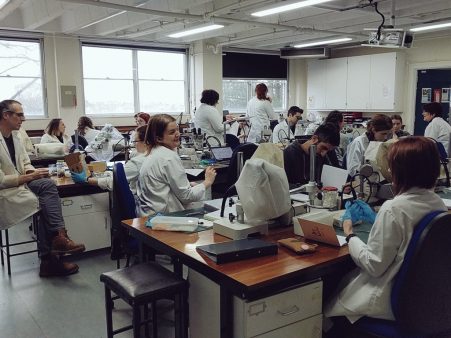 Studying the Effect of Varying Silica Gel Amounts on the Relative Humidity Within a Container.

Our dissertation is looking at the relative humidity (RH) changes within storage containers that have different amounts of silica gel within them so that we can see if the amount of silica gel affects the RH.
-Will Smith, Mary Lawrence, Rebecca Haf, Katheryn RS, Jodie Pike, BSc Conservation of Objects in Museums and Archaeology
Evaluating conservation in action within the National Trust
The focus will be to look at the impact conservation in action can have on the wider organization, such as engagement, retention and fundraising.
-Fiona White, MSc Care of Collections
Heritage in Times of Austerity
The project will investigate how the UK government's austerity measures have impacted the care of collections in the museum environment. Local government policies will be looked at in regards to public spending on arts and cultural institutions and how funders can be influenced on the importance of collections care.
–Lucy Haddock, MSc Care of Collections
Changing Values:
An in depth look at how America's relationship/values with their heritage has changed in the wake of the events of September 11th, 2001.
-Cathy Fox, MSc Care of Collections
Effects of post-excavation drying of archaeological iron on storage environments and assessment of current practices
Using a climate chamber and data-loggers I will be looking at the internal relative humidity (RH) of storage containers that hold wet and dry artifacts. I will analyze how having these artifacts, with and without silica gel in the containers, will affect the RH. While doing this, I will also be collecting data from archaeology sites on how they currently store their metal artifacts.
-Stephanie Whitehead, MSc Conservation Practice
Post-excavation drying protocols for archaeological iron
The aim of my research is to identify best-practice methods for drying freshly excavated archaeological iron work. The methods are drying the iron with silica gel and under different temperatures. The result will provide a guideline for archaeologists and conservators when they make decisions about drying post-excavation ironwork.
-Yichen Liu, MSc Professional Conservation
Technological study of Islamic Period ceramics from Ghor es-Safi, Jordan
A selection of coarseware ceramics from a recent excavation in Jordan will be examined in thin section in order to reveal information about the raw materials, forming techniques (e.g. wheel thrown vs handmade), and firing environments used by the manufacturers. The information from the study will contribute to the understanding of local industry, trade networks, and site chronologies in the Islamic Period of Jordan (9th-15th centuries CE).
-Aliza Taft, MSc Conservation Practice
A Technological Comparison of Mamluk Glazed Ceramics Excavated at Aqaba Castle and Ghor es-Safi, Jordan
This dissertation will be an analysis of the fabric, slip, and glazes of ceramics from these two sites using Scanning Electron Microscopy and X-ray Diffraction techniques. A comparison will be made between sites and time periods to see technological changes.
-Joanne Hoppe, MSc Conservation Practice
A Technological Study of Turkish Kütahya ware (18th Century AD) excavated at Aqaba Castle, Jordan
SEM and Raman analysis of the samples' fabrics, slips and glazes will provide information about their chemical composition. This understanding of the material's composition will aid in provenancing the samples. The data from this study will contribute to Kütahya ware's chemical identification and distinguish it from Iznik ware.
-Pamela Murray, MSc Conservation Practice
Dope Rope Under The Microscope: Examining the Physical Response of Hemp Rope to Relative Humidity
The Mary Rose Trust is interested in lowering the relative humidity in a display case housing coils of hemp rope to better suit the needs of cannon balls also in the case. A sample of this rope will be placed in a climatic chamber, measuring weight change in relation to humidity changes, and photographs will be continually taken. This dissertation aims to investigate the physical and visual effects of low relative humidity on archaeological air dried hemp rope.
-Devin Mattlin, MSc Conservation Practice
Hanging by a Thread: An Analysis on the Effectiveness of PEG as a Treatment for Waterlogged Archaeological Rope from The London
Building on Angela Middleton's work at Historic England, yarns from a fragment of rope from The London will be treated with various grades of PEG and subsequently freeze-dried. Properties of treated yarns, including moisture response, dimensional change and tensile strength, will be compared with untreated samples to produce unprecedented datasets so that the effectiveness of PEG treatment on waterlogged rope can be evaluated.
-Morgan Creed, MSc Conservation Practice
Applying Evidence-Based Standards for Akaganéite Synthesis in Heritage Research: Comparative Analysis of Synthetic and Archaeological Akaganéite
This research project aims to establish a standard in heritage research by producing synthesized akaganéite, comparing different forms of synthetic akaganéite with archaeological akaganéite using instrumental analysis, and extrapolating the analytical data to inform current understanding of synthetic akaganéite properties.
-Kimberly Roche, MSc Conservation Practice
The Formalities of Formic Acid: Examining the use of formic acid for cleaning copper alloys.
Conservators have used formic acid to soften corrosion products on archaeological copper alloy objects, allowing the corrosion to be scraped off. It has been suggested that this leads to the formation of copper formates. For my dissertation I will examine this process by immersing 7 common copper alloy corrosion products in 5%, 15% and 25% aqueous solutions of formic acid to see which products dissolve. After this the solution will be evaporated off and the solute will be examined using XRD and Ramen Spectroscopy to determine the presence of copper formates. This type of study has not been done before and will provide information about the formation of copper formates and a framework for the use of formic acid.
-Dean Smith, MSc Conservation Practice
An Evaluation of Cortec VPCI-388™ as a Protective Coating on Heritage Iron
My dissertation will assess the VPCI-388 Cortec™ Vapor Phase Corrosion Inhibitor and its suitability for use in conservation of heritage objects. This will be done by measuring the oxygen consumption and by extension the corrosion rate of samples coated with the product, assessing any aesthetic changes to the metal surface, and testing the reversibility of the coating.
-Meredith Sweeney, MSc Professional Conservation
---
Comments
Search this blog
Join 25 other subscribers.