A Conservator in Paris, or My First Time at an ICOM AGM
24 June 2017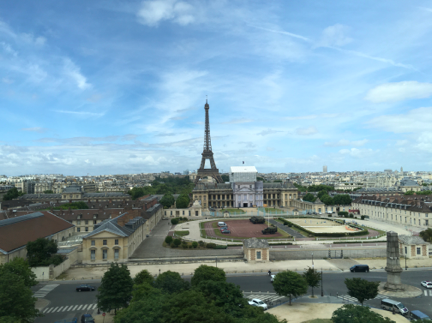 by Nerys Rudder, alumna and blog Creator
It's 9:00am. Anxiety, excitement, tiredness: I'm standing in a room full of distinguished museum directors and a fully fledged Jordanian princess. I know no-one. Everyone else seems to be the very best of friends with lots of hugs and loud kisses and chatting in different languages. I'm the "Billy-No-Mates" standing in the corner. Why the heck am I here?
The International Council of Museums (ICOM) is a 35,000 member strong organisation and diplomatic forum with ties to UNESCO. Since 1946 they've been the only global body by and for the museum profession. National Committee chairpersons are usually directors and heads of departments with years of experience, high-end accessories and quite a few grey hairs. I'm a large black woman with bleached blonde hair (yes I'm hiding the onslaught of grey) and I'm a consultant conservator and collections manager from a small island developing state. Do I stand out? Maybe not as much as I thought. I'm asked what museum I'm from and when I say I'm a freelancing conservator their eyes glaze over (I won't say in fear: maybe in incomprehension).
Slowly the covert glances at my hair-style (at the airport a little girl said "Daddy why does that lady have crazy hair?) are replaced with introductions and a swapping of business cards. Haiti, Sweden, Korea, Costa Rica: friendly people with kind eyes. I sit next to Azerbaijan for the day: she gives me a book on carpets. I give her a "Make Museums Magic" pin and I think I got the better deal.
Vietnam, Zambia, Pakistan. The presentations are actually varied and interesting, with a key note speaker from Newcastle University speaking on using play to address contentious issues. U.S., Niger, Kenya, Panama. The discussions on membership structures heat up in three different languages. Side note: there are politics in all international organizations.
The past president of the Conservation International Committee (ICOM-CC) introduces himself and gives me his card. My smile spreads to a wide grin, and I give him another handshake (one of us, one of us!).
The President calls for longer discussion so that all members can voice their views. But I desperately need to pee. Oh yes! the moderator says Denmark is the last person to comment. Relief is in sight at 5:05pm… Nope. I forgot an extra-mural regional meeting I signed up for (why did I do this to myself?). A rushed ten minutes through the back streets of Paris as we're late. Then another very lively discussion, mostly in Spanish. I eagerly listen to the ICOM member acting as ad hoc translator. A most worthy project, and I know some small museums that would benefit. Next stop is the reception at Cernuschi Museum. Am I a bad person for wishing for my very comfortable hotel bed?
The place is packed, the collections (and their cases) are amazing and we can't find the food. I say 'we', because I've finally made some friends. Haiti and Panama are staying in the same hotel, and got grants to come too. We make a bee line for the drinks station, and then the fancy finger food starts coming out. We are in the sweet spot right next to the food prep area. Dinner comes out in little cubes, bit by bit. Will never eat the green peas in clear gelatin ever again.
I'm shattered. So are Haiti and Panama. We head out, but not before chatting to Macedonia and Costa Rica.
I've got two more days of this. I'm a conservator and I'm a chairperson of an ICOM national committee. I'm making museums magic. So can you. Join an organisation. Run for office. Make your voice heard. It matters.
All photos by the author.
Search this blog
Join 25 other subscribers.