RDCS South East Wales Grant Writing Day 2019
31 October 2019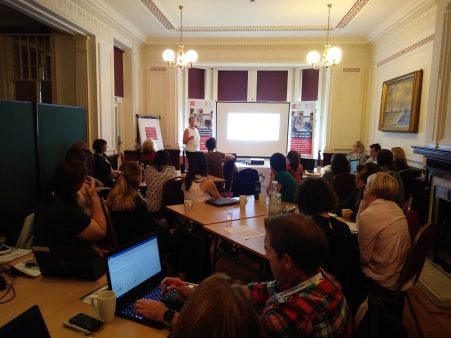 Background
On 26th September 2019 the Research Design and Conduct Service (RDCS) South East Wales hosted an all-day grant writing Day at Birchwood House, Cardiff. Sixteen delegates working across four health boards (Aneurin Bevan University HB, Cardiff and Vale University HB, Cwm Taf Morgannwg University HB, Powys Teaching HB) and Public Health Wales attended the event. The retreat provided them with a whole day of protected time to work on grant applications, either on their own or together with collaborators. Expert advice was available from RDCS consultants throughout the day on a variety of topics such as study design, qualitative methods, statistical analysis, study management, and health economics.
9 project areas
The delegates worked on nine distinct project ideas across a diverse range of specialties and research areas including mental health, primary care, microbiology, sexual health, epidemiology, social care and public health. Most of them attended with the aim to submit their proposals to Health and Care Research Wales' (HCRW) Research for Patient and Public Benefit (RfPPB) scheme.
In the morning RDCS Director Sue Channon explained some of the recent updates made to the RfPPB call, such as the change from a single-stage to a two-stage application process, revised eligibility criteria and its much earlier submission deadline. She also presented feedback on RfPPB applications from previous years and observations from various HCRW and NIHR funding committee meetings.
Maximising expertise
To maximise the expertise available to delegates and the range of disciplines covered, the Cardiff-based team of RDCS consultants (Sue Channon, Claire Nollett, Philip Pallmann, Kim Smallman) was complemented by health economist Berni Sewell (Swansea University) and Centre for Trials Research (CTR) Director Kerry Hood. Six additional CTR researchers (Catrin Cox, Mackenzie Fong, Kate Ingarfield-Herbert, Yvonne Moriarty, Lisette Nixon, Victoria Shepherd) also attended the event to support or shadow the RDCS consultants or to work with delegates on their specific bids.
While some participants chose to hide away in the cosy atmosphere of the Birchwood Library for hours and completely focus on their writing, others seized the opportunity to pick the consultants' brains throughout the day. Lively discussions between researchers and consultants continued well beyond the official end of the event.
Positive feedback from delegates
This year's writing retreat proved so popular that we had to create a waiting list and unfortunately not everyone could get a place at the event. With those attending it achieved a record-high average satisfaction rate of 9.86/10, based on 14 returned feedback forms. Some aspects that delegates highlighted as particularly helpful included:
"Opportunity to discuss a question idea in detail with experts in the field"
"The range of skills within the room"
"Expertise in specific areas, for example statistics and health economics"
"Having time to talk through our project with the consultants"
"The support and discussion with the consultant really helped thinking of the research project aim and objective"
"Having a consultant to thrash out ideas with"
"Our consultant was excellent and made us feel at ease, she was so approachable and knowledgeable. We didn't make it easy for her!"
"The individual consultation, which highlighted areas to include in the grant application including patient public involvement and all the ways in which PPI could be utilised"
"Advice on how to frame the study"
"Introduction talk about funding was very clear and informative"
The Centre for Trials Research is a UKCRC-registered clinical trials unit. It is publicly-funded to enable applied research that informs policy in health and social care in Wales and the UK, and is currently running studies across Wales, the UK and internationally. The Centre is funded through Welsh government by Health and Care Research Wales, and Cancer Research UK.