Q-Pulse Conference November 2019
4 December 2019
Background
Last week I attended the Q-Pulse conference at the Vox conference centre in Birmingham along with Cardiff University colleagues from Central Biotechnology Services (CBS) and the Wales Research and Diagnostic Positron Emission Tomography Imaging Centre (PETIC). It was an opportunity to explore how other organisations use Q-Pulse and to gather information on other software offered by Ideagen. 
The conference itself was attended by a mix of people from healthcare and aviation, all using Q-Pulse for their Quality Management System.
Version 7.0 of Q-Pulse became available in July 2019 – its installation has been scheduled by Cardiff University IT for some time now – we hope to see progress with this by the end of 2019. Version 7.0 is a web-based version, so staff accessing Q-Pulse outside of the office should have access to the same functionality within the database as when using it on their desktop.  
Dashboards
Version 7.0 also introduces 3 dashboards:
•           Audit – overview
• CAPA
• Documents outstanding acknowledgements (department)
The dashboards can have an active role in data-driven continual improvement and data can be displayed as a donut, bar, or tree chart.
Ideagen plan to make version 7.1 available in December 2019 and Version 8.0 will become available in 2020.
Currently at the Centre for Trials Research we only use the document, audit corrective and preventive action (CAPA), people and training modules.  We do not utilise the incidents and occurrences module, or the asset module.  It was interesting to explore the uses of these additional modules and reflect on how useful they could be within the Centre for Trials Research. 
Incidents and Occurrences Module
Professor Christopher Marshall, from PETIC, Cardiff University, presented a session on how PETIC use the incidents and occurrences modules to design and use forms which are employed in their sterile clean rooms.  This has removed the need for paper and has increased the sterility of their clean room environment.  PETIC have a longer-term goal to become paperless by utilising Q-Pulse for all their forms in the next year.
The occurrence module is a data capture module, where you can design forms – any paper forms can be transferred into an electronic form in the occurrence module.  Q-Pulse has a powerful reporting tool, which allows you to aggregate the information entered in the forms to produce reports.  The occurrence module can be accessed via the Q-Pulse iPad app.  This has inspired me to investigate the use of the occurrence module for some of our QA paper forms, such as the Standard Operating Procedure (SOP) deviation form, SOP exemption form, impact assessment form, and process document activation checklist.  I hope to make some progress with this in 2020 and would encourage others to think about the use of this module for simple data capture in their own areas of work.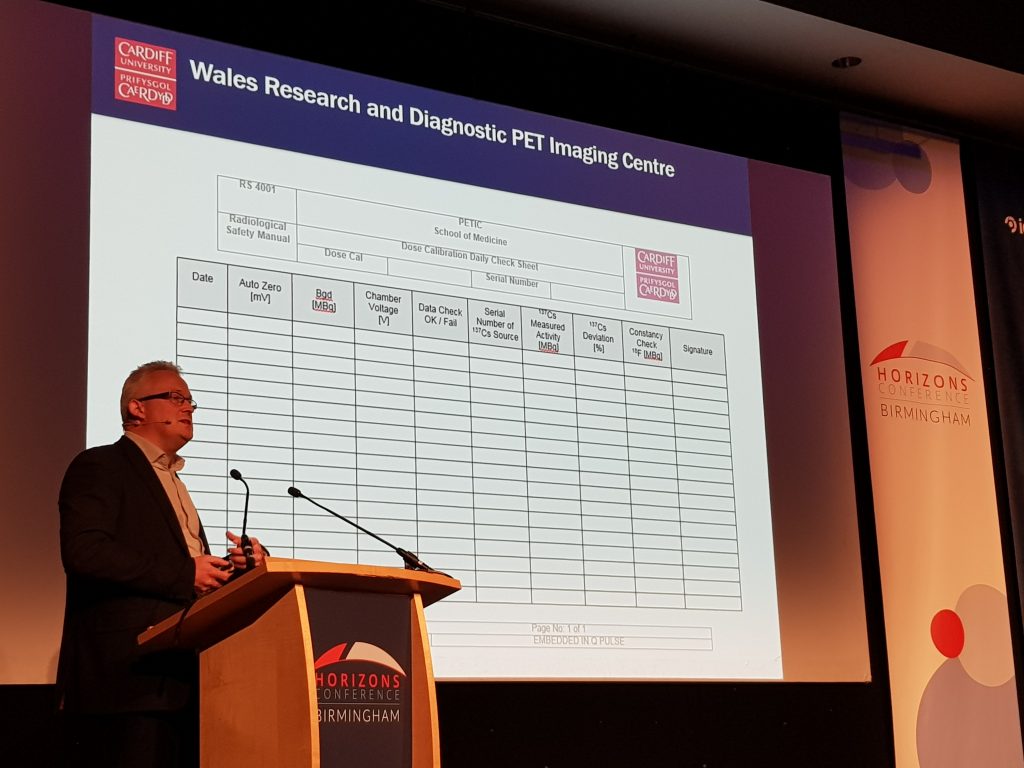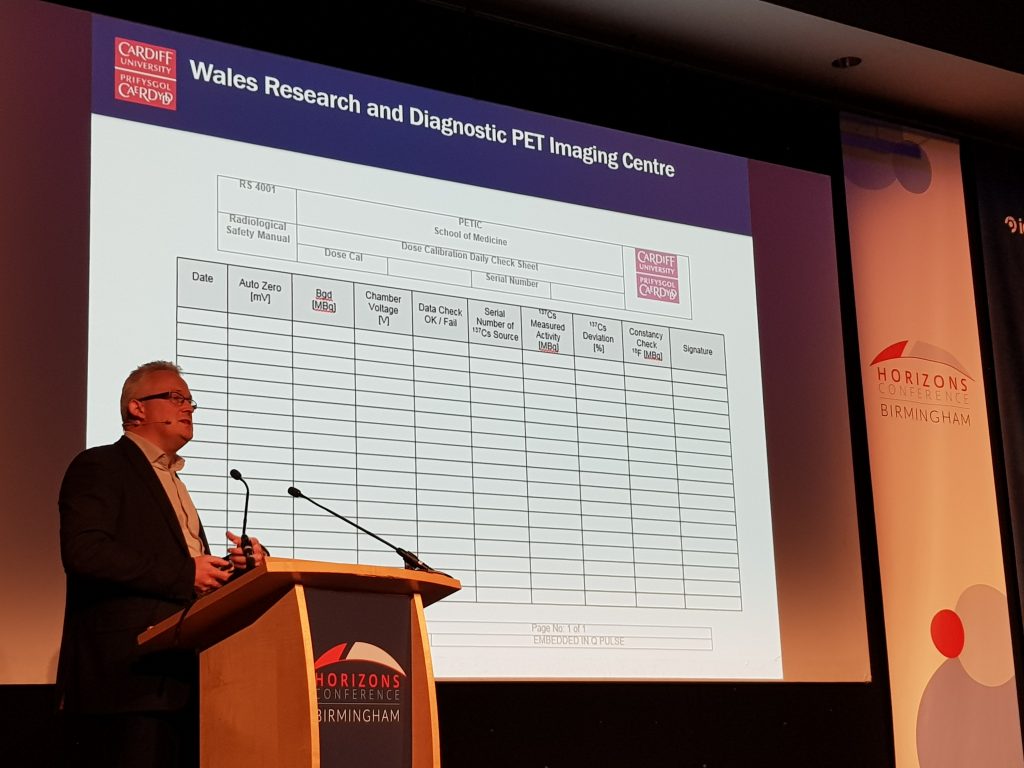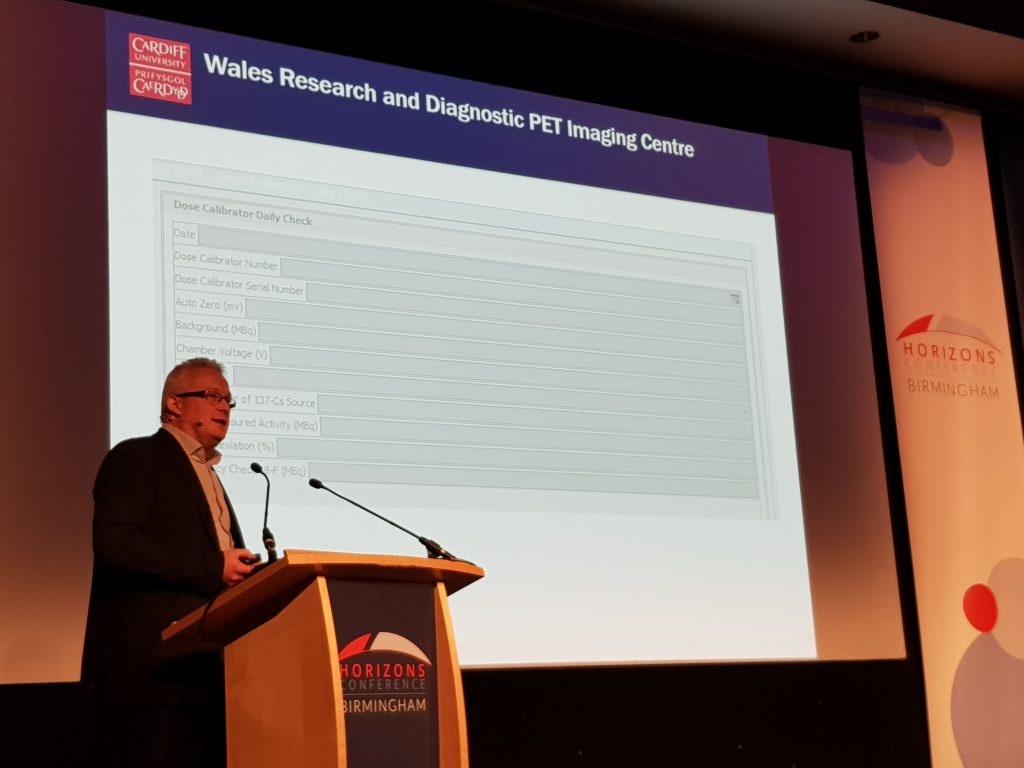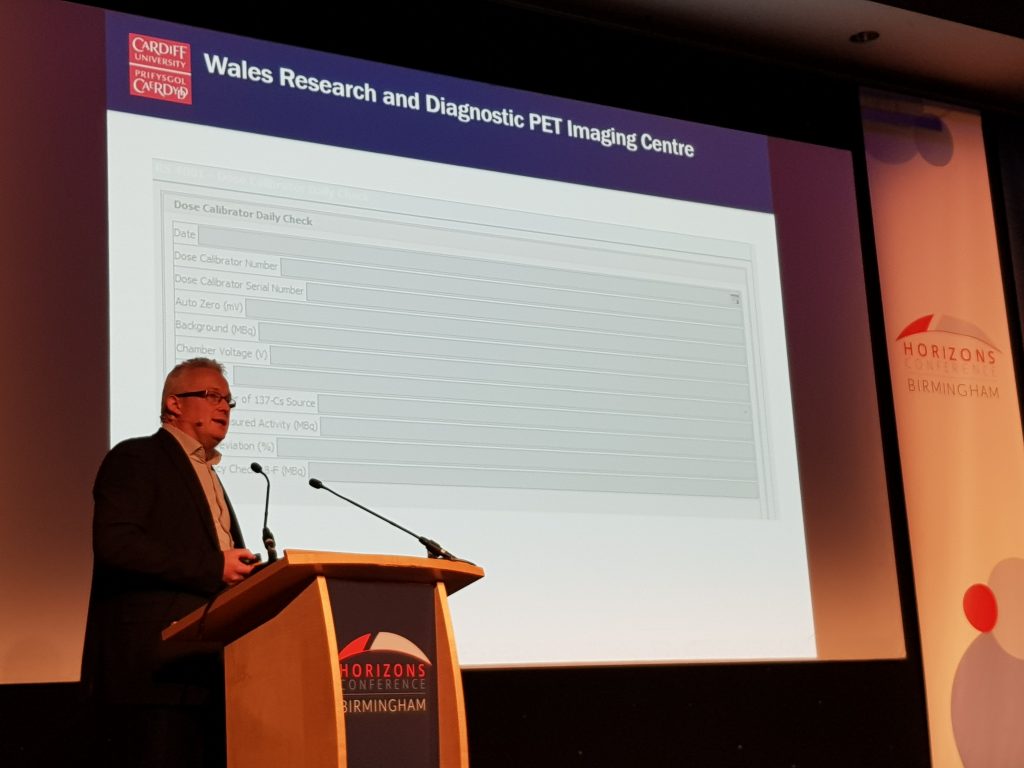 Asset Module
The asset module provides you with the ability to assign any number of actions to an asset record, and from there, automatically monitor these across a complete inventory. The module also highlights pending and outstanding actions and communicates them to the relevant people until they have been addressed. This ensures exposure to unregulated equipment is minimised. This module may be of use to the Technical Solutions group within the Centre for Trials Research to help monitor computer systems and software.  I'm sure there are other innovative ways this module could be used by other groups within the Centre for Trials Research too.
In addition to customer experiences presented, the conference included keynote speakers (Steve Backshall, Baroness Manningham-Buller and Nick Fry). They discussed managing and handling change during their careers, as well as their respective leadership experiences and the accompanying challenges they faced.  It added an interesting dimension to the conference, which I thoroughly enjoyed and hope to attend again in the future.
Claire Johnson
Head of Quality Assurance and Regulatory Affairs
Centre for Trials Research
The Centre for Trials Research is a UKCRC-registered clinical trials unit. It is publicly-funded to enable applied research that informs policy in health and social care in Wales and the UK, and is currently running studies across Wales, the UK and internationally. The Centre is funded through Welsh government by Health and Care Research Wales, and Cancer Research UK.