New Beginnings: The First CTR Nursing And Allied Health Professionals Group Awayday
24 November 2022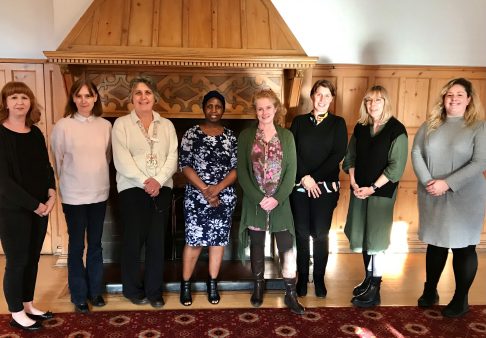 As there are a number of nurses and allied health professionals working in a range of research roles in the Centre for Trials Research, we recognised earlier this year that we needed to bring together all those with clinical backgrounds and roles in CTR to strengthen this growing area. This led to the creation of the CTR NMAHP Group (Nursing, Midwifery and Allied Health Professionals), and last week we held our first awayday. It was a great opportunity to meet in person and to set out our vision for developing NMAHP roles within CTR.
Establishing the aims of the CTR NMAHP Group
The aim of the awayday was to come together as a group to explore opportunities and barriers to career and role development, raise the profile of NMAHP roles in CTR, highlight the value that having embedded clinical expertise brings to research both within and beyond CTR, and to develop a strategy for the group. Aberdare Hall provided a historical backdrop for the occasion.
The group attending the awayday were: Ffion Davies and Alison Johnson (Research Nurses), Jane Davies and Nicola Ivins (Senior Research Nurses), Gladys Makuta (Trial Manager), Vicky Shepherd (Senior Research Fellow), Monica Busse (Professor and Director of Health and Care Research Wales Faculty) and Hayley Prout (Qualitative Research Associate).
The road to CTR: many a winding turn
One of the key messages from the day was the extensive and diverse range of roles in different clinical and academic areas that members had experience in prior to joining CTR, including from an international perspective, and the huge array of skills and expertise that members bring to their roles in CTR as a result. The varied nature of roles we hold in CTR was striking, and also the input our breadth of expertise can have across the whole life cycle of research – from co-designing interventions and developing proposals, leading the implementation and delivery of studies, developing and leading new areas of research, through to conducting public engagement activities. A common thread is keeping the experiences of patients and the public at the heart of all we do.
Developing the group
Our NMAHP roles can be seen as playing key 'brokering' or 'bridging' roles between different organisations and groups, including building relationships at the interface between care and research, and between organisations such as the NHS and the University and other academic partners. This is particularly important in studies where there are likely to be additional challenges such as in non-NHS settings or with populations who may have additional issues around consent, which particularly benefit from this expertise. We recognised the uniqueness of having this clinical expertise embedded across the CTR Divisions and trial teams, and the opportunities it brings to improve the quality of research.  We also recognised the need to further develop these roles within CTR, and to find ways of harnessing the collective experience of the group.
In the afternoon, a really interesting session using Insights Discovery methodology led by Monica helped us focus on understanding more about ourselves and each other, and Jeremy Segrott kindly joined us as CTR L&D lead to explore the development needs of members and the group as a whole.
Reflections from the day and next steps
Building on the discussions from the day, we will be developing our strategy for the CTR NMAHP Group which will lay out the vision and aims of the group, and how we can best support CTR to achieve its mission of improving health and wellbeing through excellence in clinical trials and other well-designed studies. A key takeaway message is that having clinical expertise embedded within a CTU is an incredibly valuable resource – and we should do more to sing about it
The Centre for Trials Research is a UKCRC-registered clinical trials unit. It is publicly-funded to enable applied research that informs policy in health and social care in Wales and the UK, and is currently running studies across Wales, the UK and internationally. The Centre is funded through Welsh government by Health and Care Research Wales, and Cancer Research UK.