RDCS Early Ideas Event 2022
17 November 2022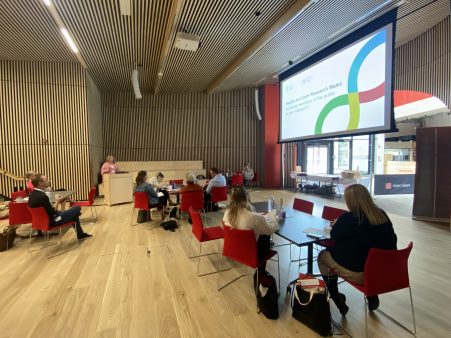 Earlier this summer, after more than two years of virtual events, the Research Design and Conduct Service (RDCS) South East Wales held its first in-person workshop since the beginning of the Covid-19 pandemic. The all-day event on "Developing an Early Idea for Research" was aimed at NHS staff interested in learning more about how to turn a vague idea into a research study with a view to applying for grant funding.
Nine delegates working across three Welsh Health Boards (Cardiff and Vale UHB, Cwm Taf Morgannwg UHB, Swansea Bay UHB) and Optometry Wales and a range of specialties (including pharmacy, optometry, radiotherapy, speech and language therapy, obstetrics and gynaecology) attended the workshop. It was held at Cardiff University's brand new sbarc|spark Building where delegates were welcomed by RDCS Administrator Lorraine Craig who led the organisation of the event.
RDCS Director Sue Channon opened the day with an overview of the support the RDCS provides. Next, RDCS Consultants Claire Nollett and Kim Smallman presented on aspects of a good research idea, before delegates discussed their own ideas with amongst themselves and also with the RDCS Consultants. Next, Emma Langley, Public Involvement Coordinator at Health and Care Research Wales, shared some ideas around public and patient involvement in research, followed by small group discussions facilitated by Emma and the RDCS team and allowing delegates to explore how their own project ideas could benefit from public involvement.
After lunch (provided by independent catering outlet milk&sugar in sbarc|spark), RDCS Deputy Director Philip Pallmann introduced the PICO framework for formulating clear research questions, and once again delegates had the opportunity to craft their own PICO questions relating to their own ideas and receive feedback from the RDCS Consultants. Then, Kim and Philip took the delegates on a whistle-stop tour of study designs for qualitative and quantitative research projects, before the day was rounded off by a brief overview of available funding schemes.
The workshop received very positive feedback from delegates and an average satisfaction rate of 9.1/10 (based on 9 returned forms). Aspect that delegates praised in their feedback included:
"Study designs explained clearly with practical examples, makes the concepts easy to digest"
"Info on feasibility studies very useful as I've not been introduced to this approach before"
"Using the PICO framework to work through ideas was very useful and brought up further questions and areas to look into"
"Helpful to work through ideas and research questions with other people and have time to discuss"
"Small group and breakout tasks to be able to ask more specific questions"
"I found it really helpful to discuss ideas with the consultants who also signposted to other services"
"I found the information on PPI very useful as this is something I had not considered"
"Learning about different sources of funding e.g. for PPI involvement"
"Really great presentations, so much enthusiasm from the presenters"
"The food was great!"
The Centre for Trials Research is a UKCRC-registered clinical trials unit. It is publicly-funded to enable applied research that informs policy in health and social care in Wales and the UK, and is currently running studies across Wales, the UK and internationally. The Centre is funded through Welsh government by Health and Care Research Wales, and Cancer Research UK.