Remembering the Queen, UK politics and cost of living, the Cardiff model and university rankings
30 September 2022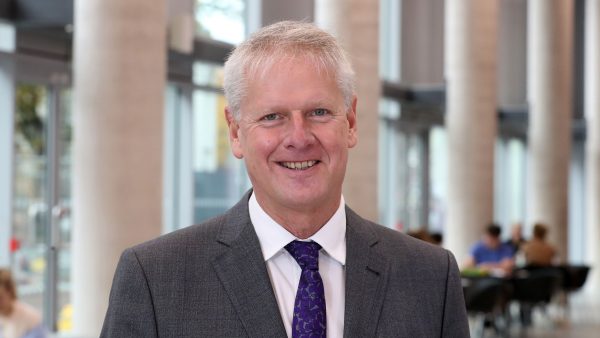 Dear colleague,
As you know, September 2022 was dominated by events external to the University that were of historic moment. The death of the Queen wholly overshadowed the handover of power from Boris Johnson to Liz Truss, the formal process of which was almost the final official duty that the Queen undertook. The new Prime Minister just had time to announce an energy price guarantee for the next two years before all announcements and public governmental and political activity ceased. Once the official period of mourning was over and the business of government could begin again, the cost of living crisis, the new government's fiscal reforms and, dramatically, the war in Ukraine created a powerful sense of historic change, instability and risk. While they are all external to the University, they impact on us directly and indirectly in different ways and that is what I want to explore in this month's mail.
There are few words I can usefully add to the countless number written and spoken in the wake of the Queen's death and during the period of mourning, save to say that I offered profound condolences on behalf of the University and attended the memorial service in Llandaff Cathedral on the Friday before the funeral. I am aware that reactions may vary, but my impression was that a well-judged balance was struck during these events. Personally, I have very pleasant memories of the Queen's visit to Cardiff in 2016 when she opened the new Cardiff University Brain Research Imaging Centre, accompanied by Prince Philip, and I am glad that we were able to welcome her to the University on that day. I hope we can look forward to welcoming the King on similar such occasions in the future.
A byproduct of the period of mourning was that the new UK government made no announcements and normal parliamentary business was suspended, so that it was only towards the end of the month that the new Chancellor, Kwasi Kwarteng, unveiled what has been termed the biggest fiscal event in a generation in a misleadingly titled 'mini-budget'. The Chancellor's 'Plan for Growth' met with a mixed response ranging from enthusiastically positive to almost disbelievingly negative, but it is fair to say that it was predominantly hostile. The most important negative response was from the international financial markets, which has led to a steep increase in the cost of government borrowing with knock-on effects for the Bank of England base rate and inflation more generally. International investors' lack of confidence in the ability of the UK government to balance the national books over time was painfully evident. That story has a long way to play out, but there is a real possibility that for many households, sharply rising mortgage rates will more than offset any savings made through tax cuts. There are to be further fiscal announcements before Christmas, we are told, but in the meantime there are few crumbs of comfort in cost of living terms.
On that matter we are finalising a range of measures to help both students and staff in the coming weeks, but measures we have already taken include committing almost £1m to increase stipends for Postgraduate Research students in line with the 10% increase announced by UKRI for the doctoral students they fund. In addition, we have increased the hardship funds available to all students at Cardiff on application by £400,000 and will keep those funds under review during the year, in case demand rises further. We are considering how best to offer support to staff, and are also working on measures such as ensuring that people can work on campus rather than at home if they need to, and that affordable food will be available at our outlets. We will let you know the detail of these and other measures as soon as they are agreed, but rest assured that we recognise the need to devote resource to help both staff and students through this winter.
There is not universal agreement on the causes of the price rises that we see across the world, but it is quite clear that while part of what we are seeing is the effect of the pandemic, the biggest driver is the war in Ukraine, which Russia persists in refusing to term a war despite instituting a partial mobilisation. Putin's initial strategy has failed and it may be that he is aiming now to consolidate and annex the territory that Russia still holds after the dramatic success of the Ukrainian counter-attack. Ukraine does not accept the loss of its territory but Putin looks likely to maintain that it is now part of Russia and present Ukraine as the aggressor that must be countered by all means possible. This is an extremely dangerous and volatile state of affairs, and we must hope that in all the complexity and confusion cool heads will prevail. In the meantime the squeeze on energy supplies continues, from which flows the immediate crisis we face. Russia's invasion of Ukraine has dramatically spotlighted the need of all countries, not least the UK, to secure independent, climate-safe energy sources that will meet demand at an affordable cost, and universities, Cardiff among them, will play a critical role in meeting that challenge. The most immediate measure we can take is to reduce energy use as far as possible, although as we know from previous experience that is not as easy as it may sound. If, for example, we are to provide warm spaces for staff and students for longer periods we may find energy use rising. We can cope with these things in the short term but in the medium term a sustainable solution will have to be found.
Turning to much more positive news, from time to time over the last decade you may have seen mentions in my monthly emails of the Cardiff Model for Violence Prevention, which was originally developed by Professor Jonathan Shepherd in the 1990s and which he has since developed to an advanced state of maturity. It involves violence reduction through key measures such as collecting, analysing and acting on precise data from hospital admissions units on vital matters such as precise violence location, weapons used and assailants. Amongst many other measures there is advice on how to design nightclubs to make violent confrontations less likely, and how to police in an effective but non-confrontational manner so as to reduce the likelihood of violence occurring in the first place. The Model is now so extensive and has been so successful that it has been adopted in a range of countries including the US, Australia and the Netherlands, although Jonathan notes wryly that it has yet to be introduced in a thoroughgoing way across Wales, despite being pioneered and practised in Cardiff. The latest news is that the World Health Organisation is recommending that the Cardiff Model for Violence Prevention should be adopted by governments globally. The recommendation is a hugely prestigious endorsement of this outstanding project, and we can be justly proud of the work of Professor Shepherd and his colleagues in the Security, Crime and Intelligence Innovation Institute, and his research collaborators across the world.
Finally, it was pleasing to see that Cardiff University rose ten places in the 2023 Times and Sunday Times Good University Guide, to 25th. The fact that in the Guardian we rose 3 places to 35th only goes to show that these tables depend on the data that is selected and how it is weighted, plus a host of other variables, some of them difficult to ascertain. Nevertheless, it is good to see our success in REF and improvement in the NSS last year being recognised, particularly in our being named Welsh University of the Year for the second year running and for the third time in the less than ten years since that particular accolade has been granted.
With best wishes
Colin Riordan
Vice-Chancellor
The contents of this message were updated on 7 October to clarify information regarding the UK government's Energy Price Guarantee.
Read about our strategic direction and focus on research and innovation, education, international and engagement.