Staff wellbeing, Cardiff University COVID-19 Screening Service, race equality, sparc|spark
29 June 2022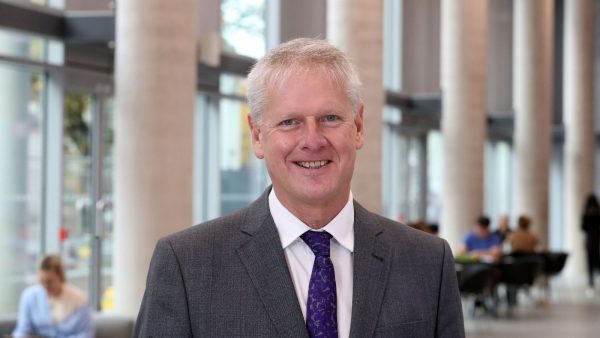 Dear colleague,
Over the last couple of years I have had to address a grave matter of moment every month in my email, what with the pandemic, industrial action, geopolitical events, funding concerns, culture wars and so on. This is the first month in a long time that I don't have any such matter to report, which is a relief and means that I can mention one or two other topics which space might otherwise have precluded.
When the gravity of the coronavirus crisis became apparent in the spring of 2020, I proposed to Council that we should recast our strategy, The Way Forward, accordingly. Part of that process involved focussing on five critical success factors that would see us through the pandemic, the first and most important of which was the health and wellbeing of staff and students. How did that go in terms of staff? Well, apart from introducing specific, immediate measures that you will remember, such as Staff Wellbeing Days, the first thing we did was develop a Staff Wellbeing Strategy, which was launched in September 2020 and is designed to run until September 2023. At the time of its launch the strategy encompassed 26 actions intended to promote staff wellbeing. Thus far we have completed or made significant progress against 18 of those commitments. I won't go through them all, but examples include mental health and wellbeing awareness training for UEB and other senior leaders, which happened in 2021; empowering staff members to take part in wellbeing initiatives such as the Step Count Challenge, smoking cessation and the like; developing the Dignity and Wellbeing Contacts Network; and introducing Wellness Action Plans. I know that not of all of these aspects will be right for everybody, but when issues such as continuing to refine and improve the workload model or considering the physical impact of the working environment on wellbeing are included, which are work in progress but receiving continual attention, the benefits do mount up.
Somewhat more technically, I am very pleased to say that the University has received verification of conformity with ISO 45003, the new international standard for the management of psychosocial hazards in the workplace. This may appear rather remote from everyday concerns, but in fact it is a strong external endorsement of our commitment to staff wellbeing and of the approach we are taking. In a further external validation of our approach, Cardiff University placed 4th in the UK and 41st in the world in the most recent Times Higher Education (THE) Impact Rankings. This category assesses our performance against the United Nations Sustainable Development Goal 3: Good Health and Wellbeing. Among the metrics the THE uses for its evaluation against Goal 3 are access to general wellbeing services and support, as well as access to healthcare services for students and free mental health support for students and staff.
For a more personal and immediate way to engage with staff wellbeing activities, look out for PHEW fortnight, which takes place between 4 and 15 July. Now in its 15th year, PHEW stands for Positive Health, Environment and Wellbeing, and offers staff the chance to participate in a wide variety of activities relating to health, wellbeing and the environment. The events are all connected to the five pillars of the Staff Wellbeing Strategy mentioned above, as well as to Mind's Five Ways to Wellbeing (well worth a look). The activities include workshops, taster sessions, health advice, fitness and dance sessions, tours, creative activities and more.
Staying on the health theme, towards the end of the month the Cardiff University Covid Screening Service ceased operating after nearly two years of playing a pivotal role in keeping our campus safe and ensuring the health and wellbeing of staff and students. It was a mammoth task but our excellent team set up a sample collection service and a lab for processing samples in bulk in less than three months. We were one of the first and, ultimately, relatively few universities in the UK to offer free asymptomatic testing. This is what allowed us to understand how coronavirus was developing at Cardiff and to issue early warnings that helped close down outbreaks as soon as possible. What the team learned about how to analyse and process saliva samples rapidly and at scale was invaluable and will strengthen continuing research in this area in the future. In all, 59,980 samples were collected, of which 854 proved positive (one of them my own last March!). This was an incredibly important team effort and I would like to express the gratitude of the whole University to everybody involved from sample collection to analysing, communicating the results and sequencing positive samples. It was a huge success and an achievement of which we can be collectively proud. Let's hope we won't need such a facility again but if we do, we'll be ready.
On a rather less positive note, some of you may have seen that the Minister for Further and Higher Education in England, the Rt Hon Michelle Donelan, has written to English Vice-Chancellors claiming that engaging with Advance HE's Race Equality Charter may be in conflict with free speech. It has reached a previously unthinkable stage when VCs are told that efforts to promote race equality should not be pursued, especially when the organisation concerned is the successor to a sector agency (the Equality Challenge Unit) which has focussed on the specific needs of the sector for many years, is now part of a sector membership organisation and has made huge progress in promoting equality and fostering inclusivity in a range of ways. The irony is that I am sure this letter is likely itself to have a chilling effect on those across the border who may be minded to protest at this astonishing move, though you can read AdvanceHE​'s carefully crafted response. I am happy to confirm that Cardiff University is proud to be taking all the steps we can to becoming an anti-racist institution. In support of that, some weeks ago UEB approved a paper entitled Additional Measures in Support of Race Equality, as a consequence of which I have signed the Zero Racism Wales policy as well as approving our becoming a supporting member of Race Alliance Wales and a sponsor organisation of The Race Council Cymru. This is in addition to our continuing work with AdvanceHE of course. To be absolutely clear, none of this conflicts with our demonstrable commitment to free speech and academic freedom, and indeed supports the commitment to talking about racism that underlies our whole approach.
Back to some highlights, and I'm pleased to say our financial position continues to be positive. I will give more detail on that in my next couple of emails, as we approach financial year-end. On that note I should like to congratulate Alison Jarvis, our Director of Financial Operations, who is moving to take up the position of Chief Financial Officer at the University of Plymouth, after having helped us to modernise and improve our financial operations and procedures over the last four years. I wish Alison well in her new, strategic leadership role and thank her for everything she has done for Cardiff. I am aware, of course, of the enormous efforts that have been put in by all staff during the course of the year in order to ensure that we remain on track academically and financially, in very difficult circumstances, and I will be returning to that topic too in due course.
Earlier this month the launch of our magnificent new Social Science Research Park, sbarc | spark took place. If you haven't visited, please do, because it is a superb affirmation of our belief in the importance of social science in the wider pantheon of research, and in innovation. It also hosts an excellent cafe which is essential to the lively exchange of ideas, as I'm sure you know. Sited as it is directly adjoining the Translational Research Hub, of which more in future emails, and a short walk from the Business School, sbarc is a ground-breaking way of bringing together research into policy, innovation, education, science itself and a host of other areas that form the innovation ecosystem. I'm confident with sbarc at its heart, we can have high hopes of success in our attempt to develop a globally leading innovation campus here at Cardiff University. The building hosts relevant local business and agencies in the innovation space and is intended to give rise to the kinds of serendipitous meetings that cannot be legislated for. Unfortunately I couldn't be at the launch myself — now that travel and meetings are back, I'm torn in several directions at once again — but it was great to see that Professor John Goddard was there, who is a kind of guru in how to do regional and economic development. It was from John (who was Deputy Vice-Chancellor at Newcastle University when I was Pro Vice-Chancellor there) that I learned so much about Civic Mission, outreach, the crucial regional role of universities and our power as economic engines that can improve the health, wealth and wellbeing of so many people in our communities and across the world. This knowledge and understanding has stood me in good stead and guided many of my decisions since I have been at Cardiff (and indeed did so at Essex too). The launch brought together many people who share that approach, not least Professor Julia Black, President of the British Academy and Adam Price, leader of Plaid Cymru, who has been a staunch advocate since his days at NESTA, and indeed advised the University on the development of sbarc and other related matters when he sat on the Innovation Board that we brought together during the developmental period of our Innovation Campus.
sbarc l spark was one of the many capital projects overseen by our departing Director of Estates and Campus Facilities, Dev Biddlecombe, who is leaving us to take over as Director of Campus Infrastructure at the University of Bath. I want to congratulate Dev on his new position, thank him for all he has done in his eight years at Cardiff and wish him well for the future. Congratulations are also due to Dr Angharad Jones of the School of Biosciences, Dr Pete Barry from the School of Physics and Astronomy and Dr John Harvey, who is soon to join the School of Mathematics, all of whom have been awarded highly prestigious Future Leaders Fellowships from UK Research and Innovation (UKRI). It's fantastic to see Cardiff colleagues succeeding in this highly competitive process, and I wish them all well in their future endeavours.
With best wishes
Colin Riordan
Vice-Chancellor
Read about our strategic direction and focus on research and innovation, education, international and engagement.