The new academic year (3 of 3 emails)
27 September 2021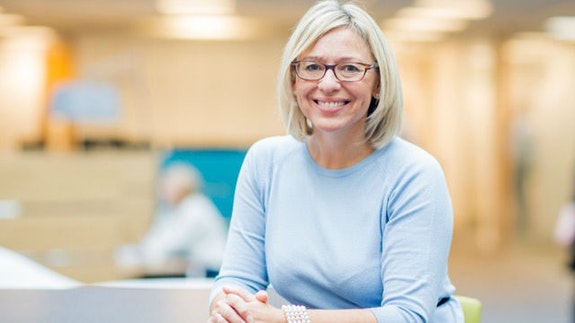 Read a message from Claire Morgan, Pro Vice-Chancellor, Education and Student Experience sent 27 September.
Dear Student,
It's enrolment week for many of you, and I'm excited to welcome you back in-person, or online if you haven't been able to join us on campus just yet. I also had the pleasure of meeting some of you during a visit to one of our halls of residence last week and it was great to see that process in action.
As we come together for the start of the autumn semester it's a great opportunity to acknowledge and celebrate our rich and diverse community. With more than 33,000 students and 8,000 staff, representing over 130 countries around the world the diversity of skills, knowledge, and experiences we share is incredible and provides countless opportunities for us to make friends, learn, support, and grow together.
I trust you have found my last two emails valuable in understanding how COVID-19 continues to impact our university and the implications for you in protecting yourself and others. Similarly, that you have found the information to help you settle in and access support helpful. Today's email provides further updates, reflecting the most relevant topics for this week.
Coronavirus COVID-19
Wales remains at alert level zero however; we cannot take this for granted as alert levels will go up if the Welsh Government consider this necessary to protect public safety. As we are all aware the pandemic is not over and the virus continues to circulate, so it is important that we do all we can to protect one another.
I'm aware that students might be feeling anxious about COVID-19 and I want to reassure you that we are here for you.
For everyone's safety it is important that if you have COVID-19 symptoms you go for a coronavirus test and self-isolate until you get your results. You should also check that you are not unknowingly carrying the virus by regularly using our screening service – you can book an appointment as often as you like.
If you haven't done so already, it's important that you register with a doctor or contact your surgery to update your contact details, so that you can access care easily should you need to.
We understand that if you need to self-isolate this can be difficult, but it is essential that you tell us in SIMS, follow the guidance, do not leave your accommodation and access support available.
Since I last wrote, our pop-up vaccination centres are now open for you to book an appointment. Also, a reminder that you need to wear a face covering inside our buildings and teaching spaces, and to adhere to any safety measures as directed by your school or the organisations you visit as part of your course or placement.
If you have travelled from overseas you will be able to claim reimbursement for your quarantine and test costs. Claims will be made via SIMS and we expect to share further details of how to make a claim mid-October. Please keep your receipts and proof of expenses safe and note that you will need a UK bank account.
If you are planning to join us in Cardiff on or after Monday 4 October 2021, please be aware that you will need to follow the latest rules for international travel.
Starting the new academic year
Over the summer, we have been making improvements to enhance your student experience, including starting to roll out a new wireless network. You will need to register or re-register your devices to ensure they work across campus. Turnitin and Learning Central have also been upgraded to the latest versions with new interfaces, greater functionality, and accessibility.
We understand students are keen to have their timetables, and can confirm that lecture timetables will be released by the end of this week on MyTimetable. You can also view your teaching timetable using our new and improved student app.
I hope that you have already begun getting to know your fellow students. Joining clubs and societies and meeting our Chaplaincy team are good for your wellbeing, bringing you closer to students with the same interests as you, which is crucial to feeling a part of the community around you. If you are not on campus look out for online events.
While on the subject of making the most of your student life, our new Centre for Student Life opens in October. If you or a friend need help, please do not hesitate to contact our Student Life teams who offer an extensive range of information, services and events. This includes Student Health and Wellbeing, who provide non-judgemental support and can help you manage your emotional, mental and physical health.
As the academic year starts, I urge you to use your student voice from day one. Let us know how you are getting on through Cardiff Pulse, module evaluation, and we'll share details of more opportunities to use your student voice throughout the year. We value your participation and feedback.
I sincerely hope that you have the best start to the year, and that you can help others to do so by championing our community commitment and treating all members of our community with respect, courtesy, and consideration.
My next email will be the end of October; however, I will be in touch sooner if there are any significant developments for you to be aware of. In the meantime please look out for Student News and other updates, and if you have any questions contact Student Connect.
Best wishes,
Claire Morgan
Pro Vice-Chancellor, Education and Student Experience
Read about our strategic direction and focus on research and innovation, education, international and engagement.