An update for our postgraduate research students
15 January 2021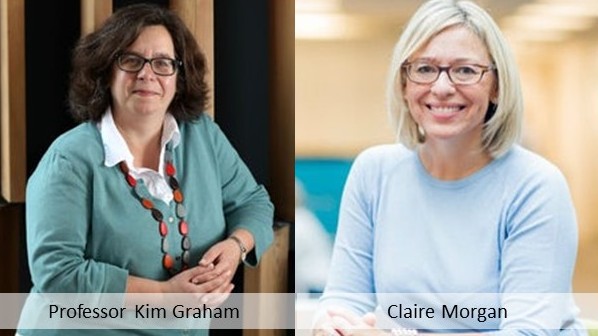 Read a message from the Pro Vice-Chancellors, Professor Kim Graham and Claire Morgan sent to postgraduate research students today (15 January).
Dear student,
I am writing to you to provide an update on some of the changes we are having to make to our approach to research due to the new Covid-19 variant, and how we will support those of you whose research will be impacted by this.
The Vice-Chancellor's coronavirus taskforce and University Executive Board have discussed the University's approach to research studies given the new Covid-19 variant. The Vice-Chancellor has taken advice on this matter from our in-house experts, from Welsh Government and from Public Health Wales, who have all confirmed that our current measures are still effective.
Our approach to delivery of research on campus during the pandemic has, to date, been highly secure, with no evidence of increased risk of transmission of Covid-19 between staff and students working at the University. This reflects the excellent risk assessments and safety measures put in place by the University and those undertaking research, as well as excellent compliance with those measures. This is additionally supported by our staff and students having access to the University's testing facility.
In alignment with other universities and recognising that there will be a significant reduction in footfall around the campus from many of our taught students moving to online teaching, we wish to continue to support staff and research students who need access to the campus to undertake and complete their research. This approach will be kept under constant review and changed as required.
We have, however, made the decision that due to high rates of Covid-19 transmission within the community, we will halt face-to-face research involving participants who are not Cardiff University staff and students, and who come from groups outside the University.
Research involving participants from outside of the University will only be allowed if the research is being undertaken within an NHS clinical setting, with suitable risk assessments in place, or if stopping the research activity would have a detrimental impact on the clinical care of participants. Agreement for continuing these forms of research must be provided by the School, based on assessment of these criteria, as well as suitable risk mitigation safety measures to protect staff, students, and participants.
Human participant testing involving staff and students who are members of the University can continue at this time, based on full consent from those participants in undertaking that research, and ensuring implementation of, and compliance with, risk assessment informed mitigation safety measures designed to reduce the risk of Covid-19 transmission.
Moving forward, for all research being undertaken at the University in 2021, both lab-based and involving human participants (Cardiff staff and students), we require all those undertaking research to:
Revisit their project risk assessments to ensure that they are maximising reduction of all potential points of Covid-19 transmission to other staff and students using the same facilities or involved in the same projects, including tightening any safety requirements accordingly based on this assessment. Where this is relevant to postgraduate researchers, this must be done in conjunction with your supervisor.
Comply with all building health and safety procedures (hand-sanitising, open way systems and social-distancing), as well as limit their interaction (and the closeness of that interaction) with others working in the same labs / buildings.
Use the University's Covid-19 testing facility regularly, such as prior to coming onto the campus, to ensure we continue to manage any potential risks of Covid-19 transmission within our community rapidly. This applies to all staff and students coming into the University to undertake research, either as a researcher or a participant.
Next steps
We understand that for those of you affected by this latest change, it will create some uncertainty for you and the progression of your research. Please know that we will do all that we can to support you and mitigate the impact that this will have on your studies.
Your supervisory team will be in touch with you to discuss how your plans can be adjusted so as to minimise the impact of this disruption. Please ensure that you record any impact caused by this change in your monitoring documents.
Postgraduate research students are currently covered by a variation of study policy until the end of January. We are reviewing the possibility of extending these variations beyond the end of January and will communicate the outcome of this to you later this month.

Please be assured that we want all of those undertaking research to feel comfortable and safe in our approach. As we have made clear previously, any postgraduate researcher who has concerns should raise them with their supervisor in the first instance and where relevant, can take advantage of the Welsh Government's risk assessment tool for workplaces.
Some of you may have received a letter confirming that you are clinically extremely vulnerable, which will have strongly advised that you should work from home for the current period. If you have received such a letter, please follow that advice, and contact your supervisor to inform them about receipt of the letter. If you cannot undertake your research from home please discuss this with your supervisor and Director of Postgraduate Research, who will be able to support you with deciding about taking an interruption of study.
If you are living with someone who has received a letter confirming they are clinically extremely vulnerable and are concerned about coming onto campus to do your research, please contact your supervisor in the first instance to discuss how we can support you.
The University's approach to accessing research facilities will be kept under constant review, and we will promptly communicate any changes to you.
Further information about this change to our research is available on the intranet.
Access to study spaces
We know that studying at home can be very challenging for some of you. Please be assured that the process to support access to study space on campus for PGRs, where working remotely is significantly impacting delivery of research, is still in place. If you need a study space, please contact your supervisor or your School's Director of Postgraduate Research, who will advise you of the process.
Our priority remains your wellbeing and safety, and so please do access the online information which provides additional links and advice on wellbeing.
It is important to continue to have regular discussions with your supervisor around how to undertake your research remotely, and how you could revise your research plans to accommodate Covid-19-related disruption.

We remain grateful for your collaboration and patience as we navigate the challenges caused to research by Covid-19.
Please do not hesitate to get in touch with us if you have any questions via
PVC-Research@cardiff.ac.uk (Kim Graham). Your College Postgraduate Deans and Directors of Postgraduate Research can also provide help and advice as needed.
Read about our strategic direction and focus on research and innovation, education, international and engagement.