Vice-Chancellor's all-staff email – November 2018
3 December 2018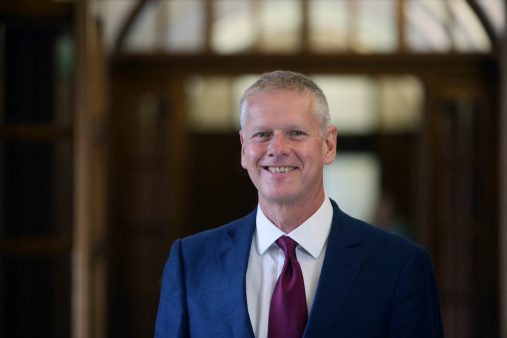 Dear colleague
At its meeting on November 26, Council agreed a new Voluntary Severance Scheme to cover the whole University. The scheme will open for applications on 3 January, remaining open until the end of May. I'm sure you will be aware that Council is expecting the University to move from a deficit position of £21m last academic year to a surplus position of £24m in two years' time. This is a challenging target, but one that is eminently achievable so long as we take a strategic approach, continuing to focus on the Way Forward 2018-23 objectives while recognising that we will have to operate differently in this changed environment. The fundamental issue is that for reasons set out in more detail here, last year our income only rose by 2.5% whilst our expenditure rose by 5.2%. That is not a sustainable position, as I'm sure you will appreciate. In order to bring about the necessary change in a strategic manner, ensuring our continued success as a University, we are developing proposals through the Transforming Cardiff programme to lay before Council for consideration in the New Year. The Voluntary Severance Scheme will be an important part of the process, but the programme as a whole will encompass a whole range of activity. There will be five pillars: organisational change, education, research, estates rationalisation and the continuing Transforming Services  programme. Some of this approach involves bringing existing activity such as Rolling REF and Transforming Services under one umbrella and ensuring that the various measures are properly co-ordinated so that we can deliver both the necessary financial improvement and our strategic objectives. I should say that we are and will be working with the campus unions to ensure that we have their input as proposals are developed, and once full proposals are agreed by Council, they will be widely disseminated for meaningful consultation. It's very important that any proposals we put forward in order to meet the challenges set by Council are robust, fair and workable.
As I have said many times over the last few years, there is a multitude of risks in the external environment at the moment. Three of the biggest are increased pension costs, the outcome of the Augar Review in England, and Brexit. I won't dwell on the first two in this email, but so far as the latter is concerned, at the time of writing it is not clear what the outcome will be of the agreement that the Prime Minister has reached with the European Union. If all the predictions are to be believed, there is little chance of the agreement receiving the endorsement of Parliament. My own view is that given the position we are in, the University needs as much continuity as possible. In particular it would be advantageous to be able to stay in the Erasmus+ and Horizon 2020 programmes until their conclusion and have the opportunity to negotiate continuing access to their successor programmes into the future. Failing that (as I said in response to a media enquiry recently), our interests as a University would be best served by a second referendum. The prospect of leaving the EU in a disorderly fashion at 11pm on 29 March is undoubtedly the least palatable from a University point of view. The potential disruption to staff and students, to our research, teaching, travel and recruitment would add significantly to the many difficult issues we are already dealing with. Whatever happens we will face varying degrees of uncertainty over the coming months, because even a surprise success by the government when the proposed agreement comes to the vote in Parliament on December 11 will herald only a new round of negotiations on the post-exit relationship, the outcome of which in turn nobody would be in a position to predict.
Meanwhile here in Cardiff I was absolutely delighted to see that one of our newer recruits to the Gravitational Waves group in the School of Physics and Astronomy, Dr Katherine Dooley, has been awarded the prestigious Philip Leverhulme Prize. The £100,000 prize is awarded for early career scientific work 'that has had a significant international impact'. This is an exceptional achievement on which I should like to congratulate Katherine, who has come to Cardiff to help us develop the instrumentation work that we have introduced to add further dimensions to the crucial theoretical contribution that the Cardiff Gravitational Waves group made to the epochally significant first detection in 2015. In other research news, Professor Jonathan Shepherd's Cardiff Model for Violence Prevention is to be adopted by the United States Centers for Disease Control and Prevention. The work of Professor Shepherd and his team has been recording a series of startling successes for a number of years now, and is one of the jewels in the crown of the Crime and Security Research Institute, which in turn is having a huge impact in a range of ways throughout the world. The US adoption of the Cardiff Model will be not only be of enormous help in tackling the very difficult problems posed by violence in society, but its widespread implementation in this way will generate invaluable data to allow the research to develop even further and the model to increase its efficacy.
I am very pleased to announce that we have recently appointed our inaugural Dean for the Welsh Language, Dr Huw Williams, who is from the School of English, Communication and Philosophy. Whether you are reading this in Welsh or English, I hope you will agree that it is critical that the language of our country is properly represented in the University and that we take all the steps we can to ensure not only that we comply with our legal duties in this respect, but that we celebrate and foster the wonderfully rich linguistic culture we enjoy. I find learning Welsh both fun and interesting, as I'm sure others do, but much more importantly we need to ensure that we have a proper strategy for teaching through the medium of Welsh and that, for example, we work as closely as possible with the Coleg Cymraeg Cenedlaethol. I should also mention in this context that Huw will be working closely with Professor Damian Walford-Davies, Pro Vice-Chancellor for the College of Arts, Humanities and Social Sciences, who has responsibility for the Welsh language on the University Executive Board.
Finally, I would like to extend a warm Welsh welcome to Ms Deborah Collins, who will be joining us as our new Chief Operating Officer on 21 January 2019, succeeding Ms Jayne Sadgrove, who is shortly to retire (I'll have more to say about Jayne next month). Deborah brings a wealth of professional experience both from her time in the Government Legal Service and from her present role as Strategic Director, Environment and Leisure in Southwark Council. I very much look forward to working closely with her as we face both the challenges and opportunities ahead.
With best wishes
Colin Riordan
Vice-Chancellor
Read about our strategic direction and focus on research and innovation, education, international and engagement.