Vice-Chancellor's all-staff email – June 2018
29 June 2018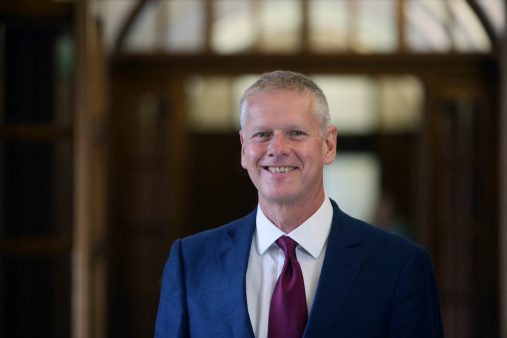 Dear colleague
June seems to have been a long hot month and I was slightly surprised to discover that it was only three weeks ago on 6 June that we launched our new Environmental Sustainability Strategy, which is one of our new enabling strategies from The Way Forward 2018-2023. The launch took place at the Volvo Ocean Race and included an excellent and fascinating presentation by Professor Steve Ormerod, whose expertise in plastics pollution in rivers made a big impression on the invited audience. Those present included members of the Welsh Assembly's Climate Change, Environment and Rural Affairs Committee, who I believe received our approach positively and welcomed the way in which we have derived our strategic objectives from the United Nations sustainable development goals and the Welsh Government's Well-being of Future Generations Act.  I should stress that although we are highlighting the phasing out of single-use plastic, the strategy of course goes much further, embracing carbon emissions, recycling and a range of other related issues. You can read the strategy here if you're interested.
Also on 6 June I attended the ceremony of the unveiling of the National Eisteddfod Crown, which is presented to the winner of one of the two main literary competitions. The Eisteddfod takes place in Cardiff this year, and as the sponsors of the Crown we hosted the ceremony, which was a wonderful reminder of the extraordinarily rich culture of which Wales is so rightly proud. The Crown itself is a beautiful object (on display in the National Museum until 2 August), which was designed by contemporary jeweller Laura Thomas and is, like the accompanying Chair (by Chris Williams), testament to the superb artistic and craft skills to be found in Wales. On that note I cannot think of another occasion where it would be regarded as quite everyday behaviour not only to commission and appreciate new works of art, but to have a poem read by its author (Osian Jones), a song by a highly accomplished singer (Steffan Rhys Hughes) and an entertaining and informative lecture (by our own Professor Dylan Foster Evans, on the history of the Eisteddfod in Cardiff). I do wish more people in England were aware of how highly cultural and intellectual accomplishments are not only regarded, but celebrated, in Wales. It feels to me like a very positive example to be setting.
On a more prosaic but nevertheless important matter, we are approaching the latter stages of the recruitment period for this year and I am pleased to report an increase in overall applications to the University of around 5% and an increase in offers of more than 7%, with applications totalling almost 57,000. While we have seen a slight decline of about 3% in undergraduate applications, postgraduate taught programme applications are up by an impressive 19%. Gratifyingly, postgraduate research (PGR) applications are up by 26% overall, with a very welcome increase of 44% in international applications. The work that our international recruitment and partnership teams have been carrying out in tandem with academic leads for international really seems to be paying dividends in this area. We have tended to lag slightly behind when it comes to PGR and it now looks as though we are on course to redress the balance. Our introduction of International Scholarships for Research Excellence may well have played a role in this improvement, and I had the opportunity to meet some of the extremely impressive recipients from around the world earlier in the month at a reception held in the new Doctoral Academy premises in Friary House. The spirit of the award is to allow talented students to progress in their chosen research programme at Cardiff University, with a focus on building links between Cardiff and countries where local provision is not immediately available. The programme is more than a great opportunity for excellent students and their supervisors; it will help to strengthen our global alumni network, diversify our community of postgraduate researchers and show that Cardiff University is committed to widening participation at a global as well as local level.
At the end of June the Minister for universities in England (and for science and innovation across the UK), Sam Gyimah, issued a challenge for universities to do more to support students in addressing issues relating to mental health. I'm glad to say that Cardiff University is one of three in the UK (along with the University of the West of England and the University of York) that are piloting the Stepchange framework, which involves making mental health a strategic priority for the institution and ensuring that we have a high degree of awareness and monitor our activity in this area. Many of us encounter the increasing incidence of mental health problems in our personal and family lives, and I am aware that staff as well as students are at risk in this manner. It is difficult to do more than speculate about the causes of the increase, which seem to be both social and systemic as well as related to specific individual cases. For UK universities, the relentless advance of competition and the requirement of governments to obtain value for taxpayers' money, coupled with electoral pressures on the politicians themselves, have created a situation where the causes of increasing stresses and burdens on the system become difficult to discern, although the pressures themselves are very apparent. It is because we are aware of these pressures — and the near invisibility of their causes — that we spent a number of years working with campus unions to develop the academic workload model that was phased in during 2016. Our aim has been to introduce a systematic approach to academic workload allocation, to make workloads more transparent and provide for parity, consistency and fairness in the allocation of workloads to all academic staff in each College. We have gone to some lengths to take account of discipline-specific characteristics and, of course, conducted an Equality Impact Assessment on our policy, which can be found on the intranet. Further refinements of this work continue.
As a university we do take wellbeing seriously — whatever the external circumstances that we have to contend with — and have adopted it as one of our priority action areas following the staff survey in 2016. I can assure you that as Vice-Chancellor this work remains a high priority for me, and I would encourage colleagues to take all holiday to which they are entitled and to talk to their line manager if they have concerns about their workload. We also need to focus on ways in which we can ensure not only that work is distributed fairly, but that we operate in as efficient and effective a way as possible. We should be considering whether we can find ways of conducting assessments that are both fair to our students and more manageable for academic staff to cope with. We need to consider whether there are administrative processes that could be refined and improved, and whether basic transactional procedures that at present require a number of steps, use of hard copy and so on, could be relatively easily automated. I'm grateful for the suggestions in this vein that I have received in response to previous emails, and am always open to more, so if you have a potentially workable idea please don't hesitate to let me know.
Finally, you may be aware that our Chief Operating Officer, Ms Jayne Sadgrove, announced earlier this month that she intends to retire next year. Jayne has done an outstanding job in leading and developing the Professional Services at Cardiff over the last five years, having previously served as Director of Human Resources. I am extremely grateful to Jayne for her excellent support, wish her well for the future and look forward to working with her for the remainder of her tenure. I am also pleased to announce that Professor Damian Walford Davies, presently Head of the School of English, Communication and Philosophy, will take over as Pro Vice-Chancellor for the College of Arts, Humanities and Social Sciences in July. I am very much looking forward to working with Damian and congratulate him on his success.
With best wishes
Colin Riordan
Vice-Chancellor
Read about our strategic direction and focus on research and innovation, education, international and engagement.