Your chance to view University-sponsored Crown
11 June 2018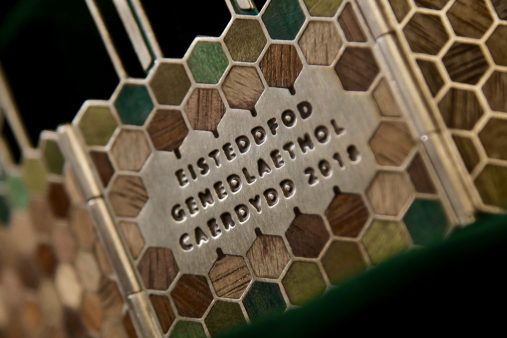 You may have heard about the University's civic mission and how we're committed to improving the health, wealth and wellbeing of Wales. We're proud to be a Welsh university and it's important that we demonstrate the many ways that we benefit our country and its people.
From paying the Living Wage to working with schools to improve attainment, from involving our communities in research to educating the healthcare professionals of the future, we are an important contributor to the success of Wales.
Another important strand of our civic mission is supporting and promoting Welsh language and culture, which includes our major presence at the National Eisteddfod every year.
This year the cultural festival is taking place in Cardiff so we wanted to play an important role in one of the Eisteddfod's most important traditions – the Crown.
The Eisteddfod Crown, the design of which changes each year, is awarded to the winner of one of the two major poetry competitions.
The University, which is sponsoring the Crown this year, led a competition which resulted in contemporary jeweller Laura Thomas being chosen as the Crown designer for 2018. Laura worked with staff at the University to produce a modern Crown that respects the traditions of the Eisteddfod.
You can see the Crown and learn more about how it was made at an exhibition at National Museum Cardiff.
The exhibition runs at the Museum from 12 June to 12 August 2018 (Tuesday–Sunday, 10:00–17:00) and I would urge you to drop in to have a look.
Read about our strategic direction and focus on research and innovation, education, international and engagement.