Vice-Chancellor's all-staff email – September 2017
29 September 2017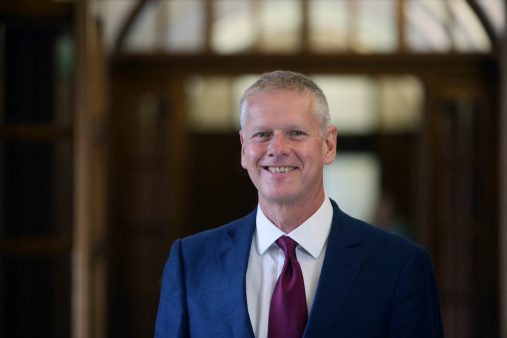 Dear colleague
Rarely have I sat down to write my September email in an atmosphere so different from the one that pertained since I last wrote in July. Since then, the full political effects of the failed election gambit that the Prime Minister launched last April have been playing themselves out in the politics surrounding universities. It seems clear that the Conservative Party is concerned about Labour's success in attracting younger voters — some one and a half million people who have not previously voted — it is thought, at least in part, because of a promise to abolish tuition fees and reintroduce maintenance grants. Of course, here in Wales, maintenance grants are scheduled to be re-introduced anyway; whether in the light of the new circumstances in Westminster tuition fees will survive in their present form, remains to be seen. There has been much debate about vice-chancellors' salaries and the salaries of more highly paid colleagues generally, and the prospects for the Universities Superannuation Scheme according to the latest valuation are not looking positive. The general effect of all this to make it appear that universities have managed to avoid the austerity to which many public services have been subjected, and that it is time that they took their medicine. While there is no real logic to this, it's important to understand the public concern and to accept both that the political circumstances have changed and that policies and practices may need to change in response.  We cannot predict the ultimate outcome, but unfortunately the immediate effect is not only to increase uncertainty but also to create a sense that universities do not serve the public good. That too many people go to universities that are overfunded, self-serving and have lost sight of their purpose. I do not believe this to be a remotely fair reflection of UK universities, which are seen internationally as a beacon of success and good practice in many important ways. Granted, nothing is perfect, but we nevertheless create enormous public benefit and do provide extraordinary, life-changing opportunities and experiences for countless people. Whatever we think about the processes of massification, instrumentalisation and marketisation that successive UK governments have unleashed on the higher education sector, we have to focus on our core purpose, which remains the creation and dissemination of knowledge for the benefit of all. Universities are a force for good, and we at Cardiff University play an extremely important role in helping to shape a positive future for Wales.
Despite this turbulent environment it's good to be able to report some better news on the league table front than I was able to last year. I'm especially delighted that we entered the world top 100 for the first time in ten years in the Academic World Ranking of Universities (ARWU; which some of you may know as the Shanghai Jiao-Tong rankings). As ever, it's important to be aware of the limitations of league tables, but this one is hugely respected and though it is not the QS World University Rankings, in which we rose three places to 137 and which we have been targeting, it nevertheless sends an extremely important signal to the world about our academic prowess and performance. When I arrived here five years ago what I heard most often from external stakeholders was that Wales deserves a top-100 university. I agree with that, which is why entering the world top 100 featured prominently as an aspiration in The Way Forward, and I am delighted that we have achieved it within the five-year period. In fact, we have gone up in three of the four main world rankings so far this year; as well as the ARWU and the QS, we went up by 20 places in the Times Higher Education World University Rankings to 162. (The Best Global Universities ranking, where we are at 149, is yet to be published for 2017.) Finally, after our disappointing fall last year, this time round we rose 11 places in The Times and Sunday Times Good University Guide to 35th; a gratifying though as yet insufficient recovery. Part of the reason for not doing even better this time was a very disappointing NSS outcome, in which we slipped further to an overall score of 84, having been as high as 90 only two years ago. This matter will require real focussed attention because our students are telling us something and we need to listen. I'll return to this topic in a future email.
You may be aware that we have launched a Voluntary Severance Scheme (VSS) for academic colleagues. This is to allow those who wish to, to apply for the opportunity to leave our employment on advantageous terms. The idea is to allow us to re-allocate resources in the light of changing circumstances; we are not trying to reduce the numbers employed and in fact I would expect staffing numbers to rise somewhat over the next three or four years. I would also like to stress that the process is entirely voluntary on both sides. As I mentioned in my last email, we are indeed facing a constrained funding environment at the moment, but the intention is to absorb funding shortfalls from our own resources until the position improves. Clearly, there are risks to university funding, as mentioned above; any changes to the existing fees system would create the possibility that the result of reform may be less money coming to universities. If that happens we would need to respond of course, but at the moment we are proceeding on the basis of the available facts.
After two years' work and extensive consultation Council approved the University's strategy for the next period at its September meeting. We will be having a formal launch in January but I will be using my annual all-staff address early in October to outline the main features. I will explain the main changes from the previous Way Forward and also highlight the ways in which we have been able to take account of the helpful suggestions that came forward through the consultation process. If you would like to attend one of the presentations (at which I will be joined by our new Chief Financial Officer, Mr Robert Williams, who will give an overview of the financial position), please see here for details.
In other news, I've mentioned before the Phoenix Project which is very successfully undertaking joint activities with partners in Namibia and now Zambia. The project is one of three from Cardiff University that have been shortlisted for an award at the Times Higher Education Awards in November, and it has also been successful in obtaining 17 international Fellowships to be delivered over the next 6 weeks, for visiting researchers and educators from Namibia and Zambia. Amongst other funding streams, the Fellowships are supported by a large Erasmus+ international credit mobility programme, the Arts and Humanities Research Council, the Association of Paediatric Anaesthetists of Great Britain and Ireland and by the Commonwealth Scholarships scheme. There will be many opportunities for round-table and one-to-one discussions and it would be good to make the most of the chance to establish links with our guests and make them feel welcome. If you are interested, please email Professor Judith Hall for further details. It's worth noting that there is funding for reciprocal visits by Cardiff University staff to Namibia and Zambia.
Finally, the Prime Minister's recent speech on Brexit in Florence held out the prospect that there could be a two-year transition period after we leave the EU in March 2019. This is dependent on reaching overall agreement on the terms of exit, but if that happens, we may be able to continue to participate in Horizon 2020 and Erasmus+ until the end of this European Commission financial period. This would be immensely helpful and would give us more time to plan for what comes after. Fingers crossed.
Best wishes
Colin Riordan
Vice-Chancellor
Read about our strategic direction and focus on research and innovation, education, international and engagement.