The future of UK research and scholarship: a panel debate
6 December 2016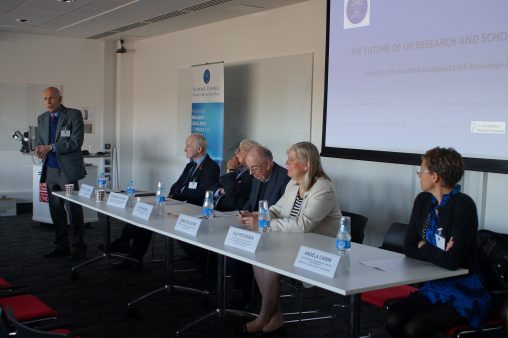 Academia Europaea Cardiff Knowledge Hub organised a panel session on 11 November at CUBRIC to explore ideas about how best to pursue European and other international collaborations in a post-Brexit world. I was one of five invited panellists, with Professor Peter Halligan, Chief Executive of the Learned Society of Wales, moderating the session.
Professor Richard Catlow, the incoming Foreign Secretary of the Royal Society, gave the opening talk, reminding us that UK STEM is a real success story and makes a significant contribution to the British economy and society. Through three examples of EU-supported projects in the field of new materials for energy technologies, he demonstrated the importance of collaboration not only between academic institutions but also with leading industrial partners.
Sir John Skehel, Vice-President of the Royal Society, stressed the importance of building strong connections with the full range of key stakeholders. The support of the general public to the science sector is vital, as well as collaboration with other sectors, including the City, business and industry. With considerable European funding awarded to industry, there is an excellent opportunity to present jointly-developed business cases and success stories.
Professor Ole Petersen, Academic Director of the Cardiff Hub, focused on the role of science in policymaking, specifically the new European Scientific Advice Mechanism, in which the Cardiff Academia Europaea Hub is playing an active role in a supporting project called SAPEA (Science Advice for Policy by European Academies), which gives us a huge opportunity to shape best practice in providing science advice for policymaking.
Professor Angela Casini, a Board Member of the Young Academy of Europe, spoke about the need for early and mid-career researchers to engage with policymakers and contribute to the science agenda. Angela is keen to develop the connection between the Young Academy and the Cardiff Academia Europaea Hub through joint events and projects.
In my role as Pro-Vice Chancellor for International and Europe, I emphasised the importance of strong partnerships – the high level institutional partnerships as those we have with KU Leuven and Xiamen University, the capacity-building and networking projects in sub-Saharan Africa, together with the vast array of collaborations our academic staff have all over the world. Cardiff is committed to giving home students the chance to spend time overseas, either studying, working or volunteering, as well as welcoming overseas students to our institution – whether that is for whole or part of their degrees. These activities will continue regardless of Brexit and in the meantime, we still remain a key partner in EU programmes such as Erasmus+ and Horizon 2020.
The audience were eager contributors to an active discussion. We all agreed that openness is critical and we as an institution certainly remain open for business. Increasing contacts and nurturing research relationships with colleagues overseas is crucial to our success. When it comes to international science, there are exciting new opportunities like the Global Challenges Research Fund. At the same time, maintaining and building bridges into Europe continues to be absolutely vital.
The Academia Europaea Cardiff Hub organises workshops, lectures and other events. This panel session was the first in a new series called Lunchtime Debates, which will look at topical issues affecting science and policy.  To join the mailing list to be notified of future events, you can contact Judith Lockett (LockettJG@cardiff.ac.uk).
Read about our strategic direction and focus on research and innovation, education, international and engagement.