Record entries for half marathon
28 September 2016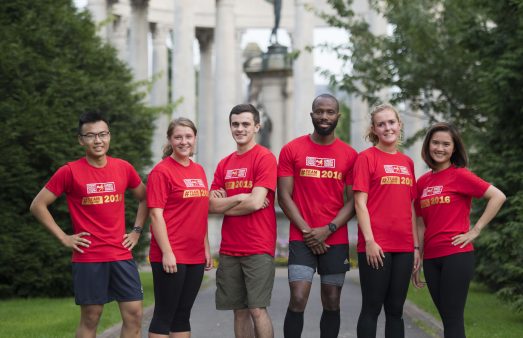 A record 22,000 people have signed up for Sunday's Cardiff University/Cardiff Half Marathon, with a further 3,000 registered for a series of slightly less demanding races on Saturday. The half marathon, of which we're title sponsor, is now a highlight of the Welsh sporting calendar, establishing itself as the second largest half marathon in the UK after the Great North Run. What a wonderful spectacle it will be on Sunday morning as the runners wind their way around the streets of our city watched by the usual large and enthusiastic crowds.
Among those running will be 200 staff, students and alumni who are part of the University's #TeamCardiff. They were given free places after pledging to raise £150, or £100 for students, for hugely worthwhile University causes – cancer research or neuroscience and mental health research. I want to thank all the #TeamCardiff runners for the support that they are giving to the University's work.
For those of us not quite up to running 13 miles, there are less punishing runs and activities taking place on the Saturday before Sunday's main event. The Cardiff University Festival of Running and Family Fun Run has races for all ages and levels of fitness. The student fun run will be a highlight and I'm particularly looking forward to the mascot race in which our very own Dylan the Dragon is in action.
Those running will appreciate the efforts of the many stewards that an event of this magnitude requires. They'll be working hard at the water stations, at the start and finish line, and around the course. They will include many University staff and students and I wish to thank you for your commitment. Also keep an eye out for physiotherapists from our School of Healthcare Sciences at their marquee in the Runners' Village. They'll be easing the pain of aching limbs with a much-needed massage. Everyone is also welcome of course to visit our Cardiff University marquee and join in all the activities.
The Cardiff Half Marathon is a wonderful event for us to support and I believe it will inspire others to lead healthy, active lifestyles. It will build upon the success of our work at the World Half Marathon Championships earlier this year. Good luck to all those taking part, in whatever capacity that might be, and I hope you have a great day. If you can't make it along on Sunday, the race is being shown live on BBC One Wales.
Read about our strategic direction and focus on research and innovation, education, international and engagement.