UEB 12 September 2016
12 September 2016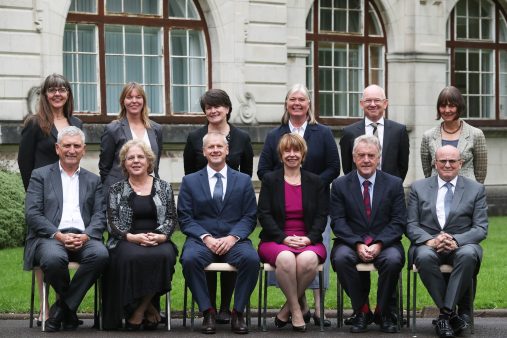 The Vice-Chancellor welcomed Professor Coffey to her first UEB meeting.
It was noted that Cardiff had been named as lead partner for one of the fourteen new ESRC DTPs, a collaboration with Swansea, Bangor and Aberystwyth.
It was noted that Professor Danny Pieters, Vice-Rector of KU Leuven, had visited the University and Professor Wyn Jones and the Wales Governance Centre would be undertaking a joint project with Professor Pieters and his colleagues.
It was noted that Mr Davies would be retiring in March 2017 with recruitment for a new Director of Finance to commence; the best wishes of UEB were extended to Mr Davies.
It was noted that the Cabinet Secretary for Health, Well-being and Sport, Mr Vaughan Gething, had attended his first official engagement in the School of Pharmacy and Pharmaceutical Sciences today, opening a conference.
It was noted that the Cabinet Secretary for Education had visited the University on 8 September 2016 with a private meeting with the Vice-Chancellor following which she delivered her keynote speech.
It was noted that clarity had been received from the Treasury on research and Horizon 2020 with contracts signed before Autumn Statement on the 23 November to be guaranteed through to 2020.
UEB received a paper on the Education Portfolio projects. UEB agreed that this was a good opportunity to review the portfolio of education projects to maximise opportunities to improve the student experience, including scope, relative priorities, timelines and payback, to enable UEB to take an informed decision about future investment.
UEB received the South West England and South East Wales Science and Innovation Audit ahead of its submission.
UEB received the following regular reports
PVC College of Physical Sciences and Engineering monthly report
PVC Student Experience and Academic Standards monthly report
PVC International and Europe monthly report
Director of Communications & Marketing Monthly Report and Forward Plan
Read about our strategic direction and focus on research and innovation, education, international and engagement.