Vice-Chancellor's all-staff email – March 2016
31 March 2016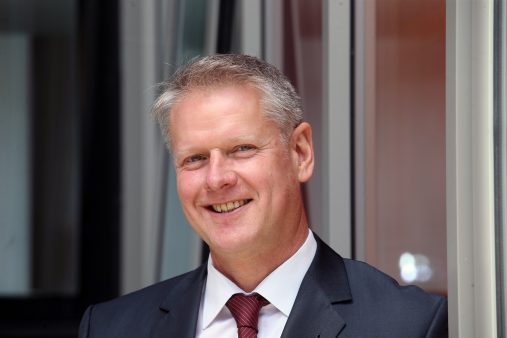 Dear colleague
Earlier this month I found myself spending a portion of the morning hurtling round on that fairground attraction that we used to know as the bumper cars, but on this occasion was pointedly being billed as the dodgems. I have to confess it was good fun and a nice change from the usual life of a vice-chancellor. But there was a serious point to it: some of you may have seen that the Students' Union had arranged for the dodgems to be set up in the car park of Main Building to raise awareness amongst students of the need to register to vote. The placards that had been posted all around asked whether politicians were dodging student issues, which explains the importance of the precise nomenclature. The serious point though is that it is important to encourage students to register to vote because we can no longer do that en bloc on their behalf. How they vote is entirely up to them of course, but if they are not registered they will not get the opportunity. Most students will be able to register both at their university and at home and vote wherever is most convenient (not in both places of course), and some may wish to think of registering for a postal vote in case they are not sure where they will be or will be away when the elections come along. Anything you can do to help spread the word would be helpful and much appreciated.
Talking of politicians, it was a privilege to be invited to attend the signing of the City Deal for the Cardiff Capital Region, which was subsequently announced in the Budget. It was a privilege because the signing involved a partnership where the key players put aside their political differences to come together for the benefit of South-East Wales as a whole. The First Minister Carwyn Jones, Finance Minister Jane Hutt, the Secretary of State for Wales Stephen Crabb and the Chief Secretary to the Treasury Greg Hands sat down with the leaders of 10 local authorities to sign the document detailing a City Deal for the Cardiff Capital Region, which is to receive £1.2 billion in funding over the next 20 years, an investment intended to leverage £4 billion of private investment and create 25000 jobs. Through our City Region Exchange, Cardiff University has been at the heart of the development of the Cardiff Capital Region over the last three or four years, and we continue to take our civic engagement role extremely seriously. All the evidence suggests that when universities work closely with local, regional and national governments, business and industry and civil society then everybody benefits, not least the universities themselves. I'm pleased and proud that Cardiff University is so prominent in this initiative, and that we merit specific mention in the City Deal itself, in the areas of skills and innovation. In terms of skills, the National Software Academy we have founded in Newport in partnership with the Alacrity Foundation, the IT industry and Welsh Government is attracting lively attention for its innovative approach of learning by doing in close partnership with real-world companies that have projects they need completing. A supply of highly skilled, work-ready graduates able to meet chronic demand shortages — which is what the National Software Academy, part of the School of Computer Science and Informatics, is able to provide — will be critical to the success of the Capital Region in terms of economic regeneration. Similarly, the technology cluster in compound semiconductors that we are forming in partnership with the compound semiconductor company IQE has been singled out for funding from Innovate UK and is specifically mentioned in the City Deal. The Chancellor, George Osborne, came to the University in January and announced a £50m Catapult which will enable business and industry to work with academic researchers to accelerate the commercialisation of new compound semiconductor technologies in the region. It's extremely important that Cardiff University is at the heart of economic regeneration, and is seen to be at the heart of economic regeneration, so all the above is good news for us.
I'm delighted to report that we have scored another big research grant success, this time in the area of energy systems. FLEXIS is a Cardiff-led project involving other Welsh universities (Swansea and South Wales in particular) that will investigate all aspects of energy generation, storage and distribution, researching not only the technological issues but also the social implications. The results will be trialled using place-based demonstrators. In the future we will no longer have a model where energy is generated at a few very large, high-output centres using non-renewable sources and distributed to consumers over large areas. Not only will future energy systems need to be low carbon, but they will also have to take account of distributed and uneven generation from renewables and adapting to variable consumer demand. Managing future energy needs will require intelligent systems that can deal with fluctuating, distributed supply and demand. This will mean big behavioural changes, and yet so often new technologies are developed before questions of public acceptance, behavioural change and the like are taken into account. In this project, all these matters will be considered in the round. This idea of integrating social science with scientific and technological breakthroughs is one that underlies the Cardiff Innovation System and I'm delighted to see it figuring prominently in a project of such importance not only to academic research but to the future energy and economic needs of the country. FLEXIS was launched in the School of Engineering here at Cardiff University by the Welsh Government Minister of Finance Jane Hutt earlier this month, and is worth a total of £24m including match-funding contributions from the university partners. The critical element in the funding, however, was £16m from the Welsh European Funding Office, and is another example of the critically important support we receive from the European Commission. Along with the news that we have been successful in attracting four new Marie Skłodowska-Curie Individual Fellowships, which form the backbone of the long-standing European mobility programme which receives annual funding of €800m from the European Commission, it has altogether been a good month for European funding.
As I said last month, there is rare unanimity amongst UK vice-chancellors that the interests of universities in this country are well served by European Union membership in ways that go beyond the financial. But it's worth remembering that in addition to the news above, over the past five years or so European Union funding for research has totalled around £61.5m for Cardiff University. Just as critically, or perhaps in some ways more so, we receive fee income of approximately £9m per year from students who are citizens of other European Union countries. They, of course, have the right to live and study here under the same conditions as home students, just as British citizens have the right to study in other EU countries under the same conditions as students there. If that were no longer the case — if EU students could no longer study here in the same way — we would need to find the equivalent of around 1000 home undergraduate students to maintain our fee income. That would be a considerable task and we would be in competition with all other UK universities. If there is a vote to leave the EU on June 23 we would, as a university, face very considerable challenges.
The new Cardiff University Brain Research Imaging Centre (CUBRIC II) opened for business this month, and I had the pleasure of showing the new facilities to Gareth Davies, the Director General for Business and Science at the UK government Department of Business, Innovation and Skills. After visiting both the National Software Academy in Newport and the Cardiff Catalysis Institute, both of which impressed, we toured CUBRIC and saw some of the very first brain scans and heard about the ambitious future plans from the Director, Professor Derek Jones, who I think will be conducting these tours on a frequent basis in the future. I am most grateful for his help in this because the new facilities are truly outstanding and cannot fail to spark the imagination of anybody who sees them. We really are at the leading edge in brain imaging, and being the European centre for this kind of work puts us in a very strong position.
Many of you will know that we received the very sad news this month of the passing of Professor Chris McGuigan on 11 March 2016. Chris was a key figure in the development of our REF submission, and subsequently led the National Research Network in drug discovery as well as playing a lead role in the Life Sciences hub. He leaves a huge gap and will, I know, be much missed. On behalf of the University I would like to express our gratitude for all he did for Cardiff, and our sincere condolences to his family.
With best wishes
Colin Riordan
Vice-Chancellor
Read about our strategic direction and focus on research and innovation, education, international and engagement.