Collaboration between universities and business led by Professor Dame Ann Dowling
19 February 2015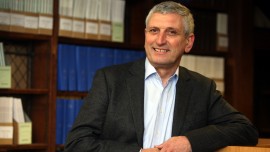 The relationship between academia and business is vital to the UK's economic growth, with innovation providing the dynamic impetus for future innovative research and commercial development.
Innovation, however, requires a nourishing environment of mutual understanding and long-term relationship building. As such, we were delighted to recently host Professor Dame Ann Dowling DBE FRS FREng, Chair of the UK Government's Department of Business, Innovation and Skills' review into the collaboration between academia and business. Dame Ann had chosen Cardiff University as the venue for her inaugural dialogue, and was interested to hear from local business leaders and academics on their experiences in interacting with one another.
Representatives from a variety of economic sectors (media, engineering and charity, to name but a few) attended the discussion in order to share their views on the engagement between academia and industry, as well as to highlight the significant success stories they had experienced in recent years. There was also room for debate on some of the ways in which we can improve relations, with many suggestions given on how government policy can improve strategic opportunities. The event was most successful, with an engaging and honest debate being energised by the considerable knowledge of those present. The level of experience and expertise in the room provided a striking and instructive insight into innovation in South Wales, and helped to tease out future opportunities for the cross-pollination of research and commercial applications.
As a testament to this, one of the participants, Phil George, owner of Green Bay Independent TV & Film Production Company and Chair of the Creative Economy Project Advisory Board, has been invited by Dame Ann Dowling to join the Group overseeing the review, as they are keen to improve representation from the creative industries.
Most interestingly for Cardiff University, it gave us the opportunity to listen intently to leading business leaders and to reflect on our own practices. Opening such channels of communication can only be of benefit to the development of our own culture of innovation across the University and will allow us to maximise the considerable impact, both social and academic, that our research can create.
Read about our strategic direction and focus on research and innovation, education, international and engagement.