UEB 24 November 2014
24 November 2014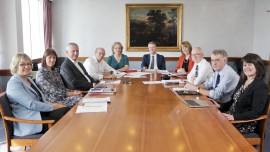 UEB received a report on the incoming visiting fellows and seedcorn fund initiative that ran during 2013/14.  That information on whether the seedcorn funding had resulted in jointly authored papers will be known at the end of the academic year when feedback on the schemes has been requested but the incoming visiting fellows were from a number of high profile universities and institutions.
UEB received a report from the International Office on international recruitment numbers for 2014/15.
The facilitator's report from the Senior Staff Conference in September was received.
UEB received the following regular reports:
Estates Projects Update
Deputy Vice-Chancellor Report
PVC College of Physical Sciences & Engineering Monthly Report
PVC Biomedical & Life Sciences Monthly Report
Read about our strategic direction and focus on research and innovation, education, international and engagement.