New sports facilities for students
19 November 2014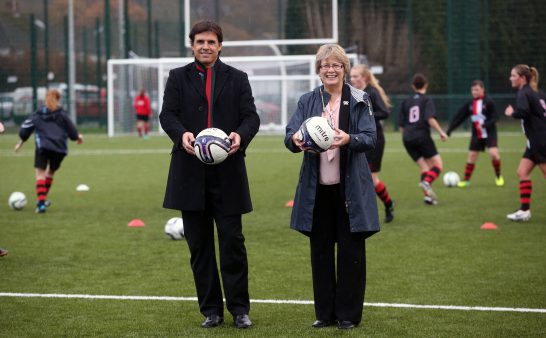 Today I attended the official opening of the fantastic new "3rd generation" pitch at the Cardiff University Sport Fields in Llanrumney.
The pitch was co-funded by the University and the Welsh Football Trust and we were delighted to have Welsh Football Team Manager, Chris Coleman, with us to cut the ribbon. It was particularly good to be able to congratulate him on his team's fantastic start to their European campaign following a great result in Belgium on Sunday!
The new all-weather pitch has already demonstrated its worth, enabling various University Sports teams to host fixtures that otherwise would have fallen foul of the Welsh weather. The University has some 65 sport clubs with over 150 teams competing and training on a weekly basis. The new facility will host much of this activity and is already having a positive impact on the performance of those teams who play on it. On which note, congratulations to Women's First Eleven Football team, who played the first match played on the pitch after the opening ceremony and beat Aberystwyth by a resounding 7-0!
Importantly, the pitch is asset beyond the University. As well as welcoming teams from the local community, we've been delighted to share it with touring international Rugby teams: Australia, Fiji and the All Blacks already having visited and South Africa are due next week.
Read about our strategic direction and focus on research and innovation, education, international and engagement.