Capital City Vision: Cardiff's Future
31 October 2014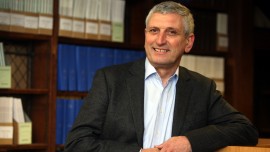 We work closely with Cardiff City – we have regular meeting with staff from the Council to discuss how we can best cooperate to support the City's economic development and fulfil our obligations as a civic University. We are also actively involved with the Cardiff Capital Region initiative; the Vice-Chancellor is the Vice Chair of the Board and Professor Kevin Morgan is an advisor.
With this in mind, I was delighted to participate in the Cardiff Convention, Capital City Vision: Cardiff's Future. This one-day event brought together leading international thinkers and stakeholders from the Cardiff Capital Region to debate and set out new city development vision for Cardiff as part of the commitment to creating Europe's most liveable Capital City. In the morning there were presentations by design consultants dedicated to the reintegration of architecture, landscape and the civic arts. In the afternoon I chaired one of the workshops – Education, Innovation and Skills. We heard from Business in the Community, a business-led charity which helps its members to improve their impact on local communities and the wider society. Their UK-wide project, Business Class, is changing the way businesses work with post-primary schools and provides a systematic framework to support young people facing social disadvantage. There was also a presentation from the National Museum of Wales about the work they do with school children. The debate was excellent and we will be continuing our dialogue with the City in the coming months.
Read about our strategic direction and focus on research and innovation, education, international and engagement.