The promise of a bright future for business school teaching
29 September 2014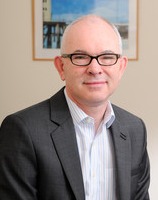 At the end of September I was very pleased to be invited to the opening of the new Cardiff Business School Postgraduate Teaching Centre.
It reflects a £14.5 million investment by the University in the School's facilities and aesthetically there is a lot to appreciate, such as the the external curved facade which houses the main lecture theatre and the towering glass and terracotta frontage.
What is most exciting about this new building, though, is the possibilities it opens up for new ways for us to teach, and interact with, our students.
It has been designed with a new generation of learners in mind and affords a flexibility of space that is rare on our campus.
Moveable partition walls create different types of study spaces, executive work zones and expansive open areas provide areas for collaborative working.
The trading room allows 60 students at a time to engage, in real time, with the volatilities of the stock markets and all of the inherent risks and responsibilities that trading carries.
The new building provides the shell for innovation in our teaching, where academics have an impressive physical space to think creatively about how they can engage with their students.  New ideas can be tried and tested, and when successful, shared with others across the University.
Read about our strategic direction and focus on research and innovation, education, international and engagement.