Revolutionizing supply chains with 3D printing
19 August 2019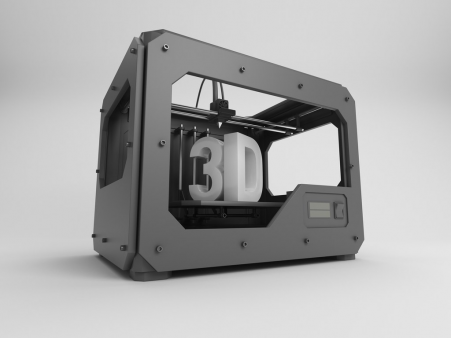 We already know that 3D printing is a game changer. Additive technology not only allows previously un-makeable products to be built in a matter of hours; it also allows them to be built anywhere in the world. Alone, these two features signal an enormous impending impact for the manufacturing industry, particularly when it comes to their supply chains. But what will this impact be? How are things going to change?
Panalpina, Shapeways and Cardiff University have teamed up to address exactly this question. The result is an innovative and thought-provoking paper that sheds new light on the future of 3D printing and supply chains. The paper, "Economies of collaboration in build-to-model operations", has just been published online, open source, under the following URL:
https://onlinelibrary.wiley.com/doi/epdf/10.1002/joom.1014
The paper explores how additive manufacturers should approach order fulfilment across the 3D printing industry, building on an existing case study from Panalpina and Shapeways. The authors propose a brand new manufacturing mode – Build to Model (BTM) – which summarises all the manufacturing and logistics information required to produce and deliver 3D printed products to the end customer. This approach has the potential to be a quicker, cheaper and less environmentally damaging way to produce goods. BTM represents a brand new B2B model with the potential to revolutionise supply chains and completely change how we approach 3D printing.
What is "Build to Model"?
Thanks to the huge popularity of Lean Management and other continuous improvement programmes, many people are now familiar with Just in Time delivery or Make to Stock vs Make to Order; they have become almost everyday business concepts. When goods are 'Make to Order', for instance, a manufacturer will have the right parts or materials to hand in order to produce a final product on demand. The manufacturer assembles this bespoke product directly for the end customer; and its supply chain supports the process of providing all necessary components.
With 'Build to Model,' the manufacturing process changes completely because 3D printing enables a delay in the choice of manufacturer until the day of production. Product design becomes the pivotal part of the process, instead of the supply chain. A product can be 3D printed anywhere in the world at any time: designers can upload their data files to a preselected manufacturer's website, and manufacturers can bid for the work in an electronic marketplace.
'Build to Model' means manufacturers can take on more work than their in-house capacity allows: it's easy to outsource an order to an external 3D printer as it requires no customer-specific tooling, jigs, fixtures or fittings. 3D printing brings consistency of product and makes it possible to select printers close to the end customer, saving a business time and money by simplifying assembly operations and reducing handling and warehousing.
In essence, the 'Build to Model' approach uses 3D printing to give manufacturers more flexibility. It cuts out the need for a 'timeline' approach to manufacturing (ordering, supplying, warehousing, etc) and fully enables a "Make-to-Order" fulfilment strategy.
Conventional Fulfilment vs Build to Model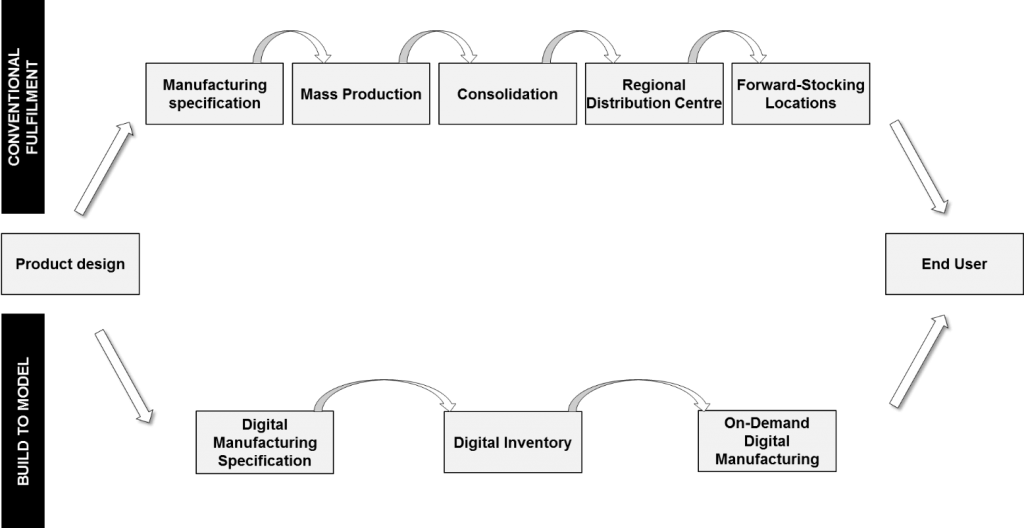 Why do we need BtM?
Organisations are under increasing pressure to up their ante and "get ready for Industry 4.0". But how many executives really know what this means? How many businesses are actually prepared for a digital, data-driven world? Business model innovation has never been more critical for organisations, and entire industries, in order to update and adapt their processes and survive the switch to digital. 3D printing in itself allows a rapid overhaul of existing manufacturing and supply chain processes – the shape of the new remains to be defined, and this is why we need innovations such as a 'Build to Model' approach.
'Build to Model' operates in a virtual world, shifting the emphasis from materials and supply chains to printer capacity and digital modelling. Manufacturers no longer need to keep component parts in stock; instead of moving materials to reach the market, the 3D design file is simply sent by the customer to the manufacturer, who sends it to the printer along with the material and machine specifications.
'Build to Model' leads the way to a simpler manufacturing world, where a network of collaborative 3D printing companies can coexist, sharing product designs globally, to produce goods on demand at the touch of a button. Currently, it is particularly relevant for the growing industry of additive manufacturers who produce products both for industry and for consumers.
How did BtM come about?
"The partial outsourcing relationship between Shapeways and Panalpina demonstrates the potential for general purpose manufacturing technology to disrupt the conventional supply chain model."
Panalpina, one of the world's largest third party logistics organisations, introduced a 3D printing operation several years' ago at their facility in Eindhoven, in the Netherlands. The purpose of the facility was to produce 3D printed parts for Shapeways, a global leader in additive manufacturing for the consumer market. Together, the two companies developed a collaborative model of outsourced 3D printing, to expand 3D printing capabilities, create leaner supply chains, lessen environmental impact and reduce costs.
The partnership between Panalpina and Shapeways realised the full potential of the 'Build to Model' approach. The partnership allowed the companies to outsource 3DP work to each other, successfully balancing demand and capacity.
Cardiff University joined the collaboration through the Panalpina Centre for Manufacturing and Logistics Research (PARC). PARC is a research centre specialising in inventory forecasting, distributed manufacturing and additive manufacturing. It is a unique endeavour between an organisation and academia; and it is through PARC that the 'Build to Model' approach was developed. Researchers from PARC approached Panalpina and Shapeways to investigate their 3D printing partnership and to develop new models of supply chain based on the possibilities of collaborative 3D printing.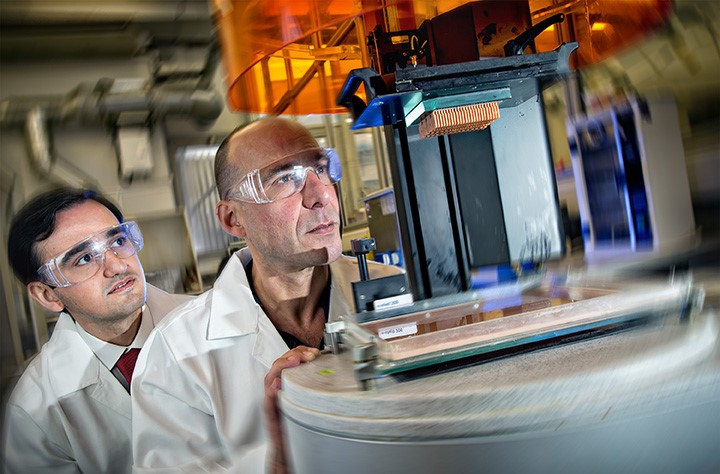 What's next for BtM?
"The future role of 3D printing in supply chains depends on developing new ways of operating to simplify current supply chains and to create new types of supply structures."
The 'Build to Model' concept is still in its infancy; it represents an enormous shift in ways of doing business, and most established organisations will be slow to adapt. But adapt they will; additive manufacturing is becoming more and more prominent as the technology develops. 3D printing is well on the way to becoming a mainstream method of production, and those that do not take advantage of the new possibilities enabled by 3D printing will be left behind.
Existing additive manufacturers will already see a major impact of 'Build to Model' within their own operations. Old, traditional supply chains simply will not work effectively for these new types of business and they will already have adapted their supply chains and production strategies to fit.
Investigations such as the project carried out by Cardiff are absolutely critical for redefining best practices, allowing industry to make the necessary changes to prepare for a digital world of 3D printing and distributed manufacturing, on-demand, all over the world.
About Panalpina: Panalpina is a global 3rd Party Logistics provider, offering air freight, ocean freight and logistics services to tens of thousands of customers around the world.
About Shapeways: Shapeways is redefining product creation. Shapeways enables businesses to bring their ideas from inception to post production and fulfilment with its end to end solution offerings in 3D printing manufacturing. Founded in 2007, Shapeways is headquartered in New York City and has factories in Long Island City, the Netherlands, and a network of innovative partners around the world. Shapeways has a network of over 1 million businesses and has printed over 10 million products.
About Cardiff University: Cardiff University is recognised in independent government assessments as one of Britain's leading teaching and research universities and is a member of the Russell Group of the UK's most research-intensive universities. The 2014 Research Excellence Framework ranked the University 5th in the UK for research excellence. Among its academic staff are two Nobel Laureates. Founded by Royal Charter in 1883, today the University combines impressive modern facilities and a dynamic approach to teaching and research. Cardiff's flagship Research Institutes are offering radical new approaches to pressing global problems. www.cardiff.ac.uk
Authors:
Katy Alice Huckle – Panalpina
Ryan Iwanski & Giovanni Colantonio – Shapeways
Heath Jeffries – Cardiff University
---
Comments
We connect with industry leaders to discuss their perspectives on what is happening in the world of supply chains.
The views in this blog are explicitly the views of private individuals and do not necessarily represent the University, the Research Centre, or the associated organisation.