New eBook collection – Wiley Online Library
30 October 2015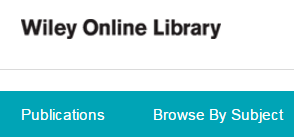 The library service is pleased to announce that it has acquired the Wiley Online Library eBook collection for this academic year. The collection contains over 17,000  eBook titles and the content encompasses a broad range of subjects including the humanities, social sciences and STM subjects (scientific, technical and medical). The collection is  comprised of a variety of newer and older monographs  which we hope will be invaluable to students in their respective disciplines.
Benefits to using ebooks from Wiley:
You can read and download Wiley ebook chapters on any device that supports PDF
There's no limit to the number of times you can download an eBook
There's no limit to the number of students who can access the books – 600 students from the same course could download chapters from the same ebook at the same time
How can I access these books online?
All of the books in the Wiley Online Library  collection have been loaded on to LibrarySearch alongside our other materials. You can search for eBooks by selecting that option from the drop down menu – below is an example of a Wiley Online Library  book and how to find it. Click View Online to access the eBook.
If you want to see a full list of all of the Wiley online titles, search for cardiff_WILEY:
You can also browse Wiley eBooks by subject on the Wiley website, go to Wiley Online Library.
Make sure that if you are not on-campus that you log in using the institutional login to get access:
This collection has been made available under a model we call "evidence based acquisition". This means that we pay for access to the whole collection for one year at a fraction of the price it would normally cost to buy this number of books. At the end of the period, the library purchases those books which have been used the most, up to the value of the initial investment. This model ensures that we get great value for money from what we spend and that what we buy at the end of it is what we know, from the usage data, that staff and students are using!