Muslim Doctors Cymru and Covid Vaccine Questions
9 February 2021
Recent polls show that there is a hesitancy amongst the BAME community about taking the Covid-19 vaccine. There are primarily two reasons for this: (1) Infodemic: the sheer amount of misinformation found on social media about the vaccine perpetuated by anti-vaxxers; (2) coupled with a genuine distrust of the government and how the government has hitherto mishandled things related to the pandemic. This hesitancy persists despite the fact the BAME community are among the most vulnerable to the virus.
The Centre for the Study of Islam in the UK, Cardiff University lecturer in Islamic Studies, Dr Mansur Ali, teamed with Muslim Doctors Cymru, the British Islamic Medical Association (BIMA) and the Muslim Council of Wales (MCW), led a community intervention webinar on the Covid-19 vaccine on Saturday 30 January 2021.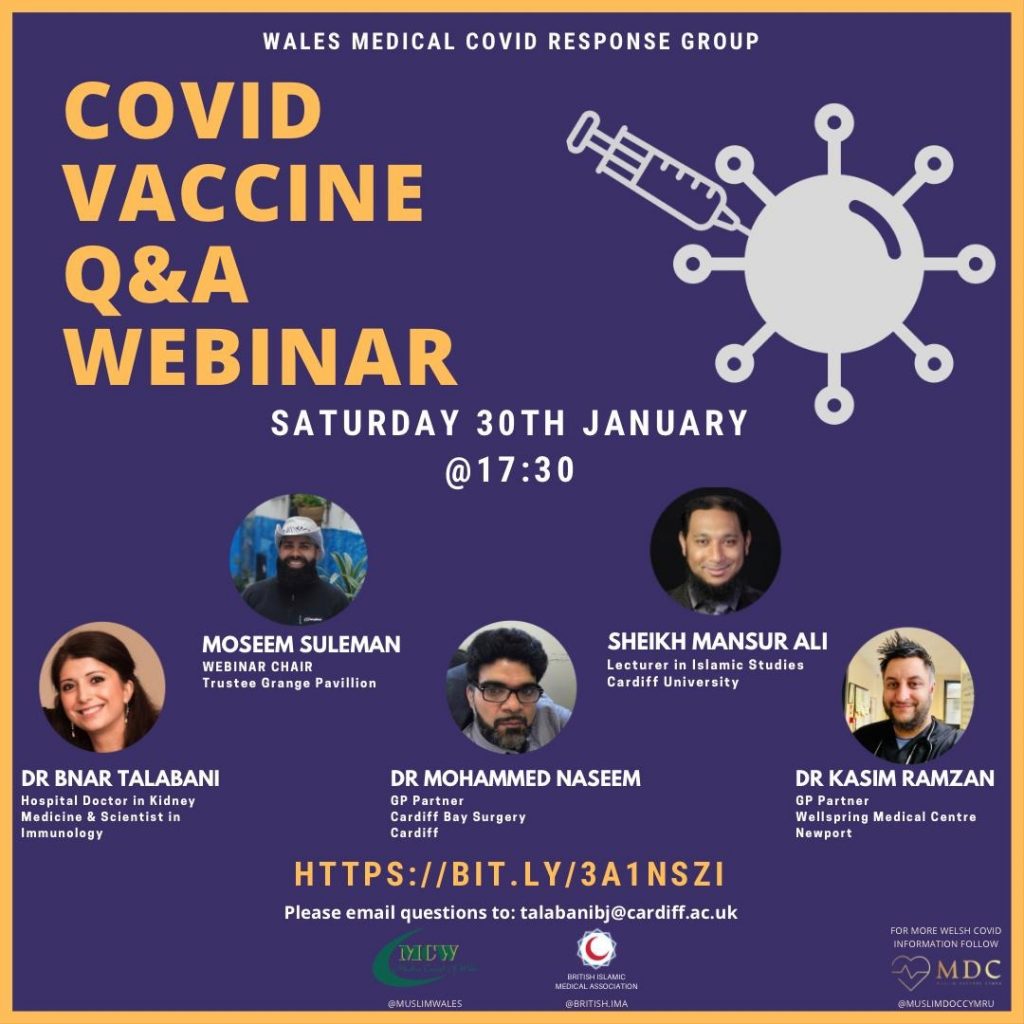 Hosted by Radio Ramadan host Moseem Suleman, a panel of medical doctors went through the benefits and risks of the vaccine. Dr Ali spoke about the ethics of taking medicine and vaccine from an Islamic point of view.
Some of the issues that were discussed include:
Are the vaccines halal (permissible)
Do the new covid variants cause more deaths?
Do the vaccines work on all the strains?
Do the vaccines cause infertility?
How can we be sure that there are no medium and long term side effects?
Can pregnant & breastfeeding women have the vaccine?
Do the vaccines contain microchips?
Can the vaccines change your DNA?
Does the vaccine contain foetal cells?
Will children be given vaccines?
Are their any haram ingredients in the vaccine?
To date, nearly a 1,000 people have watched the recording according to Facebook.
Recording of the webinar can be found here: https://www.facebook.com/muslimdoccymru/videos/427486128678300/