Cardiff Student Heroes: Adelina
25 Mehefin 2021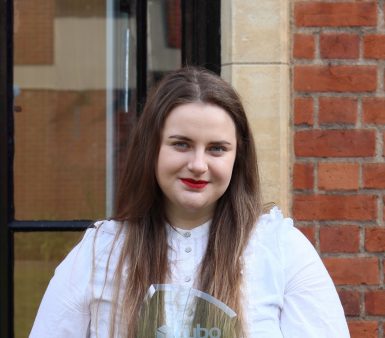 Psychology PhD student Adelina recently won an award for her incredible work as a Residence Life Assistant (RLA) where she passionately sought to deliver a quality experience to fellow Cardiff University students in halls of residences and helped to establish the new role of a Senior RLA.
Having worked as an RLA since 2018, Adelina was promoted to a Senior Residence Life Assistant this academic year, continuing to help students by finding new and innovative ways to "improve the programme further".
"The senior role has been very different from the assistant role because it's more focused on the admin side of things, and supporting the onsite team,
"It's a different set of skills compared to what I've been doing so far.
Adelina said being one of six winners of the 2021 CUBO National RA Award was "very, very rewarding", saying that it took a while for the news to sink in.
"It was really lovely to see that the work I've done was recognized at this level,
"It was very surprising and bizarre because I had no idea I was even nominated for it," she explained.
The Residence Life team is a dedicated department at Cardiff University, committed to enhancing the student experience and creating a welcoming community for students.
Based in the various halls of residences scattered around the city, RLAs are on hand to support students in their first year at Cardiff, ensuring a smooth and welcoming transition while fostering a sense of belonging.
The team puts on various events throughout the year, as well as social and cultural activities.
Adelina has loved being an RLA over the last few years and said that it has allowed her to gain crucial skills for future employment, as well as being a huge boost to her confidence.
"It's been really good in the sense that we had a lot of support from the permanent staff team so it always felt like someone was kind of looking out for us, and supporting us in what we're doing," she said.
"For me, it gave me a lot more confidence to go over to students, put my ideas into practice and to get creative."
Ready to Recruit
With the team currently looking to recruit new RLAs for the next academic year, Adelina said she cannot recommend the scheme enough, adding that it is a great opportunity to get an entirely different student experience.
"There's a lot to learn and there's a great experience to gain. There's also the chance of working with an amazing team so it's all really valuable experience," she said.
Talking about her motivations for joining the team, she explained that she felt excited to have the opportunity to give back to the student community and "get creative".
She is hoping to carry on working as an RLA for the next two years as she finishes her PhD.
Adelina encourages anyone who is looking for an exciting new opportunity to contact the Residence Life team to get more information on applying for the role.
The team are looking for approachable individuals who have a willingness to learn and help other students to become their much-valued assistants.
The Residence Life team can be contacted via email at residencelife@cardiff.ac.uk