7 Welsh Holidays and Festivals you Should Know About
31 Ionawr 2021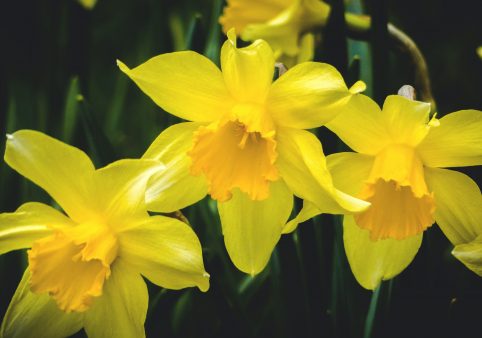 Wales has a whole host of unique national holidays and festivals across the year and as a student studying in Wales, this is the perfect opportunity to get stuck right into them. Here are just a few of the very best ones that you should most definitely know about:
January 25: St. Dwynwen's Day
Known as the Welsh Valentines day, St. Dwynwen's Day is the celebration of a fourth-century Welsh princess aka the Welsh patron saint of love, who was somewhat unlucky in love. As a result, she became a nun and wished for other true lovers to fare better than she. The day is becoming increasingly popular across the nation and is celebrated much like its Valentines counter-part, often with the exchanging of gifts and letters. Some may even carve out wooden spoons or simply just settle down for a cwtch (cuddle) in front of the TV.
March 1: St. David's Day
St David's Day is a pretty big deal in Wales. St David is the patron saint of Wales and the day is a celebration of all things, well, Welsh!
Concerts are held, children wear traditional clothing and perform dances, and across many small towns and villages, parades take place. You are likely to see a load of daffodil hats and leeks lining the streets as people come together to celebrate their Welsh heritage.
Dydd Gŵyl Dewi Hapus (dee-the goil De-wi ha-peece) – Happy St David's Day!
May 27-June 6: Hay Festival
The Hay Festival is an annual literary and arts festival in Hay-on-Wye involving a host of speakers and musicians. The festival has become prominent in British culture and is widely covered on TV, featuring world-renowned authors, writers and thinkers. If you love books, culture and arts then this is a must visit.
June 19–21: Tafwyl Fair
Taking place in Cardiff itself, Tafwyl Fair is an annual festival that celebrates Welsh language, arts and culture. Started in 2006, the popularity of the event has soared with over 40,000 people attending in 2019. A family-friendly festival, here you will find music, drama comedy and of course great food hosted directly behind Cardiff Castle in the stunning surroundings of Bute Park.
July 6–11: International Eisteddfod
The first ever International Musical Eisteddfod dates back all the way to 1947 and is now regarded as one of the world's greatest music festivals. Now, every year hundreds of acts from across the globe come together to perform on the Llangollen stage as spectators witness a diverse spectrum of culture and music. Performers each come dressed in their traditional attire and leave audiences transported to another world.
August 19–22: Green Man Festival
This summer festival based in the Brecon Beacons attracts thousands of people of all ages every year for a fantastic showcase of indie music and arts. Expect comedy shows, film, performing arts and more as you dive into this four-day event. Being only an hour away from Cardiff, this is a must-do for all students.
August 30: World Bog Snorkelling Championship
Yes you heard that right. The World Bog Snorkelling Championship takes place right here in Wales, just outside Llanwrtyd Wells where competitors from all over the world brave the cold and mud to take home the ultimate bog snorkelling crown. You can compete in the Bog Triathlon, an eight-mile run and 12-mile mountain bike ride through a 60-metre bog trench, or just simply join the 150 elite boggers who try to swim the murky trench as fast as they can. If you don't want to compete than spectating is just as fun (and far less dirty).
Don't believe me – just Google it.