Tackling tomorrow's challenges
27 March 2023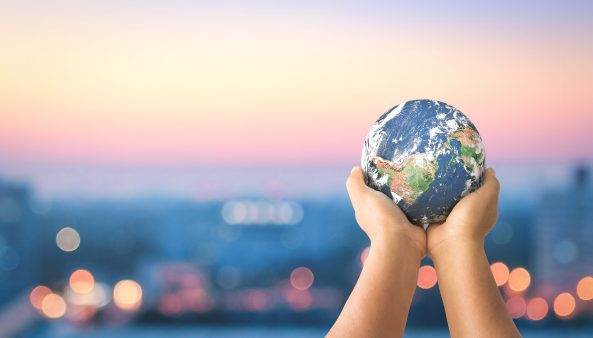 How does society solve its 'wicked' problems? Governments under pressure can be reluctant to act, businesses unmotivated, charities and funders constrained by their misson. Universities can help to bridge the gap. Cardiff aims to play its part by launching five interdisciplinary innovation and research institutes. Here, Professor Roger Whitaker, Pro Vice-Chancellor for Research, Innovation and Enterprise at Cardiff University, explains why.
'Research and innovation go hand in hand. Outstanding innovation thrives on great research. They can feed each other in a virtuous cycle of progress, leveraging funding to develop new processes, products, ways of working and changes in society. At the same time, challenges arise that urgently need new research for progress to be sustained.
Over the years, we've sought simple ways of capturing this complex ambition: 'people, places and partnerships,' developed through our determination to 'connect, collaborate and create.'
Here at Cardiff University, whilst we have an outstanding track record in the Research Excellence Framework, collaboration is a core strength. We're keen to bring people together to work across disciplines, looking at the same problem from different perspectives.
Our innovation and research institutes are designed to speed up this collegiate process across five key areas. We're looking to develop green technologies and improve prospects for sustainability, establish new levels of security resilience, manage acute and chronic diseases through the immune system, reduce the burden of mental ill health and neurodegenerative disorders, and find ways of using data and artificial intelligence to support digital transformation.
Bringing colleagues from diverse fields together, the institutes will conduct research and develop innovative solutions for issues that impact society, the economy, our health, and the environment.
Our Digital Transformation Innovation Institute is driving digital transformation, focused on real-world solutions with ethical, secure, and positive societal and economic changes at heart.
Taking an interdisciplinary to achieve net zero at both a technological and social level is the core mission of the Net Zero Innovation Institute, whilst the Neuroscience and Mental Health Innovation Institute tackles the increasing burden of mental ill health and neurodegenerative disorders.
The problems of crime, global security, and social control are being tackled by the highly interdisciplinary Security, Crime, and Intelligence Innovation Institute, whilst research that transforms the diagnosis, treatment, and quality-of-life for patients is the cornerstone of the Systems Immunity Research Institute.
Cocreation with our peers and funders is the key to success. Fittingly, the five institutes were launched this March at the Royal Institution in London, an organisation committed to "diffusing science for the common purposes of life" – a value shared by Cardiff University.
Nearly 100 people joined us from the worlds of academia, industry, the third sector, public services, and policy making, providing an opportunity to highlight our work, and show them how we will grow in future.
It proved an excellent forum for sparking connections, and forging new collaborations and partnerships. Guests included representatives from major companies, funders, government departments and charities – Airbus, GSK, Johnson Matthey, DCMS, EPSRC, the Office of the Secretary of State for Wales, Welsh Government, Wellcome Trust, Cancer Research UK, IBM, BP, Innovate UK, Siemens Healthineers, Takeda and National Grid, to name but a few.
The institutes are important: they represent a significant additional investment of research funding of £5.4 million and they collectively secured over £23M in new awards this academic year alone.
Evidence shows innovation needs strongly supportive facilities and environment. Housed in some of Cardiff University's newest hubs, the institutes reflect our commitment to bringing talented people together in places where they can forge lasting and progressive partnerships.
To this end, we have built sbarc|spark. It's home to SPARK, the world's first social science research park, and Cardiff Innovations, which fosters university spinouts, startups and business ventures. Next door, the Translational Research Hub on Maindy Road hosts industry leaders and scientists to find scientific solutions to achieving net zero, whilst the nearby Hadyn Ellis Building garners research expertise to tackle schizophrenia, Alzheimer's disease and stem cell cancer. The Heath Park Campus, home to Cardiff University's School of Medicine, works through Cardiff Medicentre to create medtech ventures.
Bringing the brightest minds together to think about the issues that matter most is central to our mission. The 2021 Research Excellence Framework found 90% of the University's research to be word-leading or internationally excellent, and our commitment to research and innovation is more important now than ever.
Through our five new institutes, we can more effectively address societal challenges and maximise the impact we have in Wales, the UK and also internationally. We stand for progress, together.'
Professor Roger Whitaker, Pro Vice-Chancellor, Research, Innovation and Enterprise, Cardiff University.