Igniting ideas: Creating a social science park to tackle major societal challenges
23 May 2022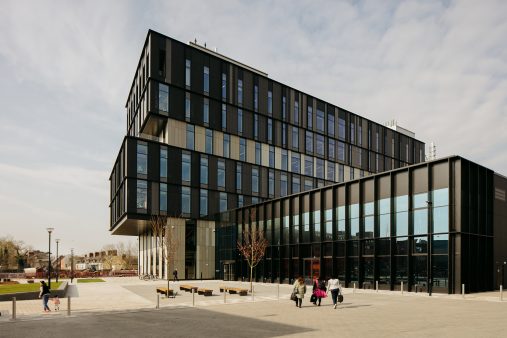 Our society is facing many complex challenges, such as the ongoing COVID-19 pandemic and the climate change emergency. In our world of global connections and complications, we cannot expect such issues to be tackled by one institution or academic subject alone.
In response to this, we have recently opened our doors to a new Social Science Research Park (SPARK) at Cardiff University. This new flagship building, which forms part of the University's £300m Innovation Campus, brings together 12 social science research groups alongside entrepreneurs, student start-ups, academic spinouts, third second organisation and public sector organisations – all attempting to address international, national and local societal challenges.
SPARK is the first innovation facility of its kind in Wales featuring 12,000m sq of space across six floors, with commercial units, laboratories, and ideation spaces. Yet this vibrant hub is much more than its impressive oculus staircase and material building. The social science research park is an experiment in situating social science research at the centre of innovation and commercialisation. It also places great emphasis on the importance of community and culture, designed to encourage more meaningful partnerships and engagement with colleagues outside of higher education.
In the same way that GW4 identifies areas of complementary expertise across its four universities to develop research communities at scale, SPARK will foster new interdisciplinary ways of working. By pooling this collective intelligence under one roof, we can ignite new ideas and new knowledge as the UK recovers from the COVID-19 pandemic. Our physical spaces will encourage creative interaction and promote the adoption of collaborative approaches to research.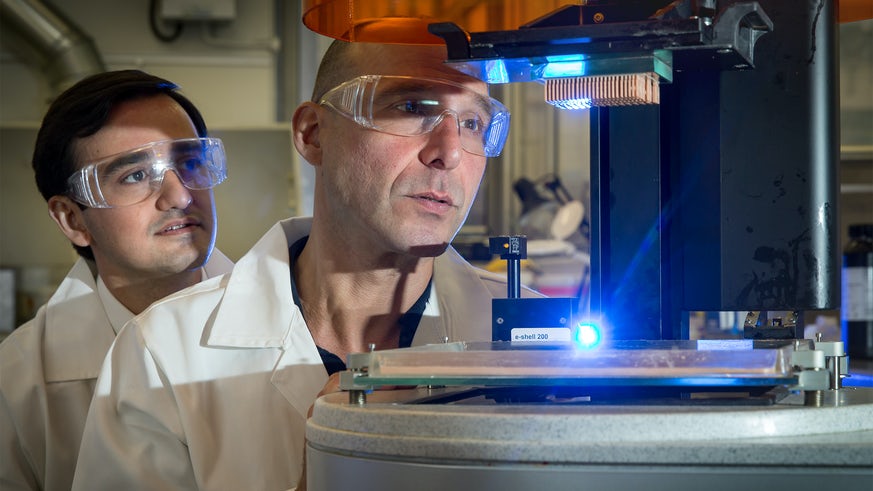 And GW4 research communities are among those set to benefit from SPARK. Professor Aris Syntetos is the Director of RemakerSpace, a Welsh Government funded, not-for-profit, community and business engagement initiative located at SPARK which combines research expertise with the practical tools needed to support the circular economy. Professor Syntetos and his fellow Cardiff Business School colleague Dr Daniel Eyers are part of the Technology-Enabled Circularity (TEC): Digitalisation and Sustainability in Manufacturing project, which was recently awarded a share of £125K GW4 Generator Funding. The research community intend to hold collaborative events at SPARK, bringing together academics with industry and policy makers.
SPARK will also nurture partnerships with public, private and third sector business and wider society to bring great ideas to life. Our community members are firmly getting their feet under the table, with the likes of UK innovation agency Nesta, financial technology company Bipsync and the Institute of Welsh Affairs among the first to have moved into SPARK alongside the diverse, specialist social science research centres which include the Children's Social Care Research and Development Centre (CASCADE); the Centre for Climate Change and Social Transformations (CAST), and the Wolfson Centre for Young People's Mental Health.
University alliances such as GW4 are a critical and increasing part of the research, development and innovation landscape (RDI). Our work with external partners will help drive RDI ambitions across Wales and the wider UK. For example, RDI is key to the Welsh Government's ambitious circular economy strategy to support a green recovery in, and the UK Government's 2021 Innovation Strategy. RDI capabilities are typically seen through the lens of science and technology, yet social science is fundamental to innovation too, bettering our understanding of human behaviour and attitudes, and informing evidence-based policy. SPARK provides an important opportunity to showcase our work and contributions, and to encourage other disciplinary researchers to work with social scientists and our wider SPARK community from the outset of any new ideas or innovations.
Read more about SPARK here.
This article was originally published in GW4 opinion, available here