Counting on Abacws
1 February 2022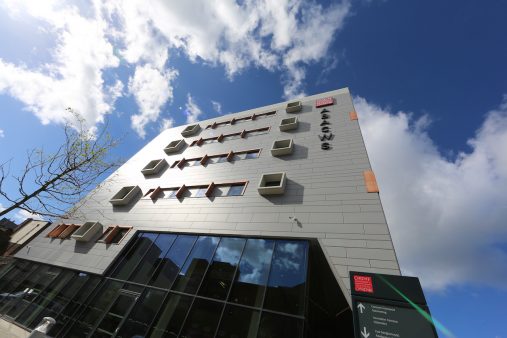 The new Abacws building for the Schools of Mathematics and Computer Science & Informatics will drive data science innovation in Wales and beyond.  Cardiff University's latest hub unites data science, research, teaching and industry collaboration under one roof. Here, Beatrice Allen, School Manager, School of Mathematics and Pierre Wassenaar, Chair, Stride Treglown Architects tell us about the journey from plan to reality.
"The initial brief for the colocation of Mathematics and Computer Science & Informatics was based on developing capabilities for research and teaching whilst supporting an increasing student cohort.
Enabling collaboration and innovation was central to success. Limited common space, poor visual identity for disciplines, and no visibility of the work of staff or students had been problematic in our previous buildings.
We wanted a welcoming building where we could develop long-lasting partnerships and collaborations with internal colleagues, external partners and visitors.
Disjointed space among teaching and research areas presented barriers had kept our users apart from one another in our old buildings, whilst solid doors, limited dynamic signage and a five-minute walk between the two also hindered connectivity.
Representatives from both Schools and Stride Treglown visited several new buildings and refurbishments at other universities, creating common reference points for design development and clarifying the new vision for Abacws with first-hand experience of how different layouts and adjacencies worked to enable collaboration and visibility.
None of these buildings, however, produced a perfect design which suited Abacws and its wide brief to create a unique, technical hub, tailormade for its purpose.
There are three main types of space in Abacws: formal teaching areas shaped around estimated cohort and teaching requirements; offices which standardise the quality and quantity of space across the schools, and informal spaces which previous buildings desperately lacked. These environments have been integrated on all floors to foster interaction within and across disciplines and user groups.
Even within formal spaces there is a wide variety of layout and function to enable many styles of teaching, from a traditional lecture theatre to rooms specifically for guided group work. There are also specialist computer labs, ranging from the cyber forensics' lab and Linux lab to the financial mathematics 'trading room.'
The building is at the edge of the University's central campus and pushes up against the Cardiff Business Technology Centre, Student Union, Cathays Railway Station and the railway line behind Senghennydd Road.
The challenge for the designers was to work with this restricted, narrow site, and develop a highly efficient footprint and massing strategy to keep the storey heights that can be seen from the Civic Centre Conservation Area within acceptable limits.
We structured the internal spaces around public, invited and private zones, making sure there were plenty of interactive linking spaces to tie together the formal teaching and learning elements.
In order to deal with noise and solar gain challenges, particularly from the south along the railway line, the facade has been carefully considered and optimised with respect to orientation, fabric element performance, glazing area and form, external shading and cost to achieve a design which balances the conflicting considerations – allowing beneficial heat gains in winter, precluding excessive heat gains in warmer months and maintaining good year-round daylighting levels.
A key design challenge was to maintain and enhance the existing pedestrian movements around the site and between Senghennydd Road and Cathays station.
We created a plaza to the east of the building to draw people through to the station.  The building aims to 'fill in' the urban grain along the road and create defined areas of active frontage, with the introduction of a colonnade also offering a sheltered pedestrian route adjacent to a glazed façade which allows pedestrians to see and interact with the activities inside.
First impressions in use
The building is open and welcoming, with the central staircase as the main feature of the atrium. Even though Abacws has opened, with some Covid restrictions still in place, we see good usage of the collaboration spaces with students working in peer groups and using sharing screens to watch lecture recordings and work in groups.
There have been snags, of course, but feedback about how the overall building is giving a sense of identity and community to students and staff has been fantastic!
The project team is now looking forward to working on our post-occupancy evaluation to make sure we listen and respond to feedback from all of our user groups.
Beatrice Allen, School Manager, School of Mathematics
Pierre Wassenaar, Chair, Stride Treglown Architects