Driving third sector careers through KTPs
26 April 2021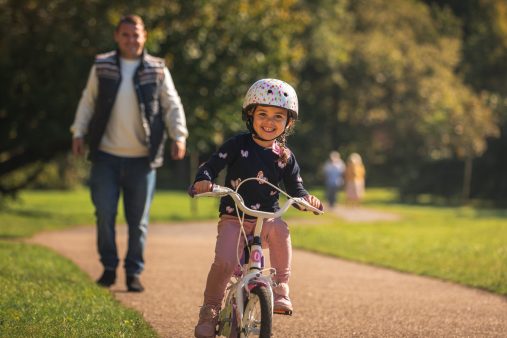 A Knowledge Transfer Partnership (KTP) can bring benefits to any organisation – not just businesses, but to public and third sector enterprises. Charities are no exception. Cardiff University graduate Coralie Merchant led an 'outstanding' Knowledge Transfer Partnership (KTP) – Adopting Together – between Cardiff University's School of Psychology, Cardiff Business School and St David's Children Society, Wales' longest serving adoption agency. Coralie began her professional career in the third sector working in several local Cardiff based charities. Here, she talks about the KTP and how it opened the doors of her future career.
"I gained a 2:1 in Language and Communication at Cardiff and went on to earn a PGCE at the University of Gloucestershire. I am passionate about the work of the third sector and have worked for a variety of children and family charities, including Barnardo's, Home Start and Save the Children, working directly with vulnerable children and their families before moving into roles where I was responsible for the development of new programme initiatives and policy influencing."
The St David's KTP Associate role offered a unique opportunity to link academic knowledge with the third sector in developing an innovative service – Adopting Together. It's is a ground-breaking KTP  which has developed highly innovative and sector-leading adoption services, grounded in nationally identified needs.
The prospect of working alongside academics with a commitment to sharing their knowledge, while being based with a third sector organisation prepared to dedicate their time and resource to innovation to improve outcomes for vulnerable children really appealed to me. The allocated KTP personal development budget also attracted me, I could gain qualifications and professional skills which would further enhance my career development."
Innovation in the third sector
St David's Children Society is a relatively small organisation with big ambition. Integral to its service is ensuring the very best for vulnerable children. St David's never lose sight of the needs of children and what can be done to best support them. As a learning organisation, they acknowledge any areas for improvement and will always seek to find new ways of thinking and working to make sure they provide the best service for the children they place for adoption and their families."
The collaboration with Cardiff has positively impacted St David's working relationships with colleagues across the third and statutory sector in Wales, and their position within the adoption sector across the UK. Under the umbrella of the National Adoption Service (NAS) in Wales, St David's had good working relations with all their adoption sector colleagues which the KTP helped to strengthen. These enhanced relationships continue to offer impact with ongoing developments in closer working practices around commissioning and procurement arrangements between sectors."
The Adopting Together Service continues to place children who have waited the longest for a family, and to date has placed 18 children with families in Wales. These are children who might otherwise have had their plans changed from adoption to long-term fostering or are siblings who may have been separated. With investment from Welsh Government and NAS, Adopting Together is now embedded in adoption across Wales and is included in the National Adoption Service Good Practice Guide for Family Finding. It continues to seek families for children who wait, or are likely to wait, the longest and to place children in loving and secure homes."
Following the completion of the KTP, I have since been employed as St David's Business Development Manager. The role supports various business development opportunities including exploring shifting procurement practices from 'spot purchasing' arrangements to a commissioned approach which is currently being trialled in one regional area in the hope it will become possible across other areas of Wales. We are also looking to diversify the organisations service provision and are considering a second KTP for this. I am also implementing a new fundraising strategy and volunteer programme which will further support business functions."
KTP benefits
KTP is a fantastic opportunity for organisations to develop and enhance their expertise which can lead to multiple positive outcomes, both planned and unforeseen. The independent and impartial academic expertise and knowledge can support their position in a market and provide external partners with quality assurance of their work and commitment to innovative processes.
Associates gain a unique opportunity to work across academia and business, providing learning and development which would be difficult to gain in any other environment. It is a chance to see theoretical knowledge applied in practice and to see how practice can impact theoretical knowledge. The knowledge gained both academically and practically can be invaluable for your future career."
I encourage any organisation with the means to invest, especially third sector organisations, to consider how a KTP could support them in bringing knowledge into their work which can effectively enhance, diversify, or expand their delivery."
Coralie Merchant, St David's Children Society
KTPs are a core component of Wales' R&D and innovation offer to businesses.  With the current difficult economic environment, Welsh Government will contribute 75% towards the total costs of KTP projects that meet the eligibility criteria and are approved for participation in the KTP programme.  SME businesses are usually expected to contribute 33% of the total project costs, but eligible businesses in Wales will now only have to contribute 25%. Find out more.