Cardiff entrepreneur's VR success
17 January 2019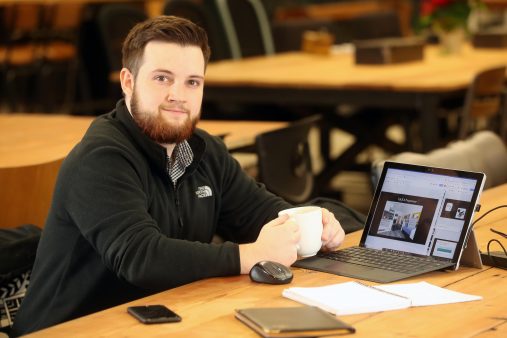 George Bellwood is a third year Business Management (Marketing) student at Cardiff University and is the Founder/Director of Virtus Tech.
For me the idea of becoming an entrepreneur came from a lecture, I saw an opportunity to change the online experience for users and took it.
Virtus Tech is a new tech start-up company which provides Virtual Reality, Augmented Reality and Artificial Intelligence services to businesses increasing their online interface and in-store experience with customers.
The company, which was formally created in my student accommodation house is now based temporarily out of the Cardiff NatWest Entrepreneurial Accelerator Hub in the heart of Cardiff.
We currently work with a range of clients, from small to multi-million pound corporations across the UK and operate in different industries.
I started Virtus Tech in 2018 during my third year at Cardiff University where I study Business Management, Marketing.
During a Marketing & Strategy lecture one Tuesday afternoon, we discussed about the implications of online shopping and how the death of the high street in the UK was becoming a national issue for both independent and commercial retailers. With past work experience in retail, I had come up with a new innovative way of adapting technology and online shopping, creating a potential solution for their problems.
Before I began my journey, I decided to ask Dr Eleri Rosier, my Marketing & Strategy lecturer for expert advice and insight on the new idea, and it turned out that I was onto something.
After having the meeting, I was determined to have a fully registered company and with support from Dr Rosier and my personal tutor, Dr Anthony Samuel I officially registered Virtus Tech and created a fully operational prototype.
After starting the business I acquired help from various organisations, such as NatWest, Business Wales and Big Idea Wales. However, there was a tremendous amount of support from the University and I have received expert advice and support from various lectures and personal tutors.
The University enterprise team has supported us from day one and still does to this day. They have equally supported and advised us on various opportunities which has reflected on our current success.
During my time at Cardiff University I have learned that as an institution it provides a great deal of support and opportunities for its students. Before Virtus Tech, the University provided me with a range of services and great facilities to choose from. Now with Virtus Tech fully operational, they have offered me office space and rooms for client meetings.
Sometimes running a small business can be challenging, and in my case it has been. Failure is almost inevitable in some cases, as I know by experience, and sometimes to move forward you have to take a few steps back. Success is not final, and failure is not fatal. As long as you learn from those failures and have the courage to continue, success shall be on your side.
Virtus Tech is a business-to-business company that uses virtual and augmented reality to allow customers and homebuyers to tour retailers and view houses for sale, blending real and digital experiences. It aims to help independent and franchise retailers tackle competition from major high street and online shopping outlets.
You can read a recent news article about George's success here.