Travels around Europe
17 May 2015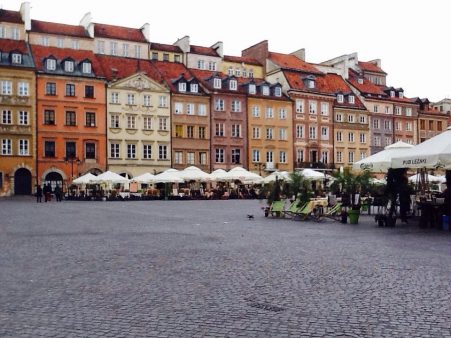 So here I am, sat on a very Anastacia-esque train carriage, travelling through Poland. A perfect opportunity to update my European gallivanting travels since March! March 20th, the day  I flew back to Berlin for my summer semester! I had visits from my dear home friends for 10 solid days. In this time, I went to the Berlin Wall virtually every day, ate far too many Backwerks (German bakery food) and walked miles and miles around this colourful city. It was rather bizarre weather; it went from freezing to humid and from warm sunshine to utterly random snow and thunder storms (flashback to being stranded under trees at a palace during a hail storm)!! Of course, this period was a time of exploring the city endlessly and repeatedly- such fun! I also visited the airport so many times, that I actually started to recognise the faces of the taxi collectors with the signs! At the end of March, a group of us ran the Berlin half marathon. This was a very flat and beautiful run, but my God was this so draining because it was freezing and so windy! Also, not forgetting to mention the fact that obviously we went for wearing shorts, realising this was a brilliant way to get stared at-but it was too late to change! 13.5 miles later with stiff as iron board legs, we complete it and get our golden medal for surviving it! The atmosphere was just euphoric at Alexanderplatz, the central hub in Berlin, with thousands of runners and spectators at the finish line. However, fast forward a few hours, and my brain goes into shutdown! We had a break and I changed my shoes. It was only until we reached the tube, that I looked down at my feet, and realised I had put on two completely different trainers! A day I will always remember indeed! 

Bravely, 2 days later with little recovery, we ventured off as a group to Budapest, Vienna and Prague! And what a trip this was! Feeling excited, we took a plane from Berlin to Budapest. When we arrived, we were picked up and taken to central, where our hostel was. The moment I stepped out of the car, I went publically flying over a brick on the most central street (but don't worry, I of course am used to this, so I saved myself from face planting the floor!). The hostel itself was brilliant, and it was my first one, so I was rather lucky! It was very modern, cool music along with a pool table and music in the reception. Little did we know though, that our room, was in fact, attached to a club! Our balcony view was of the inside of the club, which was just hilarious. So, in the night, we had the pleasure of seeing obscenely drunk people get more drunk, with music so loud the room was vibrating. In fact, we were quite literally in the club, as though we were in Rococos (an awful but irresistible club in my home town). The next morning, we moved rooms and all was well. 

So: Budapest! We walked and walked until our feet fell off! The buildings were very grande, and it was very busy. We walked around beautiful gardens, and it was a sunny day too. Spring had arrived finally! We saw the parks, we saw the famous baths from the outside, as well as medieval themed Easter fairs, and we indulged in Goulash (Hungarian speciality).  What was most striking was definitely the river. It wasn't just any river; it was huge, sparkly, and it prettily sat in the middle of Buda and Pest. On the one side, sits the stunning Parliament. It's architecture is just so impressive and rigid. On the other side, was my favourite experience of Budapest, the hilly views. We climbed here at midnight, and the views were just breath-taking. It was essentially a 360 degree panoramic view of Budapest at night. It overlooked the entire city. The bridges on the river shined luminous green and gold lights and the river mirrored all of these magical lights. It was so peaceful and hands down my favourite moment of the Budapest trip. 

Next up: Vienna. We caught a bus, a bus which was so delayed and so stuffy that we actually laughed. Vienna was a contrast; I could suddenly hear German again, and everything was so…Austrian! This hostel was my favourite. It was such a relaxed atmosphere, and they did splendid breakfasts!  Vienna certainly lives up to its artistic reputation. Virtually every street contained a specialised museum, a prestigious theatre, a very classy place to wine and dine, or all three! The buildings were so white and beautiful, that everything seemed like a perfectly painted picture. Again, we walked around quaint parks and rich districts, and even went up (well, puffed up, the hundreds of narrow steps) to the top of St Stephens Tower, to overlook the Austrian capital. This city is impeccably clean, filled with fine art and highbrow culture. We also visited the Sigmund Freud museum, avidly reading about his life and his psychological theories.  We thoroughly enjoyed the contrast, and we had no idea what to expect in Prague! 

We took the bus from Vienna to Prague in the evening, and saw a pink sunset at the Czech border. We arrived to the bus station, very late at night, with no idea of how to get to the third hostel. We wandered around for an embarrassing amount of time with our suitcases rolling  along the cobbly streets. We had absolutely no idea where this was, with no GPS and an inability of reading maps… it was just a 21st century tragedy. We rejoiced when we found it! The following days were spent walking for miles along the river, along the bridges, into the old town and into the old square. This city was beautifully traditional, with buildings from the Middle Ages, of all colours, shapes and sizes. There were great clock towers dotted around the city, together with bustling bars at all times of the day, and traditional markets. We were sad that the trip had come to an end, but after a painfully long day of travelling, I was back in Berlin, ready to get stuck in! 

Much of April was spent settling in, sorting out paperwork and attending my new modules. Since then, I have got my routine back and began the workload mountain. The weather in Berlin has become so warm, that one day it reached 29 degrees! Perfect! I spent much of the past month getting to know the new people in my student halls, having international dinners and going to the parties (including Bierkellar!) I have really enjoyed my balmy morning runs along the river or getting lost in Tiergarten, ready to kick start each day. Tiergarten has totally blossomed and the cherry and white blossom trees have blossomed around the city and along the river. Definitely everybody seems to be so much more happy when the sun is out! In fact, the sunrise from my room at around 5:30am is just incredible. Another memorable day from recently, is the Holi Colour Beatz Festival in Berlin. We obviously managed to get lost around a very green woods, and eventually rocked up an hour or two later! It was a beautiful day just throwing luminous multi coloured paint powder at each other whilst appreciating the dj playlist! We finished off this day with my all time favourite treat: a fresh burrito from Dolores, the Californian restaurant in Wittenbergplatz. Another day, after an intense exam, we strolled to KaDaWe, and checked out the Harrods kind of hype. Of course their sweet delicacies were of the highest calibre, and the cakes were so immaculate and rich that they were edible pieces of art. Another evening, was spent demolishing falafel at a Turkish cafe (which by the way, is just so tasty and will become a new hang out). So all in all, I have very much settled back into Berlin and what it has to offer and discover. But, another trip awaited…Poland! 

I am still on this beautiful Polish train, about to unravel my experience so far of this unique country! Just 5 hours from Berlin, we arrived at Warsaw! I never had really heard much about Warsaw, or even Poland for that matter, so I had no idea what to expect. Google obviously can give you an indication of a place, when you type in the place into images, but nothing beats experiencing a place in person! We got into Warsaw late at night. The first thing I saw when we got out of the huge station, was an array of skyscrapers! The financial district was overwhelming, and I was so excited to explore in due course. We stayed with Emilia's friend, who lived in an apartment block. His place was just mind blowing! The view on his balcony (yes, his own balcony) was just unbelievable! You could see all of Warsaw lit up at night: a beautifully arranged skyline. In the morning, we got up early, and we walked for about 8 hours. It was worth the foot pain and we got to see absolutely everything! We walked around palaces, floral parks, glittery lakes, the long river, parliamentary districts, embassies, suburbs, universities, more parks, the financial district, quirky old squares, the old town, and, my favourite, the university rooftop garden. This place was just exceptional and so unique. You walk up to the rooftop of the University, where you see the skyline, but there are narrow, windy paths, with turfy green/amber bushes encircling these maze paths. So you have some sort of paradox combination of nature with a futuristic skyline. I think, out of all of the places I have visited, Warsaw won my heart. And now, a short but sweet 24 hours in the pretty city of Poznan, before heading back to Berlin for my final 8 weeks…
(These photos are of Warsaw & Poznan, Poland)
What are you looking for?
We're looking for enthusiastic students who are currently abroad, or are soon going abroad, to share their experiences and write for our pages!
If you're interested, get in touch by emailing us at go@cardiff.ac.uk