Settling in!
8 March 2015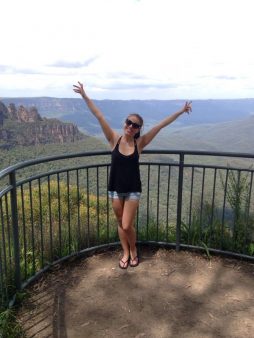 So, it has taken me a few weeks to post my second blog – the WiFi here isn't too great :-(!! However, I finally am able to record my experience at Macquarie University, Sydney more!
First and foremost, I absolutely love it here in Sydney! The weather, the city, the university, and most importantly the people I have met here. People are so friendly and the university has definitely made me feel "at home". I live at Macquarie University Village which is about a 10 minute walk to the actual University itself (which is really handy when the sun is very strong!)
So, here is a run-down of how the past few weeks have gone… I landed in Sydney at 6am on the 16th of February – I was exhausted from a 20 hour plane journey! However, I couldn't sleep that day as I had so much to do (get my accommodation keys, buy things for the kitchen, my bedroom etc.) That night I was the only person sleeping in the house, I was awaiting on an extra 4 house-mates. The good thing was that my parents and brother had flown out with me for a holiday, so the following day was spent looking around the mall on campus with them. The mall is absolutely huge (this can be seen as a really good thing or a really bad thing if you have problems with spending money… Help!!) Later that day I met three of my house-mates, three American boys. At first I was a bit nervous about being the only girl, however, in the past few weeks that I have been here I have really bonded with them and it feels like one big family already. Our last house-mate was a girl from Singapore, she moved in a week after the rest of us but is very friendly and completes our house! Every time we go out or to the beach etc. there is a big group of around 15-20 of us (from houses around ours) and everyone gets on so well! I can't explain just how good it is to meet new people from different backgrounds and learn different things from them – I have started using American slang sometimes without even realising I am doing it ha ha!! It has only been a couple of weeks that I have touched down in Australia but my social network has already expanded. There has been talk of plans to head to America next summer for a reunion, which I really hope does happen!! So, if you are reading this and contemplating studying or travelling abroad then DO IT!! I have already made some amazing memories with amazing people, you should do the same!
This is what this trip is all about, making memories. I have been on a Sydney harbour boat party with all of my university friends which was one of the best nights I've had here. The scenery of the opera house and bridge at night was spectacular! I have been to Bondi and Manly beach, as well as a 3 mile walk from Bondi to Coogee beach with a bunch of friends that took hours (the view was worth it though)!!
Not only have I done a lot of things already with university friends, I also visited the Blue Mountains and Featherdale Wildlife Park with my family which was a lovely experience.
Saying goodbye to my parents and brother after two weeks was really hard, I miss them a lot but having such great people around me out here really does help! A month has nearly passed by already, it's going so fast and I want it to slow down!!
Anyway, I should probably get on with some work now as that is what I'm here to do after all (I have to keep reminding myself that ha ha)!!
Until next time,
Naomi
What are you looking for?
We're looking for enthusiastic students who are currently abroad, or are soon going abroad, to share their experiences and write for our pages!
If you're interested, get in touch by emailing us at go@cardiff.ac.uk