The start of my time in Chambéry, France
21 December 2014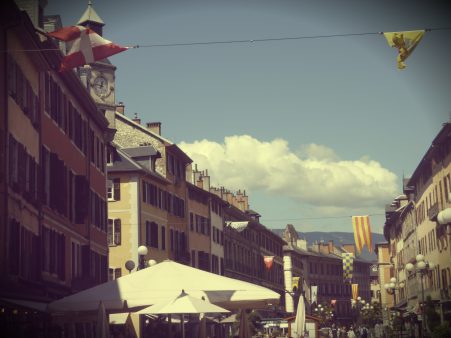 I am a French and Spanish third year student at Cardiff University, currently in south-east France in the small Alpine city of Chambéry. For the first semester of my Year Abroad I am studying here at the Université de Savoie, before heading to Spain in February to focus on my Spanish at the Universidad de Granada. I shall stay in Granada for the remaining six months (until June or July) before I head back to Cardiff in September 2015 for my final year.
CHOOSING CHAMBERY AS MY DESTINATION:
I have always had numerous French cities in my mind which I have wanted to visit for many years, such as Toulouse, Bordeaux and Montpellier, yet Chambéry took my fancy due to its smaller size, proximity to the Alps (I have never skied before but always wanted to), and the region in France in which it is. I decided that it would be better to be in a smaller city to overcome the daunting fears which a year abroad can bring, and giving me the chance to settle into my new home more quickly. Similarly, it is great how Chambéry is situated so closely to other, bigger, cities, such as Lyon, Grenoble and Geneva, as this gives me the chance to visit places with a livelier atmosphere, yet not to be scooped up into a maze of foreign streets.
LEAVING FRIENDS AND HOME:
Despite having left some of my closest friends and loved ones back home and knowing that there would be those more lonely moments whilst abroad, the novelty of Chambéry and its region, combined with the Year Abroad experience as a whole, allowed me to miss those back in England yet to fully immerse myself and appreciate the opportunity I had been given. This led to trips most weekends to surrounding areas; Geneva with its beautifully famous lake, Montpellier exposing its old and new, France's "mini-Paris" city Lyon, Annecy's Venice-like canals and streets, and Grenoble only being a brief hour's journey by train. Even cheap and quick flights to Berlin and Amsterdam from the nearby airport at Geneva were accessible during our Half Term along with the ease of transport to the airport from a local coach system; http://www.aerocar.fr/
GETTING THERE:
Rather than flying to Chambéry (or to Geneva or Lyon airport and then catching the coach or train to Chambéry); Chambéry's own airport doesn't open until late November or early December for the ski season), I chose to catch the Eurostar train from London St Pancras, changing at Paris Gare du Nord, and then getting the SNCF direct train from Gare du Lyon down to Chambéry. Some may say that this is the more expensive and slower option, yet it meant that I didn't have to worry about the baggage weight and content restrictions at the airport. I was fortunate to travel with three fellow Cardiff friends who are also studying at Université de Savoie with me. We booked into a hotel for the first night, which allowed us to have a little wander around the small city before dragging our suitcases to our halls of residence. We had made an arrangement to meet the receptionist of our halls for the first morning, enabling us to collect our keys, be shown our rooms and settle in with much ease.
ACCOMMODATION:
A dilemma which is put to Erasmus students fairly late on, and requiring a quick response, is the decision between flat sharing with (hopefully) other students from your host country, or opting for University Halls. In my opinion, there are many pros and cons of each option, yet I believe the choice mainly depends upon your own character. I ended up choosing halls of residence so that I could avoid having to search alone for a flat to live in, as well as having Skype interviews with the other "colocs" (flatmates), whilst revising for my end of year exams in the summer. Fortunately, I have been put into a great hall of residence with fellow Cardiff students and friends, and the majority of the other Erasmus students. This has allowed us to fully embrace the social side of the year abroad and quickly settle and make friends of every nationality.
On the other hand, the evident advantage of flat sharing is how much more your language will improve. There may have to be that extra effort to meet the other Erasmus students if living separately, but living with native students from your host language can be great fun and immensely rewarding. This website has proved very helpful for people searching for accommodation in France; http://www.appartager.com/
It is evident that the Year Abroad is the most incredible opportunity for students, both educationally and personally, yet simultaneously there will be those more lonely moments when you are away from your family and friends. However, don't let this stop you from enjoying you're time abroad; an experience which everyone will want to repeat once it is over. The more you embrace this experience, the more enjoyment there will be and the time will fly by!
What are you looking for?
We're looking for enthusiastic students who are currently abroad, or are soon going abroad, to share their experiences and write for our pages!
If you're interested, get in touch by emailing us at go@cardiff.ac.uk