Erasmus: The first few days
3 January 2015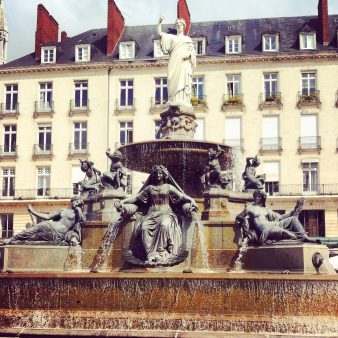 The first week of the year abroad is possibly one of the most challenging and daunting of your life so far, but don't let that put you off! Although it was difficult and stressful, it was also a huge learning curve, and is well worth working through as you reap the benefits later on!
As I mentioned in my last post, when I arrived in Nantes I had to sit an exam before receiving the keys to my accommodation. This was quite easily the most stressful day of the whole of Erasmus so far! If you can, it's a really good idea to go with some Cardiff students so you can support each other through the ordeal! We stayed in a hostel for the first night and then took a taxi to the university to sit our exam (don't bother with the hassle of taking public transport to keep the costs down- it really isn't worth it when you're laden with 40kg of bags!), and a really nice member of staff took all our luggage and let us keep in her office. Our exam wasn't important as it was only to put us in sets for our support classes during the first week, but it was a little bit of a shock after not speaking any French all summer!
Once it was over, we all needed to get ourselves and our heavy luggage to our university residences, although we were spread all over the city! In the end, we decided to split up into groups and help each other take our luggage to our halls, as we all had at least two suitcases each! Nantes is one of France's major cities and has a brilliant tram network that will get you almost anywhere, but when you don't know the city that well it can take a while to get around! It took us all afternoon to travel to three different residences, but by late afternoon I finally made it to my own. After filling in all kinds of paperwork I was given my keys, and with baited breath opened my door to see what my room was like. Luckily, my bedroom looked quite like my old first year room in Talybont South with a similar (if not VERY small) ensuite. Good for one semester!
Unfortunately the kitchens are very badly equipped (6 electric plates, 2 microwaves and no oven to share between 25 people!), but for a semester it's do-able. Admittedly it's very hard to eat varied meals, but it didn't put me off choosing university halls. Private apartments are really expensive in Nantes, and most the international students live in halls. I imagine if I lived over the other side of the city to most of my new friends I would feel quite isolated. From my halls I can also walk to university and I'm close to a tram stop and a road of shops, so I really have everything I need. The people on my floor are really nice too. I was warned about French halls being really quiet and anti-social, but if you look in the right places there are definitely friends to be made! That being said, there are certainly advantages to living with natives, which I will be doing when I move to Parma for my second semester (where it's much cheaper to do so!).
The first week is a crucial one, and you really need to work hard to make the most of it. We needed to sort our accommodation, timetable, mobile phones and open a bank account. These tasks can be daunting when you have just arrived in a foreign city and don't really know what you're doing, but the feeling of achievement when you walk out of a bank appointment with an account, after opening it entirely in French, is great.
I also took intensive French courses in my first week, which took up most of the day and left little time for anything else! Although I was running around like a headless chicken between classes to try and sort banks and phones, it was completely worth it. Not only did it really boost my confidence and skill in French, I met loads of Erasmus students from all over Europe who have been great friends for the whole semester!
All I can say is, as well-prepared as you think you are for the first week on Erasmus, a lot of things will crop up that you never even considered, and it will be stressful. That being said, there is so much to be learn from it on a personal, cultural and linguistic level. It's really important to put the work in and get involved in everything (including all the Erasmus events organised by the Erasmus society [ESN] like BBQs and meet-ups) to give yourself the best start to the semester. It certainly really helped me!
What are you looking for?
We're looking for enthusiastic students who are currently abroad, or are soon going abroad, to share their experiences and write for our pages!
If you're interested, get in touch by emailing us at go@cardiff.ac.uk