The bright lights of Hong Kong
13 August 2014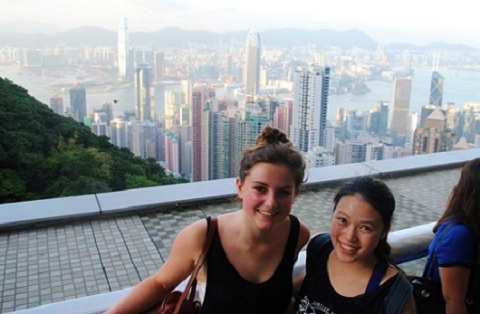 After a 30 hour journey and several flight delays, we finally arrived in Hong Kong. The first shock occurred as we stepped out of the cool air conditioned airport, and into the hot and humid weather. The sweating had begun. Something you have to get used to in China.
After our failed attempt to acclimatise, the second shock occurred -the breath taking yet clashing landscape. Hong Kong has managed to completely integrate beautiful modern architecture with derelict skyscrapers made from bamboo, all within a tropical jungle scenery. This is a view you can take full advantage of from Victoria Peak –but take my advice, wear insect repellent if you are brave enough to hike.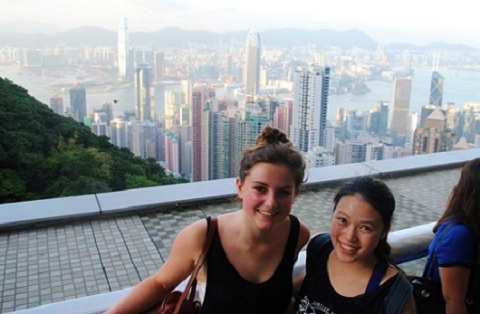 Later that day, after a series of confused taxi drivers and infinite hand gestures, we arrived at what would be our homes for the following fortnight. Within the hour (and no chance to sleep) we naively wondered down to the course introduction. The other 60-or-so jet lagged students were soon our closest friends, and those we would share unforgettable, and sometimes absurd, memories with.
Over the course of the next two weeks, we would have economics and business lectures during the morning, and guest lecturers or site visits in the afternoon. From the studying perspective, I would thoroughly recommend this course. The lecturers are incredibly friendly, and make the course material very coherent. By the end, the lecturers are one of your friends, and are more than happy to help you with future pursuits. However, I don't want to give the impression that the course was easy. It was certainly a challenge. But then again, I am a Psychology student who has never studied economics or business before, and still found the material fascinating and comprehensible.
Despite the intense study hours during the day, we made it our mission to take full advantage of our time in Hong Kong. Majority of nights we ate at local restaurants, where I have had some of the most delicious as well as strange meals. Trying out the local cuisine was something I was eager to do, however I did not foresee myself trying pig's brain, chicken feet, and who knows what else. After filling our stomachs, we would spend the evening strolling through the bright lights of Causeway bay, exploring the night markets of Mongkok, or watching the skyscrapers light up as part of the city light show.
But the night wouldn't stop there. If we were feeling more sophisticated than usual, we would find ourselves at roof top bars, spending an absurd amount of money on extravagant cocktails. The Ozone bar on the top of the ICC tower is a must. Being the highest bar in the world, you get the most remarkable view of Hong Kong. A view that pictures do not do justice.
However on our less classy nights, we would often find ourselves stumbling through Lan Kwai Fong (Hong Kong's renowned drinking district) until the early hours of the morning. This often had terrible repercussions for the following day!
Yet the most horrendous experience was the rollercoaster bus ride up to the Giant Buddha after only an hours sleep. But the consistent queasy feeling that continued all day was worth seeing the magnificent Giant Buddha statue, and the remarkable views from the cable cart. So magnificent that they made you forget your physical state, temporarily.
Some days, we would have no lectures – perfect chance for day trips. Believe it or not, but Hong Kong has some lovely beaches surrounding the city, particularly if the humidity is getting to you. Some of the beaches we visited included Shek O beach, Big Wave Beach, and Lamma Island. Although watch out if you have a fear for spiders.
One day, we took a trip to Macau -an island off of Hong Kong and previously a Portuguese colony. Renowned for being the Gambling capital (far larger than Las Vagas), we spent the day visiting OTT casinos, and eating their famous egg tarts. There are certainly worse ways of spending your days.
The experience I had in Hong Kong was incredible, a true once in a life time. There is no way I can capture my whole experience in a simple blog. I will never forget the people I met, the places we went, and the amazing experiences we had together. Thank you to all those that made it possible, and contributed so much to the journey. Now on to Shanghai, Xiamen, and Beijing, who knows what adventures those places will bring. Zàijiàn
What are you looking for?
We're looking for enthusiastic students who are currently abroad, or are soon going abroad, to share their experiences and write for our pages!
If you're interested, get in touch by emailing us at go@cardiff.ac.uk