Summer School at Xiamen University
18 August 2014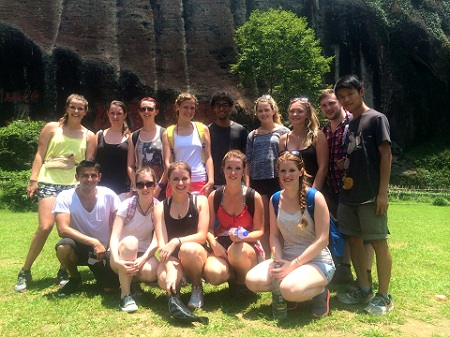 Spending my summer studying in China has been a fantastic opportunity, the China university experience is very different to that of the UK but is equally enjoyable.  My course at Xiamen University, in the Fujian province of South East China, focused on learning Mandarin with classes on the Chinese economy, culture and business in the afternoons. Thankfully no prior knowledge of Mandarin was necessary and being in China made learning the basics of the language a lot easier, as you needed to know this for everyday purposes.
I heard about the summer school programmes when I spoke to the head of teaching in my school as I was keen to do either a work or study programme during the summer and he told me about Cardiff Global Opportunities Centre. He particularly recommended going to China having been himself, which is when I narrowed down my choices with Xiamen University being one of my two final choices, when I heard in March that I'd been offered a place I couldn't believe it, it wasn't until I booked flights that it actually felt real.
I travelled with two other girls both from Cardiff; being my first long haul flight travelling with others made the experience a lot easier and the travelling more fun, I'd definitely recommend to travel as a group. After having travelled for around 24 hours I arrived at the university at 11am local time. Xiamen campus was in an undeveloped and rural area of China but it was beautiful, it comprised grand buildings some of which were still being built!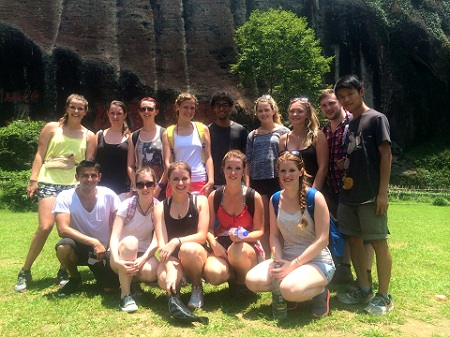 The campus was huge, a town in itself. Despite having been warned I honestly couldn't believe just how hot and humid it was but after a few days I adapted to the heat and found it a lot less exhausting.  My accommodation was on the 6th floor of the Guest House, the rooms were shared between two students with 8 students in a flat but it was very modern and conveniently located on the university campus, although the fact it was a 15 minute walk from the Overseas education college which is in the centre of the campus gives you an idea of just how big the campus is!
All our classes took place in the Overseas education college, the morning Mandarin lessons were more class-like than the afternoon classes which were more lecture style.  On weekends and weekday evenings we'd go into Xiamen city which is on the Xiamen Island, our university campus was located on mainland China. The bus network in Xiamen is vast and very cheap, the equivalent of 10p for a single ticket, although a lot slower than taxis it was a lot easier to take the bus as no taxi drivers spoke English and their local knowledge isn't as good as the taxi drivers in the UK.
My favourite weekend trip from my time in Xiamen has to be going to the Strawberry Music Festival in China, it was great to experience the contrast between a UK music festival and a Chinese music festival, no queues at the bar and a lot less rowdy so it made for a pleasant change and the beach venue was superb! I can honestly say I loved every minute of the four weeks I spent in Xiamen and met great people whilst there.
What are you looking for?
We're looking for enthusiastic students who are currently abroad, or are soon going abroad, to share their experiences and write for our pages!
If you're interested, get in touch by emailing us at go@cardiff.ac.uk