The Boy comes to Norway
9 November 2019

After saying goodbye on a train platform in Switzerland four months ago, I was reunited with my boyfriend recently. As discussed in Long-Distance Relationships, myself and Ben are both on study abroad schemes so travelling to see one another has not been feasible until now. After publishing that post, many have reached out and asked how I managed to do it as they missed their partners they had not seen in a far shorter amount of time compared. The truth is; it was incredibly difficult and his trip to Oslo was a predominant factor for not being a complete mess.
Whilst I, of course, spent a lot of time simply enjoying the company of my boyfriend and belatedly celebrating our anniversary, I obviously took him on a tour of Oslo. I somewhat relieved my orientation week in Oslo, taking Ben familiar sights to those of you that have been following my journey from the beginning. However, I took the opportunity to make our time more special by finding things that I had yet to experience so we could share experiencing for the first time.
These are the highlights of our wonderful week together.
VIKINGSKIPSHUSET, VIGELANDSPARKEN AND SOGNSVANN, OSLO TIGER AND OPERAHUSET
I took him to see classic staples of Oslo first; including the Opera House and the Tiger. It was heartening to see the scarf upon the tiger which is an annual tradition run by The Church City Mission; these scarfs are free to anyone to take home or give to someone to promote warmth with the colder season setting in.
Ben's favourite experience of the day was the Viking museum, particularly enjoying the cinematic experience that is projected upon the walls above the burial chamber. Being an avid lover of history, taking Ben to historical points in Oslo was one of the highlights to see him so interested in where I have been living these last four months.
The first thing we got to experience for the first time together was Vigelandsparken, home to over two-hundred sculptures by Gustav Vigeland; including Oslo's famous postcard Sinnataggen and Monolitten. It was astounding to see such a beautiful collection and my particular favourite (pictured with me below) was the man attacked by children.
In an early post, I noted that I wanted to take Ben to my favourite place, Sognsvann, for a date. And it happened! It was so special to be able to share this place that has secured a place in my heart with him and watch the sunset.
HOVEDØYA, BOTANISK HAG AND MUNCHMUSEET
Despite having already visited the island, experiencing Hovedøya in the sun was wonderful. No, I did not put on my swimsuit and dip into the subzero temperatures of the fjord but myself and Ben enjoyed fully discovering the monastery ruins and sitting upon an elevated bench to watch the serenity of the water softly moving.
I took Ben to the Botanical Gardens forgetting that the summer flourishing I had witnessed it would be no longer since it was Autumn. So sadly, it was a slightly morbid walk through the gardens of slowly decaying plants!
I was later ecstatic to finally see The Scream (this version was estimated to be painted by Munch in the early 1900s) before Munchmuseet closes in preparation to move into a new home in the city that will open next year. Although I am sad I will not be here to see the new museum, I am nevertheless content that I saw such an iconic piece of art before I left.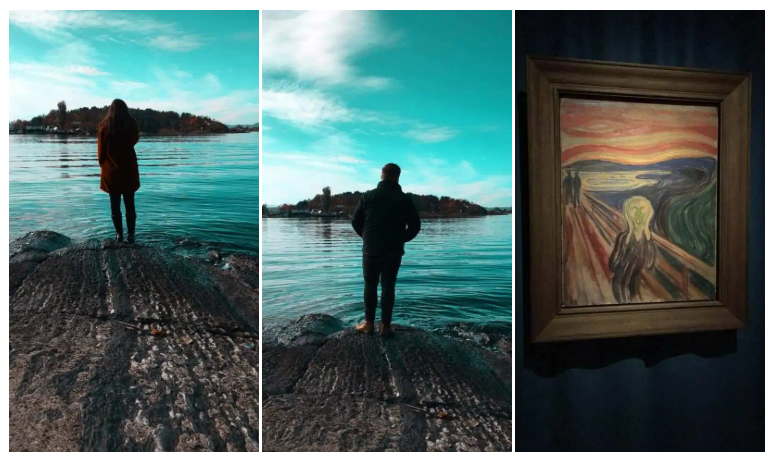 TROMSØ
The reason I have not travelled anywhere outside of Oslo was largely due to university assignments but I had also booked a trip with Ben to Tromsø, located just above the Arctic Circle. It was a crazy, spontaneous decision one evening that we would use part of Ben's trip to discover a new part of Norway together. Spending a day in Tromsø was wonderful and it was such a special moment for us as a couple.
I speak about our experience and what we got up to in a lot of depth here.

HALLOWEEN
Celebrating Halloween is a tradition relatively new to Norway and so, trying to find a pumpkin to carve or a good evening event to attend was difficult. We celebrated Halloween with my flatmate, Rosa, and I am still in disbelief at Ben's artistic skills at pumpkin carving! The following day, we attended three different Halloween events as Bonnie and Clyde. I definitely missed the way that Halloween is celebrated in the UK, as all events were somewhat tame and we ended up going home early to watch a horror film. Not that I was complaining about the horror film, Ben definitely was!
Saying goodbye to him was almost as hard as having to get the 6am metro to take him to the station was. But thankfully, this was the longest stretch of time of being apart and I will be seeing him when I return home in December.
What are you looking for?
We're looking for enthusiastic students who are currently abroad, or are soon going abroad, to share their experiences and write for our pages!
If you're interested, get in touch by emailing us at go@cardiff.ac.uk