The best coffee stops in Granada
15 August 2021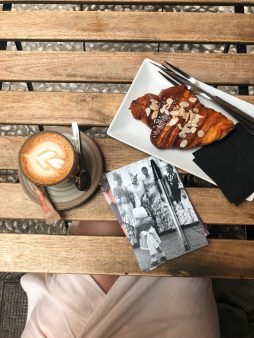 One of the first things I wanted to know when arriving in Granada was where I could get an amazing coffee. The truth is, almost every coffee you will have in Granada will be great, and cheap! There are so many cafeterias with tables outside in the sun where you can order a quick café con leche or espresso.
I am the kind of person though who believes that a coffee tastes so much better if it's coming from a quirky, independent café. And even better still with a piece of cake or cinnamon roll! Thankfully, Granda does not disappoint. In this blog I am going to walk you through some of my favourite coffee stops (including the places for cake!) and I hope that it will inspire you to come to this sweet city.
I have also included all their Instagram accounts, just incase my photos aren't enough to tempt you!
Sur Coffee Corner
@surcoffeecorner
I am kicking off the list with the great SUR Coffee Corner. It may seem like a negative that you can't sit in, but that's not the case! This quirky corner offers not just coffee, but cakes and sandwiches too, which come on a wooden tray allowing you to choose a bench in the nearby Plaza de la Romanilla to enjoy! I take my coffee to the Cathedral just around the corner to sit on the step and people watch. This café also has the essentials of a little coffee stop: plants, eco-friendly cutlery, gorgeous cakes, and a pair of down-to-earth guys! If you're lucky, they may even give you a free badge and cookie!
Baraka
@cafe_baraka_granada
Baraka is situated in a sheltered balcony, surrounded by gorgeous fairy lights and heaters for the winter, creating that perfect cosy feeling. It also offers so many sweet treats to have with your coffee.
They even have a pet dog, so be sure to give the old boy a warm welcome!
My favourite thing on the menu is the build your own American Pancakes.
Noat Coffee
@noatcoffee
This minimalist, plant filled cafe is designed for ease. Noat's style allows you to refresh your mind with a brew – hot or cold – and something tasty to settle your stomach. Sit inside on one of the benches, or relax on the steps just outside!
La Qarmita libros cafe
@laqarmita
This bookshop cafe is a perfect place to take your laptop and get into the zone. The staff are always so friendly, and they are not shy with their cake portions!
This is another perfect place to go in the winter when you just want to cosy up with a chai latte and piece of carrot cake. Or even treat yourself with a Baileys latte!
They also host lots of book events and more, so be sure to keep an eye on their Instagram!
Minuit pan & café
@minuitgranada
There's nothing better than a freshly baked croissant and coffee, especially from a little bakery! This cafe offers not only sweet treats but also other savoury breakfasts on fresh sourdough bread. You can even buy a loaf for at home later!
It's the perfect cafe to sit outside and take a breather. I was having a reflective morning one day, it was 26 degrees and drizzly and I really needed to get out and write to a few people I missed. I found a small table outside Minuit safe under the parasol, ordered a café con leche and almond croissant, and wrote my postcards listening to the rain hit the cobbled stones.
It was moments like that when I realised I was living my absolute dream!
MOLA Granada
@molagranada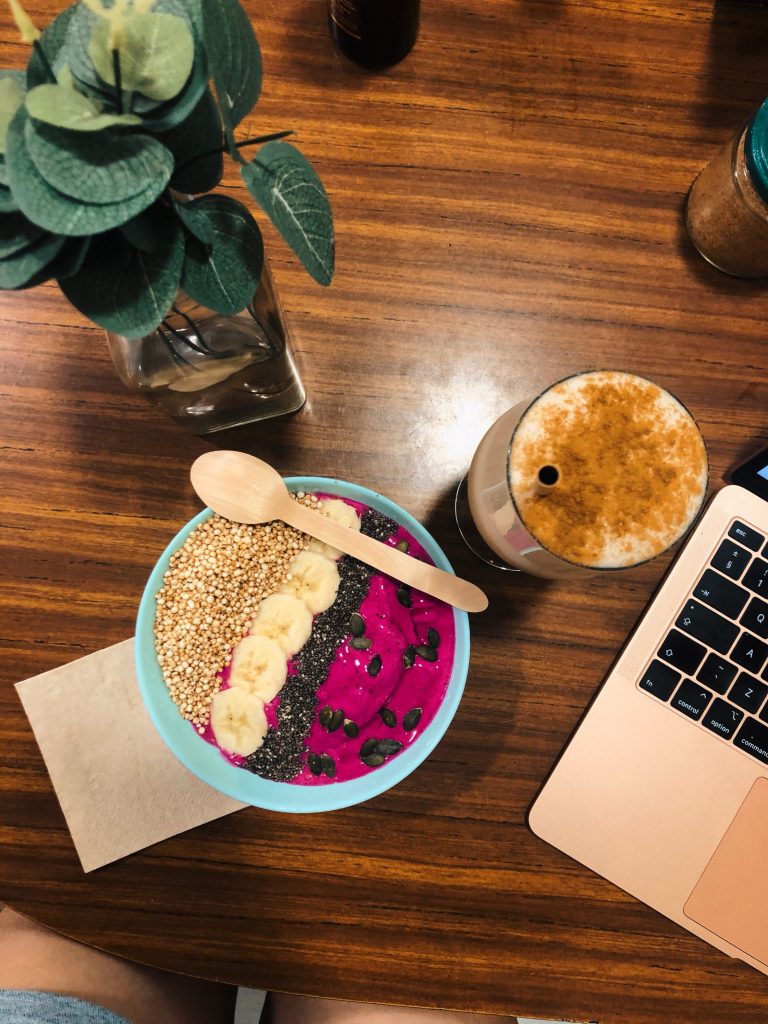 Smoothie bowls for days! If you want instagramable then this is the place. MOLA offers a vast menu of breakfast, brunch, lunch and cakes to keep you smiling throughout the day. You can even order yourself a selfiechino (as it sounds, a coffee with your chosen selfie on top!).
The cafe also has free wifi, so it's perfect as a study cafe. MOLA is close to a tram stop too, so no excuses to not go!
La tienda de los Unicornos
@latiendadelosunicornios
VEGANS GET READY. This sweet cafe offers everything vegan! It's bright and welcoming with quirky decor. They even have board games which they welcome you to grab!
Irreverente
@irreverente_granada
I would walk past this bar every evening and think how gorgeous the lights would look outside. I was never sure what kind of place it was – bar, cafe, restaurant – turns out it's whatever you want it to be!
Coffee, cake and a tipple? This bar serves wonderful gin (I recommend Puerto de Indias), tapas and breakfast, and of course coffee and cake, so you can go any time of the day!
I really do miss these places, so I hope that this short blog inspires you to wander around Granada and find the little gems of coffee shops. There are so many more to be discovered to! It really is the perfect city.
What are you looking for?
We're looking for enthusiastic students who are currently abroad, or are soon going abroad, to share their experiences and write for our pages!
If you're interested, get in touch by emailing us at go@cardiff.ac.uk